Logitech G602 -- a brilliant gaming mouse [Review]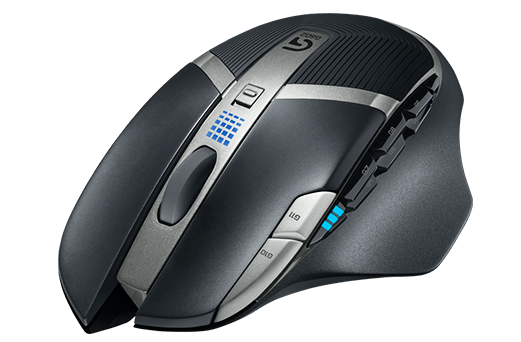 When it comes to pointing devices, I prefer mice. Try as I might, a touchpad just cannot match the precision of a mouse. However, even people who prefer touchpads for basic computer use will likely prefer a mouse for one thing -- gaming. Yes, a good gaming mouse can be the difference between fragging your opponent and being fragged.
However, finding the right gaming mouse can be problematic. After all, not only are there many different makes and models of mice but there are also many different sizes of human hands (not to mention, right-handed vs left-handed). When I first saw the Logitech G602 I was intimidated. Quite frankly, an 11-button mouse could scare away even the most hardcore-gamers. Nonetheless, intrigue outweighed intimidation and I ultimately obtained the beast.
Upon removing the mouse from the box, I noticed that it is very much a right-handed-only affair...and that's a good thing. You see, manufacturers seem to kowtow to the ambidextrous crowd nowadays which leads to a less-than-optimal experience for both right-handed and left-handed alike. Sure, it sucks that lefties are left out, but quite frankly I don't care -- this mouse is the most comfortable I have ever held.
Not only is the shape of the mouse comfortable, but so are the materials used. Yes, the mouse is made of plastic but the textures feel premium. When your thumb comes into contact with its resting area, you will understand the meaning of nirvana.
When it came time to connect the wireless receiver to my desktop, I was dismayed to discover it was not Logitech's famed unifying variant. This means that the mouse cannot share the same receiver as my touchpad which is made by the same company. However, there is a method to the madness as the G602 utilizes a special 500hz receiver for reduced lag.
For power, the mouse uses two AA-batteries and promises up to 1,440 hours of juice in endurance mode (250-hours of juice when in continual gaming, performance mode). However, the mouse can also function with only one battery inserted. This is done to reduce weight but it will reduce battery-life too. A lighter mouse may offer better control, but ultimately it is the preference of the user. The mouse also offers dedicated, on-the-fly DPI-switching buttons, so you can customize performance even further.
While I am not a hard-core gamer, this is a gaming mouse, so I launched the highly-underrated Alien Rage which is based on the Unreal 3 engine. It is here where the 11-button mouse really shines. Utilizing Logitech's gaming software, I was able to map the six thumb buttons to the keystrokes of my choosing. Then, in the game's options, I set functions to those keys. I could then focus on only using W,A,S and D on my keyboard; everything else was controlled by the mouse. Ultimately, this setup improved my gaming performance as I was better immersed in the game.
Gaming aside, I want a mouse to function as a daily-driver for my basic computer tasks -- web browser, office work, etc. For the most part, the Logitech G602 meets my expectations and demands. However, the one weakness for me is the lack of a tilt-wheel. In other words, the scroll wheel works vertically but not horizontally. I like using a horizontal, tilting scroll wheel when I work in Microsoft Excel -- particularly in very wide spreadsheets. This is not a deal-breaker by any means though, as I can just use the keyboard for that instead.
Overall, the Logitech G602 is a dream. Not only is it functional and comfortable but it is beautiful too. Make no mistake, beauty in hardware is important and should not be neglected. The mouse works brilliantly for both gaming and basic computer-use alike. Logitech has a winner on its hands and I highly recommend it. While the $79.99 price tag is a bit high, please remember that you get what you pay for. The solid build quality and high functionality should allow this mouse to last you a very long time.