Lenovo Yoga Tablet -- a better way is here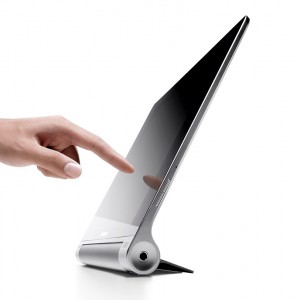 When it comes to Android tablets, they are all rather ho-hum; big rectangular slabs. In an effort to use them comfortably as a display or for watching a movie, clunky cases and folios must be purchased in order to prop them up. Sure, you can lean it against something and hope it doesn't fall over, but that is risky business.
Lenovo feels the pain of Android users and has created a new solution -- a better way, if you will. The company has been teasing a device for three weeks now, but it is finally unveiled. Meet the all-new Lenovo Yoga Tablet.
The company explains that the tablet, "features three unique modes, giving consumers a better way to use a tablet. With hold, tilt and stand modes, the tablet adapts to the way people use it instead of forcing people to adapt to the technology. Additionally the Yoga Tablet has an amazing up to 18 hours of battery life to truly fit users' ultra mobile lifestyles". In other words, the tablet has a mini-kickstand and battery bump that enables multiple modes.
In hold mode, the tablet is held like a, well...tablet. You can hold it as you do any other tablet but in addition, you can hold the battery side like a handle. When holding it in landscape mode, the weight from the battery is at the bottom, so it is more comfortable for the user.
In stand mode, the tablet can stand on its own using the built in kickstand. This kickstand is made of aluminum which should make it rather durable. The user can then watch movies on the tablet or use it with a Bluetooth keyboard as a make-shift workstation.
The tilt mode, while less exciting, is actually quite useful. You see, it props the tablet up at a slight angle for improved typing. Many third-party cases offer this feature by tucking the front flap into the back. With the Lenovo Yoga Tablet, no such clunky case is needed.
No, that wasn't a typo earlier -- the company is claiming 18-hours worth of battery life. In the cylindrical handle, there are two heavy-duty batteries. Lenovo claims that it is so powerful, that it can charge other devices by USB. However, this will require the purchase of an additional cable, called "USB on-the-go".
The tablet will come in two sizes -- 8-inch ($249) and 10-inch ($299). Other than screen-size, the specifications appear identical. Both tablets have an MT8125 Quad-Core processor, 16 GB on-board-storage and Android 4.2. Each even has a microSD card slot to expand storage.
Both Yoga Tablets should be great for consuming media. Besides having an integrated kickstand, each has front-facing speakers. Coupled with the extreme battery longevity, these should be ideal for frequent-flyers and marathon TV watchers alike.
Luckily, BetaNews has already obtained the 10-inch variant of the tablet. Please see my unboxing below:
The full specs can be seen here:
| | |
| --- | --- |
| Processor | MT8125 Quad Core 1.2GHz |
| Operating System | Android 4.2.2 Jelly Bean |
| Display/Resolution | HD display (1280x800) with multitouch & 178 wide viewing angle |
| RAM | 1GB LP-DDR2 memory |
| Storage | 16GB eMMC |
| Audio | Dual front-facing speakers with Dolby Digital Plus DS1, Microphone with noise reduction |
| Ports | Micro USB, micro SD slot, 3.5 millimeter audio jack, micro SIM slot (3G only supported in select regions) |
| Network | Wireless 802.11b/g/n Wi-Fi, BlueTooth 4.0* |
| Camera | 5M rear camera, 1.6M HD front camera |
| Battery (Yoga Tablet 8) | Li-Ion, 6000 mAh |
| Battery (Yoga Tablet 10) | Li-Ion, 9000 mAh |
| Yoga Tablet 8 Weight | .88 pounds (401 grams) |
| Yoga Tablet 10 Weight | 1.33 pounds (605 grams) |
| Yoga Tablet 8 Dimensions | 8.39 x 5.67 x (.12 - .29) inches (213 x 144 x (3.0-7.3) millimeters) |
| Yoga Tablet 10 Dimensions | 10.28 x 7.09 x (.12 - .32) inches (261 x 180 x (3.0-8.1) millimeters) |
Both models will be available tomorrow (10/30). The 8-inch variant is a Best Buy exclusive, while the 10-inch will be available at many major retailers; Lenovo specifically lists Amazon.com, BestBuy.com, Fry's, Newegg.com and its own site.
I will write a review later in the week. If you have any questions you would like answered, please post them in the comments.