All-in with Microsoft, part 3 -- thoughts and conclusion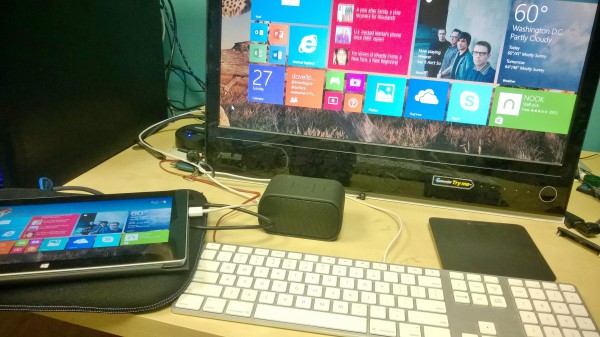 When I embarked on my Microsoft-only journey, I was scared. After all, my professional life and career depends on my use of technology. By limiting myself to only one company and its products, there could be room for more harm rather than good. However, I was also excited to try something new and share it with you.
In reality, people will not purposely restrict their choice in computing; they will choose the devices they want, regardless of brand. Quite frankly, many people mix and match brands and operating systems -- Windows laptop with an iPhone, iMac with an Android smartphone, etc. While I was using a Surface 2 with a Windows Phone in my experiment, that is not necessarily a common combination.
The most used device during my week-long experiment was the Surface 2. This tablet runs Windows RT 8.1, which means for the most part, legacy programs will not run. By using the RT variant of the operating system, I was forced to find solutions using Microsoft's app store. I view the Surface Pro 2, which runs "normal" Windows as a bridge from the old to the new. It will allow a user to run legacy programs. Unfortunately, I see this as a crutch -- while legacy programs remain an option, the user will not seek out Modern UI alternatives.
The Modern UI apps that I discovered were very good. As an experienced Windows 8 user on the desktop I had already fallen in love with apps like Fresh Paint, IM+ Pro and the various Bing apps. While using the Surface 2, I came to discover more. My favorite of the bunch is probably MetroTube -- a third party YouTube app. This software enhanced the way I interact with the video site, including an option to select 1080p as the default playback option. YouTube video in MetroTube on the Surface 2's 1080p screen is jaw dropping.
I even developed a new love for Internet Explorer 11. Sadly though, using IE 11 is not a choice on Windows RT; it is the only major browser available. Chrome and Firefox fans will be sorely disappointed, which I admit, I was at first too. However, the Modern UI version of Internet Explorer 11 is quite remarkable. It is fluid, responsive and displays sites as I expect it to.
As I mentioned in my previous post, Google Play Music All Access refuses to work on the Surface 2. This was a huge blow to me as I depend on the service and use it daily. However, Microsoft's Xbox Music is equally good, if not better. I find it better on the Surface 2 as it has a native app and can run in the background. This means the music won't stop when I switch to a different app.
When it came to doing Office work (Word and Excel), I decided to forgo using a Windows desktop and instead connected my Surface 2 to a 23-inch monitor. I also connected a mouse and keyboard. In other words, the tablet with the Windows RT 8.1 operating system, for all intents and purposes, worked like a desktop. Sadly, this required a micro-HDMI to HDMI cable, which costs $39.99 at Best Buy. While it is worth the price if you need it, I would still like to see it about $10 cheaper. I made it through the week without ever turning the desktop on.
Using the Surface 2 in this way (monitor, keyboard and mouse), caused a philosophical schism between myself and a colleague. I argued that Windows RT 8.1 was not a mobile operating system, at least in the traditional sense, and he disagreed. With this operating system and that configuration, the lines become blurred as to what Surface 2 is -- desktop, laptop or tablet; I say all three. Sure, it can't run legacy software but I do not view Modern UI apps as typical "mobile" apps. These apps are scalable and adaptable to the user.
Even when not using Surface 2 as a desktop, it served well at my kitchen table with the Type Cover 2. While this keyboard cover works great on flat surfaces, I did find it to malfunction on softer ones. Last night, I thought the period key was broken as the keyboard rested on a blanket. However, moving to my dresser, a stiff level surface, caused it to work again.
Besides the Surface 2, I made it through an entire week with a Nokia Lumia 928 as my only smartphone. This was much harder due to a lack of apps and a poor web browser. While the Surface 2 is short on apps, the capable web browser makes up for any deficiencies in that regard.
On Windows Phone, the web browser is functional but not dependable for all needs. There are some web-based services such as Google+, which do not have Windows Phone apps. Using the mobile version in the web browser was very limited -- I could not upload photos from my phone. There is a web-based collaboration service, that we use, that is just painful to use in the mobile browser.
From a fun-factor, many games I enjoy are just not there, the biggest of which is Candy Crush Saga. However, there are plenty of other great games such as Angry Birds which just became free. In my opinion, Microsoft needs to throw money at major game developers to get them to create apps for the platform.
Spending the week as a Microsoft "fanboy" was fun. I survived as I suspected I would and actually enjoyed the experience. However, it was not easy; I was tempted by my Nexus 7 on more than one occasion (but never gave in). However, now the experiment is over, I am not dropping my Surface 2 and running back to Android and Linux -- quite the contrary. While I will use the Nexus 7, my Fedora desktop and other devices like my Chromebook, the Surface 2 will remain as my main tablet. I love the screen and I love the Modern UI interface on a tablet.
Truth be told, I have been considering buying the next iPad for about a year now. However, the Surface 2 has essentially killed all desire for Apple's tablet. I don't want a 10-inch tablet that can't run two apps side-by-side. Hey, maybe there actually is something to those Microsoft commercials.
Overall, my Microsoft-only experiment was a success. My biggest takeaway is that there still is a place for the Redmond, Wash.-based company in the future of computing; consumers just need to give it a chance.