Best Buy to sell Microsoft's Surface RT for $199.99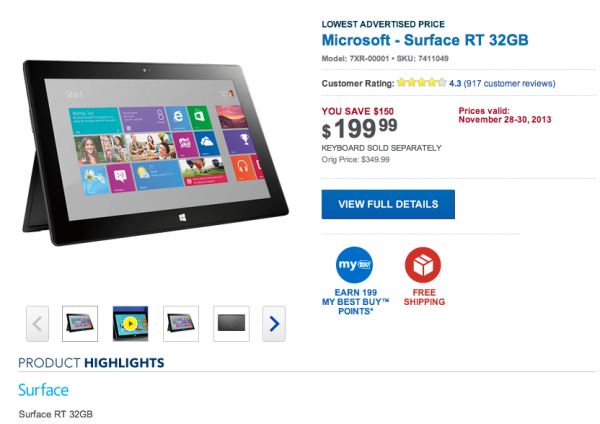 Yes, you've read that correctly. Microsoft's Surface RT tablet will be available at US retailer Best Buy under the magical $200 mark. The $199.99 price tag will be attached next to the Windows RT slate between November 28 and November 30, just in time for Black Friday.
The model that the US retailer will offer during that period is the 32 GB Surface RT without the bundled keyboard. Normally, the tablet would cost $349.99 at Best Buy, which makes the $150 discount look rather impressive.
Considering that Microsoft had millions of Surface RT units in unsold stock before mid-July, it does not seem like a stretch to assume that this deal is meant to minimize inventory as much as possible before the end of the year.
The path also has to be cleared for the Surface 2 (by selling the existing Surface RT stock), which is directly competing with its older sibling based on price. Both tablets run the same software, Windows RT 8.1 with Office 2013 RT.
The highlights of the Surface RT include: 10.6-inch five-point multi-touch display with a resolution of 1366 by 768; quad-core Nvidia Tegra 3 processor; 2 GB of RAM; 31.5 Wh battery; 32 GB of internal storage; microSDXC card slot; USB 2.0 port; HD video out port; two 720p cameras (front and rear); Wi-Fi 802.11 a/b/g/n; Bluetooth 4.0; Windows RT and Microsoft Office Home and Student 2013 RT. The Surface RT comes in at 10.81 x 6.77 x 0.37 inches and 1.5 lbs.