G marks the spot -- or, at least, that is what Motorola is hoping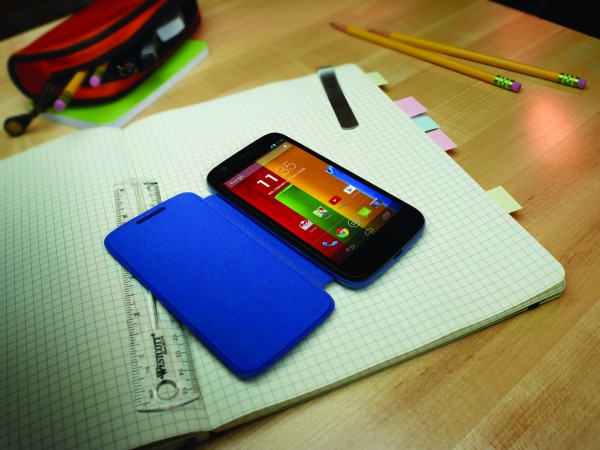 In August 2011, Google purchased Motorola Mobility (which was Motorola's cellular phone division prior to 2011). Google was good at software and services, but had little experience in making hardware for the mass market. Motorola had plenty of experience in building cell phones, starting with the first flip/clamshell mobile phone, the StarTAC, which was released in 1996. On paper, a good marriage, but the detractors complained that it was coming at too high a cost ($12.5 billion) even though buying Motorola Mobility gave Google ownership of a potentially valuable patent portfolio that it could use to defend itself against Apple and Microsoft.
The first child of this marriage, born in August 2013, was Moto X -- an Android smartphone that was to be Motorola's competitor to the iPhone. The main idea behind the Moto brand was to focus on user experience rather than technical specs. Focusing on the later had resulted in the Droid brand, which, although quite successful when it launched in 2009, perhaps owed most of its success due to a massive marketing campaign and the fact that it was the only decent smartphone available on the Verizon network (at that time, in United States, the iPhone was only available on the AT&T network). In 2013, with the smartphone market dominated, at least profit-wise, by Apple's iPhone and Samsung's Galaxy phones, it was time to try a new approach.
In contrast to Droid phones which had quite a masculine image and which had been supported by a marketing campaign that seemed to target men, Moto phones would feel great to touch and hold, provide a good range of color options, focus on features that would help the average user in real-life scenarios (as opposed to gimmicky features that might look good in a showroom but would get very little actual use), and be promoted by more unisex marketing campaigns.
The first member of the Moto family, Moto X, has been universally praised for its beautiful design, great build quality, and truly useful innovative features such as Active Display, Motorola Assist, and Touchless Control. The main complaint voiced by tech bloggers and journalists has been that the rear camera does not deliver consistently good results.
In return, Motorola has promised to deliver improvements to the camera software to mitigate this concern. Another, less serious objection has been that this phone is too expensive if bought without a contract (the unlocked version of the phone currently sells for over $600). Meanwhile, consumers outside United States have been asking Motorola why it is not selling the Moto X in other markets.
Since its introduction, the Moto X, although critically very well received, has not quite taken the US market by storm in terms of actual sales. Official figures have not been released so far by Motorola, but research firm Strategy Analytics expects only around 500,000 units to have been sold during the past three months. Motorola was probably not expecting to sell 10-20 million Moto X phones during this period, but if this estimate is more or less accurate, it must be disappointed that consumers in the US have not responded quite as enthusiastically as it had hoped.
It must have been clear to Motorola, even before it released the Moto X, that its biggest chance against Apple and Samsung, the top two players in the smartphone market, would have to be outside United States, in the emerging markets, especially the BRIC countries (Brazil, Russia, India, and China). In other words, the Moto range would need a globally available and more budget-friendly phone that could do well in these markets. Nokia, through its huge success with the Lumia 520 (which sells around the world for $120-$150 off-contract), had shown that even a phone with a no. 3 operating system could be successful and generate profits if it was functional, stylish, and offered good value for money.
Rumors about specs and price for the Moto G (known earlier as Moto DVX) first started appearing around late-September 2013. The idea was that this would be a lower spec and more affordable version (free on contract, or around $300 for the unlocked/unsubsidized version) of the Moto X. On October 31 2013, legendary mobile phone industry news leaker Evan Blass, better known as @evleaks on Twitter, reported the following information: "Motorola Moto G: S4 Pro (1.5GHz x 4), 4.7" 720p, 8GB or 16GB, 8MP, LG-made 1950mAh, starts free on contract [via tip]".
On November 1 2013, GSMArena reported that according to one of their tipsters there was marketing material suggesting that the Moto G would have a 4.5 inch 720p screen covered by Corning Gorilla Glass, a 1.2GHz Qualcomm quad-core processor, and a water-repellant coating; the rumored price was under $220 off contract. Then, on November 11 2013, a listing for pre-ordering the 16GB version of the Moto G briefly appeared on Amazon UK; for some reason, Amazon UK referred to the Moto G using the name Moto DVX/XT1032. More interestingly, before being pulled, this listing told us that the phone would sell off-contract for GBP 159.99 (roughly $250).
All this was enough to make me want to buy a Moto G on the first day it became available for sale in the UK. What was not to like? An unlocked phone from Google-owned Motorola (hence guaranteeing timely firmware updates for at least eighteen months), in a choice of colors, at a even lower price than a Nexus phone?
I knew the price was going to be good. Also, I was confident that, even though this was designed to be a cheaper version of the Moto X, the build quality was going to be fine. As for the processor, RAM, and cameras, I felt that any compromises made would be acceptable for an entry-level smartphone. I had just one major concern -- would expandable storage in the form of microSD cards be supported? Google had shown that it had no interest in expandable storage, as evidenced by the lack of this option in its Nexus line of smartphones and tablets.
It made much more financial sense for Google that phone/tablet owners either used Google Drive (at a cost of $4.99 per month) to store their photos, music, and movies in the cloud, or to pay for books, music, and movies via Google's Play Books, Play Music, and Play Movies services. Since I had previously bought 16GB and 32GB Nexus devices and managed to survive on those amounts of storage, I decided that I would be buying a Moto G as long as it was available in a 16GB (or higher) version at a cost of under $250.
On the other hand, if the price was going to be anywhere between $250 and $350, it would make sense to buy an unlocked 16GB Nexus 5 from the Google Play Store for $350 since the Nexus brand guarantees, direct from Google, the earliest possible access to the latest versions of Android.
As I waited impatiently for today's launch event, I was not expecting any major surprises, but that did not matter because having heard US-based tech bloggers and journalists rave about how great the Moto X was had me feeling desperate to own a Moto-branded phone even if it did not come with all of Moto X's magic.
The Launch Event
To underscore the importance of BRIC nations to the potential success of Moto G, Motorola decided to hold the main launch event in São Paulo, Brazil, with satellite events in London and New York. I attended the London event.
Motorola Mobility CEO, Dennis Woodside, talked about the Moto X. He said people who own the phone love it and that within a few weeks, it would be updated to Android 4.4 (KitKat). He went on to point out that most people in the world cannot afford a $500-$600 phone, that the average price for a smartphone was $200 but you didn't get a great experience with such phones, and that the US company wanted to offer a smartphone for under $200 that did not compromise on design, quality, or experience.
Here is what the Moto G offers:
4.5 inch 1280x720 HD display (329 ppi) covered by scratch-resistant Corning Gorilla Glass
Water resistant coating
Qualcomm MSM8x26 quad-core A7 1.2Ghz main processor and Adreno 305 450 MHz graphics processor
1GB of RAM and either 8GB or 16GB of storage space (no expandable storage since there is no microSD slot); furthermore, you get for 50GB of Google Drive space for 2 years (this is in addition to the 15GB of free storage that Google offers all users)
2070 mAh battery (up to 24 hours mix usage time)
5MP rear camera with LED flash with slow motion, burst mode, auto HDR, panorama mode, and tap-to-focus
1.3MP front camera that allows 720p HD video
Bluetooth 4.0
GPS
802.11 b/g/n WiFi
A Dual SIM option in certain markets (where people regularly juggle 2 or more SIMs from competing telecom operators in order to save money)
FM Radio (since not everyone in the world has access to music services such as Spotify or Google Music)
standard black back cover that can be easily removed and replaced by back covers, bumper case/covers, and flip covers in a range of colors
accessories such as external batteries, and headphones in a variety of colors
Android 4.3 (Jelly Bean) with upgrade to Android 4.4 (KitKat) promised by January 2014
Available in United States from Motorola's web site at an off-contract price of $179 for the 8GB version and $199 for the 16GB version; in United Kingdom, the unlocked version of the phone will sell for £135 and £159 for the 8GB and 16GB versions respectively; and finally, in mainland Europe, the average price will be around 169 euros
Next, Punit Soni, VP for Product Management, talked about the software. He said Android was the best mobile operating system in the world and that the company's main strategy was to build on a pure Android foundation. He went on to say that Motorola tried to add real value for the user -- features that would make the phone more fun to use.
By avoiding bloatware and useless user interface customizations, he said that the company had managed to achieve great performance. He told us that for basic tasks such as answering a call the Moto G was found to be faster than he much more expensive Samsung Galaxy S4. He also talked about two features from the Moto X that have been carried over to the new phone.
Motorola Migrate is an Android app (downloadable from the Google Play Store) that lets you move your photos, videos, SIM contacts, and call/text history from your existing Android phone (running Android 2.2 or higher) to your Moto G phone (which comes with this app pre-installed). Motorola Assist helps users to avoid getting interrupted by their phone when they are in the middle of a meeting or sleeping.
First Impressions
Having played with the phone for the past hour or so, here are my initial thoughts and impressions.
The design is reminiscent of the Moto X. The phone feels good in the hand; if you have tried an HTC one and liked its design, you will probably also like the Moto G.
Of course, the screen is not 1080p like the Nexus 5, Galaxy S4, or the HTC One have, but it is a Retina-level display (329 ppi) and at this size, unless you have very good eye sight, the differences between a 720p screen and a 1080p one are not that significant. And its more expensive brother, the Moto X, does not offer a higher resolution. However, since the Moto G's screen is not of the AMOLED variety, you do not get the Active Display feature found in the Moto X since that feature depends on the phone turning on only a small portion of the display to show notifications and it is not possible to do this with a non-AMOLED display.
The single speaker should be loud enough for most people, but it does not seem as loud as the speaker in the Nokia Lumia phones or as high quality as the speaker in the iPhone 5s.
The front camera's quality seems adequate for video chats. The rear camera is more interesting. I have a feeling that some reviewers will be complaining about getting some blurred shots. The key thing to remember when taking pictures with the rear camera is to give the auto-focus mechanism a couple of seconds to do its work before you tap on the screen to take a picture. During my first few minutes with the phone, I did not realize that and I was disappointed with my out of focus photos. I also tried some macros shots. Although the results were not as good as what you would get from a phone with a Carl Zeiss lens, they were decent enough.
As for battery life, Motorola mentioned that all day battery life was a major goal. I have not had the phone long enough to test this claim and it is true that people use their phones in very different ways such that I might only use my phone to make a few calls during the day and you might want to use it for streaming audio/video on 3G and/or gaming for 2-3 hours a day. But I had a chance to do one interesting battery test. I had Wi-Fi on, GPS on, screen set to maximum brightness, and volume set to around the 25 percent mark; then, I started playing a YouTube video.
I had about 4 percent battery drain in 10 minutes, which means a battery drain of around 24% per hour in such a scenario. Although this figure may not sound great, whenever I have done the test with phones that have a similar sized battery, I have had similar results. So, I am estimating that you could probably make a couple of hours worth of calls with perhaps an hour or two of using the phone for watching YouTube, social networking, or games, and still get at least twelve hours of standby time.
So, Is Moto G Going to Be a Big Hit?
Motorola's representatives said that the company wanted to come up with a smartphone under $200 that did not compromise on design, build quality, performance, or user experience. Motorola has not created a phone that is as high quality as the HTC One or the iPhone 5s. Spec-wise, the Moto G cannot compete with Samsung's Galaxy Note 3. But those phones cost at least three times more than the Moto G. For anyone with a budget of up to $400, I would have no hesitation whatsoever in recommending the Moto G.
In other words, this phone is a great buy even if it was being sold at double the price Motorola has set for this phone. If your budget can only be stretched to $150, I would recommend buying the Nokia Lumia 520, but I would strongly urge you to try to get the extra $50 somehow (hopefully, in a legal manner!) and buy the Moto G instead because this phone is the bargain of the year in the smartphone world. In my opinion, the Moto G is the king in the world of entry-level smartphones. All hail the king!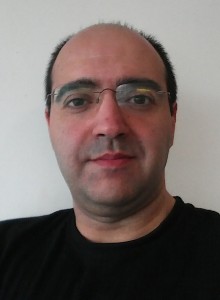 Siamak Masnavi received his PhD in computer science (from University of London) in 1992. Since then, he has worked as a research scientist and technical author for IBM and Canon, respectively, and as a software developer for Symbian, JPMorgan Chase and PricewaterhouseCoopers. He has also done some work as a freelance journalist for publications in United Kingdom and Russia. Since January 2009, he has been writing apps for iOS and Android.