PlayStation 4 -- unboxing, hard-drive upgrade and first impressions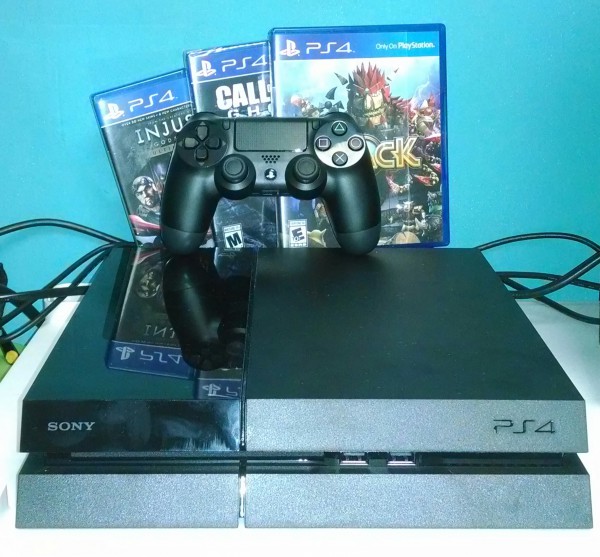 When I preordered the PlayStation 4 from Amazon in June, it felt like an eternity before I would actually receive the next-generation console. Like many people these days, I crave instant gratification and patience is not a character trait that I posses. However, the long wait definitely trumps being a sucker in a line on launch day.
As a kudos to Amazon, the entire process was painless. This is in stark contrast to my horrible experience pre-ordering the Xbox One from the Microsoft Store (which I ultimately did not do). The online bookstore-turned-everything-store made the process orderly and I received the PlayStation 4 yesterday evening. While I was tempted to rip into the box immediately, I used self control and instead waited until after dinner so the entire experience would be uninterrupted. After getting home from my favorite Thai restaurant, I took the enormous brown Amazon box to my mancave-slash-office and magic happened.
Unboxing
The first thing I noticed (besides the absurd amount of air-filled packaging bags that Amazon used) was how small the PlayStation 4 box was. I expected a large square box, but instead, I was presented with a rather svelte, blue, rectangular package. At this point, the only thing between me and the console was a piece of tape emblazoned with the PlayStation logo. However, the tape was no match for my knife and my perseverance; I gained access and opened the box. Now, to say that the heavens opened, light shined on me and a chorus started singing "Hallelujah" would be a lie but it surely felt that way.
Inside the box was a voucher for some free stuff, instructions, the DualShock 4 controller, HDMI cable, mono headset, and of course -- the Playstation 4. I removed each of these items one-by-one to savor the moment. In addition, I also bought the PlayStation Camera. The mono headset stood-out to me as appearing very uncomfortable. It's a hard plastic earbud that will undoubtedly cause pain with long usage. I wish Sony would have omitted the HDMI cable (since so many people already own them) and included a better headset with softer materials.
For your viewing pleasure, I recorded video of the unboxing, which you can see below.
Once I had everything out of the box, I took a step back and took it all in visually. There is one word that comes to mind -- sexy. The sloping hard lines found on the PS4 makes it look extremely futuristic. However, it is also subtle enough to have a place in your living room. In other words, it doesn't look like a toy; it looks like a sophisticated piece of home theater equipment.
While the console looks great, the controller does too. In fact, it is probably the best looking controller and most comfortable that I have held. If you look up "ergonomics" in the dictionary, a picture of the Dual Shock 4 should be listed. Besides the typical d-pad, analog sticks and trigger buttons, it has a couple new tricks up its sleeve too (do controllers have sleeves?). On the front, there is a clickable touchpad which opens up a whole new world in PlayStation gaming. You see, this can be used as a pointing device or something to rub in games. The top of the controller holds a large light, which allows the controller to be "seen" by the camera.
Upgrading the hard drive 
Now unfortunately, the console comes with a rather paltry 500GB hard drive. While you may be surprised to hear me call a drive that size "paltry", please know that all games must be installed to the hard drive. Since games are hovering around the 40-50GB range, the drive may fill up as the years go on. My thought is, why wait for it to fill up and be forced to reinstall all the games, when I can just double the storage from the start? And so, I replaced the existing drive with a 1TB variant.
Please see the upgrade process below:
The process was extremely easy. The left top of the console is slid left and then can be removed. By removing a single screw, the existing drive tray can be removed. From here, I only had to undo four screws to free the 500GB hard drive. I then mounted the 1TB drive on the tray, screwed in the four screws I removed earlier and successfully inserted it into the PS4.
However, that is only half of the equation -- the hardware aspect. Now, I had to install the operating system on the drive. To do this I needed to download the software from Sony here. Now that the file was downloaded, I had to prepare a USB flash drive on my PC. I formatted the thumb drive in fat file format and created the following file structure: PS4\Update\. I then copied the downloaded file to the Update folder and removed the flash drive from my PC. Lastly, I inserted the flash drive into the PS4, turned it on and followed the instructions. Easy as pie.
Gaming and video
Now that the 1TB hard drive was in the game console and successfully working, it was time to actually play with the dang thing. I bought three games, Call of Duty: Ghosts, Injustice Gods Among Us and Knack. I purposely chose an eclectic group of games so each would offer a unique experience -- a First-Person Shooter, a Fighter and a Platformer. While I only spent a few hours total so far between all 3 games, I was very impressed by the graphics and how well the Dual Shock 4 performed.
Believe it or not, it was not the previously mentioned expensive games that I enjoyed the most, it was a free (with PlayStation Plus) download called Resogun. This is a side-scrolling retro spaceship shooter that looks simple but is far from it. It is an instant-classic that is both difficult and fun simultaneously. The game heavily incorporates the built-in controller speaker to enhance the experience. I found myself playing this game for about 2-hours straight last night. Remarkable.
After becoming overwhelmed with my gaming-marathon, I decided to use the PS4 to watch Netflix. I relaxed in my chair and watched a few episodes of Portlandia. The picture quality was great, but I was more impressed with how well the Netflix app worked. Everything was fluid and lag-free and navigation was a breeze. Conversely, on my Roku, I find navigating Netflix to be a tedious affair. Sadly, there is no PlayStation 4 remote control, so I was forced to use the controller. This is not as bad as you would expect, but a cheap and small Bluetooth remote would be nice.
PlayStation Camera
I decided to connect the PlayStation camera and set it up. The PlayStation prompted me to set it up with a tutorial. It learned my face and then had me move my head in various positions so that it can learn it even more. As a result, now when I turn on my console, it recognizes my face and signs me in automatically. This is an amazing feature that feels futuristic and brought a smile to my face.
This camera also includes a microphone, but it is not just for future video calls. I was surprised to see that it enabled voice commands. Yes, you read that right, you can control aspects of the machine with your voice. In the menu, by saying "PlayStation"a list of commands are shown on screen. It takes a bit of getting used to but the commands work flawlessly once you know the volume level for your voice needed for the PS4 to hear you properly. There was more than one occasion where I was yelling at my TV over and over until it worked. But now, I know how to speak to it and it works great.
Sony includes a free game called Playroom with every console so that the user can test the PlayStation camera. Sadly, the game (or demo I should say) is extremely short. Is it gimmicky? Yes. Will you get bored of it? Absolutely. Is it amazing and super fun? Yes. The game utilizes the camera so you can interact with on-screen robots. These robots are silly and one of them will set your head on fire, electrocute you and more if you make it angry. It's fun and works well -- it is cool to see yourself and your room on the screen. I had robots walking on my computer desk. Even though it is short lived, you must try it -- definitely get the camera accessory.
Conclusion
Overall, I love the PlayStation 4. While it is far too early to properly review or rate it, I can confidently say that it is fun and a smart buy. However, if you haven't already bought the console, you may have difficulty obtaining one before the holidays.
The physical design is beautiful and the launch-day games already look amazing. It is incredible to think that the games will get even better-looking as time marches on. If you have the money and can find one, buy it now. Just make sure you pick up the PlayStation camera for the full experience.