Microsoft updates SkyDrive for iOS with camera backup and more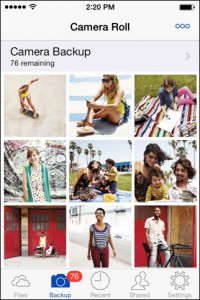 While Microsoft has its own mobile operating system with Windows Phone 8, the company generously supports its competitor's products too. After all, with its own OS having such a small user base comparatively, it would be insane not to.
Back in June, the company's flagship non-OS software, Office 365, was released for Apple's iOS to the surprise of many. Today, while less of a surprise, Microsoft announces some major changes to its cloud-storage SkyDrive app.
"One of the most popular features on Windows Phone is the ability to automatically upload the photos and videos you capture to SkyDrive. With the new SkyDrive app for iOS, we're bringing that same capability to those of you who use iPhones and iPads. The update also includes improved editing and viewing in Office Mobile, and OneNote integration. Finally, we're also really excited to share some updates to our Facebook integration on SkyDrive.com, an experience that no other cloud provider offers", says Ryan Hoge, Lead Program Manager at SkyDrive.
With camera backup, Microsoft is offering iOS users the ability to upload their photos to the cloud, so they can clear some space on their Apple devices. With higher-megapixels comes larger photo files, so this will give users some much needed breathing room. After all, Apple charges a considerable amount for every storage spec-bump when configuring the device. Microsoft could be saving them money by reducing the need for increased internal storage.
Of course, a sad fact with modern cellular carriers is that data being capped and throttled has become the norm. With that said, backing up photos over cellular data could have dire (and potentially costly) consequences. No worries though, Microsoft has users covered by allowing them to only backup over Wi-Fi if they choose. Users can then share these photos on Facebook with improved tools through Skydrive.com.
In addition, the SkyDrive for iOS app is gaining new features for opening Office files. Previously, the app would launch the files in a quick-view mode, which was great for viewing documents but not so much for editing. Now, the app can open these files directly with Office Mobile or OneNote, which empowers the user to decide how they want to interact.
If you are interested in trying the new SkyDrive app on your iOS device, you can download it here.