BetaNews obtains an exclusive unreleased Microsoft Scroogled product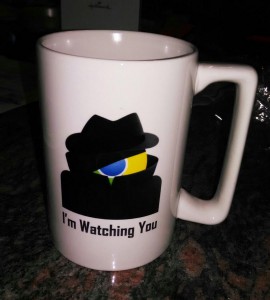 When Microsoft launched the Scroogled store, it was met with both criticism and praise. Even in the BetaNews newsroom, it was a polarizing topic -- Wayne called it a "new low", while Joe called it "genius". Regardless of your stance, one thing is for sure, the products have been popular. Much of the Scroogled merchandise sold out very quickly and now show either an "Out of stock" or "Ships within 3-4 weeks" message.
Heck, I felt compelled to buy something from a collector standpoint. After all, Microsoft selling anti-Google products is a notable moment in the history of technology. With that said, I frantically pulled out my credit card and bought the mug before it sold out. While I did receive the mug, I received something unexpected too -- a second mug, with an unreleased design. Whoa.
As you can see on the right, the second mug is white with an "I'm Watching You" design. The dimensions of this white variant are exactly the same as the black, including the well-sized handle. Curiously, the label on the box says "Keep Calm", which indicates it was intended for the first mug design.
While I appreciated the additional mug, its delivery was still mysterious. After all, this product has never been sold by Microsoft (and I did not pay for it). I took to Twitter to see what was going on. I wrote the following, with a picture of the mug attached:
@BrianFagioli -- hey @Microsoft I only ordered one #scroogled mug but got two. Thanks for the gift!
I received the following reply from the Scroogled Twitter account:
@Scroogled -- @brianfagioli @Microsoft What can we say? We like you so much, we sent an extra.
While flattering, I would guess that my popularity (or lack thereof) is not the true reason. I am guessing it is simply a shipping mistake. However, the fact that it is an unreleased product indicates that more merchandise and designs may be on the way. Although, it could also be a printing mistake, in which case I may hold an extremely rare collectible. eBay, here I come!
The original mug: