Microsoft compares Surface 2 to iPad Air -- Surface wins!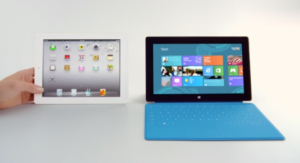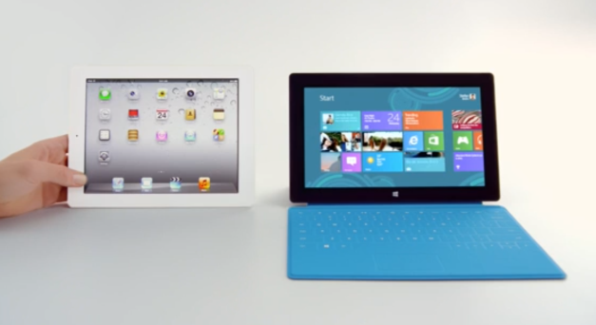 Microsoft has been on fire today in the video department. First, the company released a controversial video declaring that a Chromebook is not a laptop. While that should be enough controversy for the day, it is not resting.
Today, Microsoft releases two new videos comparing its own Surface 2 to the iPad Air. Shocking to no one, the Surface 2 beat Apple's tablet. Was it a fair fight? You tell me.
According to Dale Perrigo of the Surface team, "we know that many of you are in the middle of deciding which devices to purchase for family, friends, and yourselves. As you consider the alternatives, you should think about what you want to do on your tablet".
"Surface is designed and built for people who want to do more and be productive on a tablet. This means different things to different people, so we've put together a series of videos (with more to come) to show you how Surface compares to its competition in accomplishing many of the things you do every day", says Perrigo.
In the first video, titled Cooking, Microsoft claims that the Surface 2 is better equipped for use in the kitchen. This is because the integrated kickstand holds it up, while hands-free technology allows the tablet to remain food free.
Comparatively, the iPad Air has a kickstand, but only with the addition of a case. While Apple's tablet has a hands-free mode, it requires voice-commands, which won't work in a noisy room. In other words, you may get things like tomato sauce all over the iPad screen. Mama mia, that's a dirty iPad.
In the second video, titled Sharing with Family, we see how the Surface 2 can utilize multiple profiles, which iPad can't. This makes Surface 2 ideal for a family, as each user can have a customized experience and a unique login. The video even says "kids love having their own backgrounds, apps and games". You know what else kids like? Their own tablet. No one wants to share a tablet that dad brings into the bathroom.
So, do you think the comparison is fair? Does Surface 2 really win? Tell me in the comments.
Cooking
Sharing with Family