Winamp petition is latest to likely fail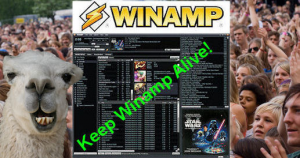 When companies announce their intention to shutter services, fans suddenly appear from nowhere, begging for a change of heart. Some months ago there was a petition asking Google to grant Reader a stay of execution. It's not the first and it won't be the last petition Google has ignored -- there's currently one begging for Android 4.4 KitKat to be made available on the Galaxy Nexus, and of course another one asking for the old YouTube comments system to be restored.
Last week AOL, once the darling of the internet back when it was all shiny and new, announced it will be killing off Winamp, the popular media player released back in 1997, and purchased by America Online in 1999 for $80 million.
As has become the norm in these desperate situations, both a website and petition have materialized in an effort to save the dying software. The plea reads, in part:
After more than 15 years and millions of users worldwide, Winamp Media Player will cease forever as of 20th Dec 2013.
Winamp is the best media player ever built. If there were other alternatives then that would be fine, but there is nothing that can do what Winamp can do. It is the most versatile media player on earth.
It can't be left to die. It must live on.
As of this writing, more than 31,000 disgruntled customers have added their names to the document. It is just 3,700 signatures away from reaching its goal. Of course, in the end, it likely means nothing, unless AOL proves more responsive than Google ever has.