Acer Aspire Z3-600 -- combination between Windows 8.1 tablet and desktop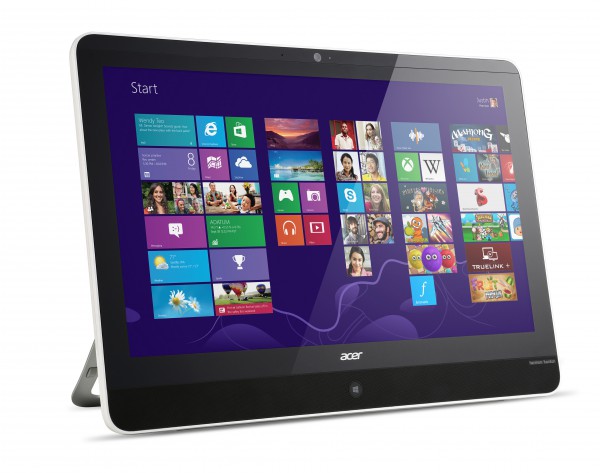 When Windows 8 was released, it blurred the line between the desktop and mobile operating system. Sure, not everyone loves the one-size-fits-all UI philosophy of the OS. However, it has sparked some interesting computer designs such as convertible laptops.
The most unique design has been the combination tablet and all-in-one. In other words, the computer is a tablet, with a battery, that can be docked on a stand as a desktop. Today, Acer announces that it is releasing one of these types of computers -- the Aspire Z3-600. However, rather than come with a dock, it has an integrated kickstand. In typical Acer fashion, they are delivering a lot of value for your dollar.
"The Aspire Z3-600 series boasts a built-in battery offering up to 2.5 [hours] of life for enjoying apps and entertainment without being tethered to an outlet. It has a convenient stand that tilts up to 90 degrees back to comfortably accommodate many different uses from browsing recipes in the kitchen to playing games in the den. This portable AIO can also lay flat, so users can enjoy web browsing, email and games from their lap. The robust hinge design maintains the PC's stability during continuous tilting, even while users leverage the 10-point capacitive touchscreen", says the company.
Acer further explains that the computer "offers the power necessary for smooth multitasking, productivity applications, casual gaming and social media. It comes outfitted with Windows 8, an Intel Pentium J2850 quad core processor, Intel HD Graphics and 4GB DDR3 dual-channel memory. Offering up to a large 750GB hard drive, these portable AIOs provide ample storage". Yes, you've read that right, a quad-core Pentium.
The 1080p touch-screen computer will be available later this month for a rather reasonable $779. If you are looking for a family computer to buy for the holidays, this should be on your radar. After all, a 21.5-inch tablet will be awesome for your children to both play games and do homework.