How to move from Gmail to Outlook.com with Microsoft's new migration tool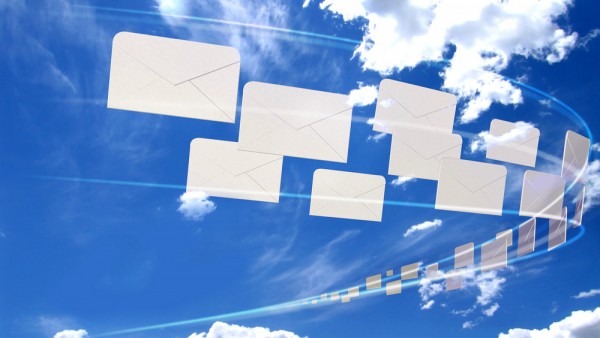 While you can't use Lavabit any longer, there are still plenty of good email services out there, though none is perfect -- they can all experience occasional glitches, just ask Yahoo customers. I also can't tell you which ones you can trust, though I can recommend caution with all of them, given the recent news stories.
Microsoft has been on a bit of a rampage against rival Google lately, and one target of attack has been Gmail, with accusations of messages being "read" in order to better target ads. It's a rather disingenuous point, as all providers scan incoming messages, if not for ads then at least for spam filtering (and Outlook.com does have ads unless you pay to opt out).
But this isn't about picking on one company or comparing services to determine which is better. Microsoft has just released a new migration tool to allow customers who wish to move from Gmail to Outlook.com do so in the easiest possible way. These are the steps to follow if you wish to make this move.
Why Outlook.com?
Microsoft's web-based email service is not necessarily better or worse than that of rival Google. It is very different though. It has a nice clean look, a very Windows 8 "Metro" style. Those familiar with the Outlook desktop client should feel right at home, and that can be a key factor in the decision for many casual computer users. Microsoft also provides the ability to opt out of seeing ads, though the privilege will cost you $19.95 per year.
The Steps to Follow
You'll obviously need an Outlook.com account, but we'll assume you have already taken care of that and go from there. From the main page of your email account you'll need to click the tools icon at the top right and choose "More mail settings".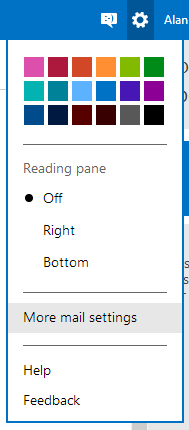 This results in a page that has a rather large number of options. We're looking for one called "Import email accounts", which can be found as a sub-heading under "Managing your account".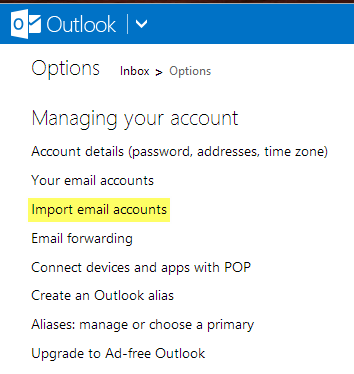 Now choose where you wish to import from -- Google just happens to be an option, as are desktop email clients on your computer. If your Gmail address is registered with Microsoft, as mine was, then it will already be listed on this page.

A dialog box pops up to explain what is about to occur -- "Send email from your Gmail address using Outlook.com" and "See and chat with your Gmail contacts from Outlook.com and other Microsoft web services".

There is also an "Options" link which allows you to opt to import all of your Gmail messages into a new folder and subfolders, as opposed to the default, which is importing to existing folders and subfolders. You may want to make this switch if you wish to keep messages separate. Once you're satisfied with your choices, click "Start".
A message box pops up (if you have more than one Gmail account, as I do) asking you to choose the account you wish to import from. If your account isn't listed then click on "Add account" and follow the steps.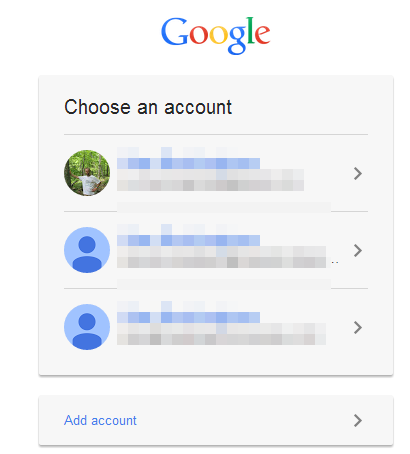 Google will display one final message. This explains what is about to happen and asks for your authorization to proceed with allowing Microsoft access to your Gmail.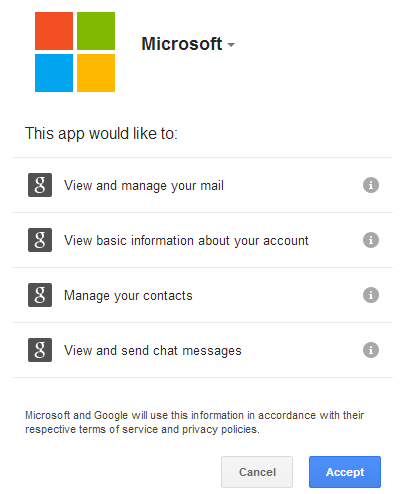 Once you've clicked on "Accept" the import will begin. Depending on the amount of mail and contacts you have, it could take some time. It will all happen in the background and you can continue to use the service as this takes place.
Microsoft will also send a message to your Outlook.com address providing step-by-step instructions on how to set up email auto-forwarding so all future messages sent to your Gmail will be forwarded on to Outlook.com. You will still have the option to send messages from your @gmail address.
This will not cancel or, in any way, affect your Google account. If you choose to do so, you can always go back to using it. All of your mail and contacts will still be there. In other words, it can't hurt to give it a try.
Photo Credit:  2jenn/Shutterstock