Surface RT is $299 at Best Buy -- now is the time to pull the trigger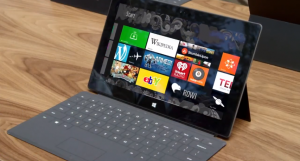 Since the release of the first iPad, consumers have been trying to use tablets as PC replacements. They retrofit them with keyboards trying to make them laptop-like. It's hard to blame them -- after all, the battery life of most tablets is very attractive.
Sadly, most tablets have proven to be companion devices to the PC, rather than a replacement. Luckily, Microsoft released the Surface line of tablets, which melds fun and productivity into a true PC replacement. This is because, well...it sort of is a PC. Today, the 32GB RT variant is being sold for a super-low $299 -- will you buy it?
True, this is the previous generation of the tablet, but sometimes buying previous-gen is the best way to save money. While you will not get the 1080p screen of the Surface 2, you do get a respectable 1366 by 768 resolution. You also get a USB port, integrated kickstand and the ability to run two apps side-by-side (something an iPad cannot do).
At $299 for the 32GB and $329 for the 64GB model, you can't go wrong -- both are an amazing bargain. The tablet will work wonderfully as a companion device or a computer replacement. After all, it can be connected to a monitor for longer computing marathons and has Office 2013 pre-installed.
I recently wrote an article suggesting some things to do once you buy a Surface 2, but it mostly applies for the Surface RT too. If you do decide to buy it, give it a read, it will definitely help you along your Surface journey.
Will you buy it at this price? Tell me in the comments below.