My favorite product from CES 2014 [Wayne]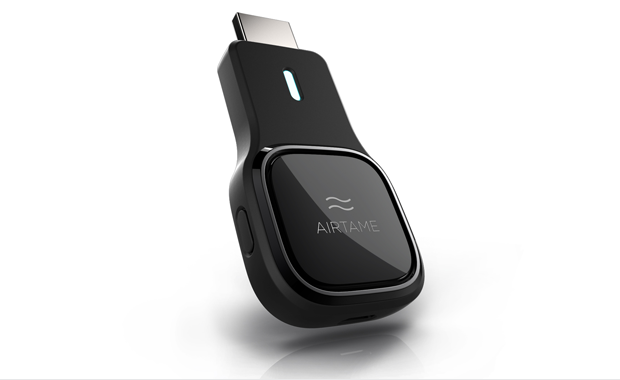 Trying to pick one favorite new product at CES is far from an easy task. The show covers all things tech, and there's a lot of desirable new hardware coming out this year. Like my colleague Alan Buckingham's pick, I didn't want to go for something obvious, like a new TV, a new computer, or some form of wearable, but I also wanted to pick something that I definitely plan to buy in the future.
AIRTAME has been seeking funding on Indiegogo, and hasn't just achieved its goal, it's smashed through it. The creators were seeking $160,000 and have to date notched up just over $636,898 (with seven days still to go) and been nominated as the Best Startup of CES 2014 by Engadget -- which is pretty good going. So what exactly is AIRTAME? Essentially it's a dongle, like Google's Chromecast, that aims to provide "wireless HDMI for Everyone".
You plug it into any TV, projector or monitor with HDMI, and link it to your Wi-Fi network. Once that's done you can throw (or "cast", to use Google's terminology) whatever's on your computer to the device. It works with Windows, Mac and Linux. The possibilities of this truly are endless, but as an example, imagine you're watching a YouTube video on your laptop that you want to share with the rest of the family. Instead of everyone crowding around your small screen, you can show it on the living room TV instead.
You can use it to enjoy games on the larger screen, watch movies, display business presentations, and of course schools could find numerous uses for it too.
AIRTAME doesn't just let you duplicate your screen, it can extend it as well. Or you can send your computer's display to multiple screens at the same time. That could be really useful for businesses.
The creators set a number of stretch goals and the most recent one that was unlocked has seen the hardware upgraded to dual-core. The next two stretch goals will see dual-band Wi-Fi added and -- if it hits a cool $million -- there will be iOS and Android apps released.
Several add-ons will be available for the device, including a HDMI-VGA converter, HDMI-DVI adapter, and USB-Ethernet.
If you pledge $89 now, you can be one of the first people in the world to receive the device (you'll need to pay an additional $15 dollars for shipping if -- as is likely -- you live outside Denmark). The first devices are expected to be sent out in March.