Apple succeeds where Sony couldn't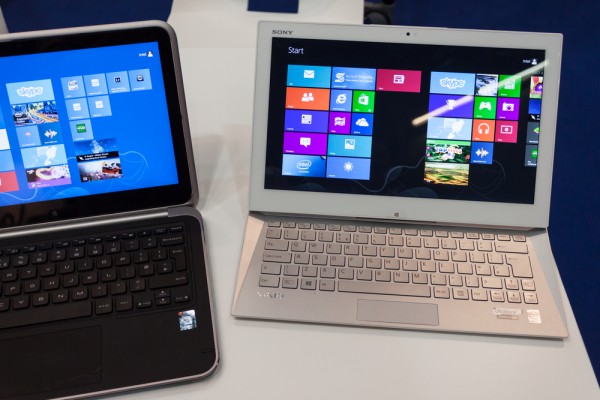 There are OMG events, and Sony's selling its PC business surely is one of them.
"It's an historic moment", Roger Kay, Endpoint president, says. "The company Steve Jobs looked up to as the paragon of style leaves the industry he helped found, driven off, at least in part, by him".
The Medusa Problem
There's wisdom to Kay's statement. Apple and Sony largely sell to the same market segment, what NPD calls premium PCs, as judged by design and selling price. However, Sony VAIO sales slump, like most of the PC industry, while Mac shipments soar. By Gartner's estimates, overall U.S. PC shipments fell 7.5 percent year over year during fourth quarter, while Apple computers rose by a stunning 28.5 percent.
Remember, Apple commands some of the industries' highest prices. The lowest-priced notebook is $999. Yet the company rakes huge revenue -- $6.4 billion globally on Macs during Q4. One question to ask in context of today's stunning sale: What is Apple doing right and Sony doing wrong?
The companies compete selling single digital lifestyles unified around devices like personal computers, portable media players, set-top boxes, and smartphones. Apple doesn't offer camcorders, cameras, game consoles, or TVs, and Sony doesn't develop its own operating systems -- although both companies sell software for consuming and creating content.
Apple and Sony also operate successful chains of retail stores selling their respective digital lifestyle products. There VAIO's absence leaves a big hole.
Sony's problems are endemic to its corporate structure and also follow larger trends affecting the PC market, particularly Windows. The Japanese company is a Medusa, with many heads connected to the same body that are otherwise independent and often in conflict. Sony's brand commands, but the supporting products don't always work well together or they stray from adopted industry standards to proprietary formats and user interfaces.
Apple's approach is a bit proprietary, too. But since Steve Jobs' return as CEO in 1997 until his death in 2011, the company had one head with many limbs (his subordinates, like chief designer Jony Ive).
Gravity's Pull
Stephen Baker, NPD's vice president of industry analysis, calls Sony's PC strategy a "mixed approach". He explains: "Sony tried to take advantage of its brand strengths for years built the coolest, smallest, most compact SKUs that appealed to, and were priced for, the premium customer and were successful as 'executive jewelry' type of products".
But unlike Apple, Sony also targets the bargain basement, committing to neither price segment. There is "constant back and forth movement between a focus on the premium segment and then sometimes a focus on the basic volume segment". The approach diminishes VAIO PCs' brand value.
By contrast, Apple maintains a premium brand, which higher pricing fosters, while Sony cannot escape the Windows PC market's downward pull. The gravity is strong. Gartner describes 2013 shipments as "the worst decline in PC market history". Where PC manufacturers and industry analysts expected growth, shipments slumped.
Mikako Kitagawa, Gartner principal analyst, explains the problem: "Strong growth in tablets continued to negatively impact PC growth in emerging markets. In emerging markets, the first connected device for consumers is most likely a smartphone, and their first computing device is a tablet. As a result, the adoption of PCs in emerging markets will be slower as consumers skip PCs for tablets".
NPD DisplaySearch predicts that emerging markets will account for 57 percent of tablet shipments this year.
Gravity's pull is doubly strong on Sony's PC business: Globally slowing sales trends and slumping selling prices (although NPD DisplaySearch predicts notebook ASPs will nudge up to $693 this year from $667 in 2013). Buyers can always find a cheaper Windows PC, but Apple owns OS X. There is no alternative apart from devices running other operating systems.
Brand Value
Interbrand puts Apple at the top of its 2013 list, commanding $98 billion in brand value. Sony is No. 46. Among the top 10, Eighth-ranked Samsung is the only other PC manufacturer, but much of the lift comes from its smartphone business. Microsoft (No. 5) makes software for PCs and Intel (No. 8) their microprocessors. But both companies push into markets beyond personal computing. For Intel, that's mobile devices like smartphones and tablets. For Microsoft, it's devices and services.
Apple's unique standing ties to success selling other devices. During calendar fourth quarter, iPhone accounted for about 52 percent of the company's $57.6 billion revenue. Combined with iPad: 76 percent. According to CEO Tim Cook, Apple sees so-called halo sales, where people buying mobile devices first later add Macs, as significant.
This taps into Apple's unified digital lifestyle approach, which complete hardware, operating system, services, and software stack is more compelling than Sony's fragmented offerings. Then there are other factors, such as Apple's higher pricing preserving premium brand status and Sony slumping with the Windows PC market.
During early 2013, Sony made some premium PC brand decisions that looked promising. "Windows 8 actually provided an opportunity for Sony as a premium on design and product, especially around touch, has been positioned as an important part of the Win 8 market", Baker says. "With well-designed, interesting products like the VAIO Flip and the VAIO Tap, Sony has found success. For the first nine months after the Windows 8 launch Sony was the number two touchscreen notebook brand over $500, clearly their sweet spot, with 17 percent of the market and an average price of over $900".
But declining selling prices put pressure on the consumer electronics giant, which couldn't sustain momentum. "Sony fell back into its old product mistakes, not defending its core market well and unable to find a way to build on its early mover success, falling back to just 8 percent share over the last six months", Baker says.
Then there is that nagging PC sales problem. For many new device buyers, the PC is dead. The personal computer isn't on their shopping list. That's where aforementioned problems in emerging markets matter so much. Many businesses and consumers buy smartphones first then skip to tablets rather than PCs. The biggest expected growth market isn't. The greater brand value belongs to cloud-connected mobile devices.
End the Denial
That's an accelerating macro-trend that PC defenders should no longer deny. Sony's PC biz exit is a sign of the times. The company chooses to focus on devices (watch for wearables) that matter more to the larger global market. For good reason. NPD DisplaySearch sees 2014 as the turning point for laptops, when tablets take enormous lead. The firm expects tablet shipments to more than double notebooks this year. That's not just because tablet sales are growing. Looking back at dismal 2013, manufactures are cutting notebook production levels for this year.
I've warned about the PC implosion for years and taken flack for it from some BetaNews readers. The most exhaustive and most significant of my past posts to today's news is from February 2011: "The PC era is over". I chided:
End the denial, and look ahead rather than behind. The PC's decline is inevitable, as was the mainframe's. It was never a matter of if but when, and it's a process still underway that will take years to complete.

Use your noggin, PC defenders. Where is all the buzz, the excitement among businesses, consumers, developers and manufacturers? The last four years of mobile device buzz remind of the early 1990s, when publications like Computer Shopper, PC Magazine, and PC Week wrote endlessly about computer hardware and software. Where's the PC chatter today? It's about smartphones outselling personal computers or tablets cannibalizing PC sales, and that's about it. But mobile applications buzz is simply everywhere. Then there is the obsession with new smartphones and the nearly 100 tablets announced this year.
But there's another analysis that applies to the future, for Sony and its competitors. As I asserted in November 2012: "The post-PC era already is over". The post-PC era is a fiction, fostered by companies like Apple, which profit center is hardware like iPhone and iPad. The new computing era is all about context, something I've said since 2007 and Robert Scoble and Shel Israel articulate in their 2013 book "Age of Context".
Good example: The movie you start watching on a tablet flying home from a business trip but finish in the living room on the big-screen TV. Context of consumption changes but content stays the same.
My post-PC analysis and the one from 2011 are hugely relevant to Sony's PC division sale, beyond comparisons to Apple. Their main points are too long to excerpt here, which is why I link to them.
Photo Credit: Stefano Tinti/Shutterstock