Microsoft wants your iPhone 4 or Galaxy S2, offers Lumia 1020 or 1520 in trade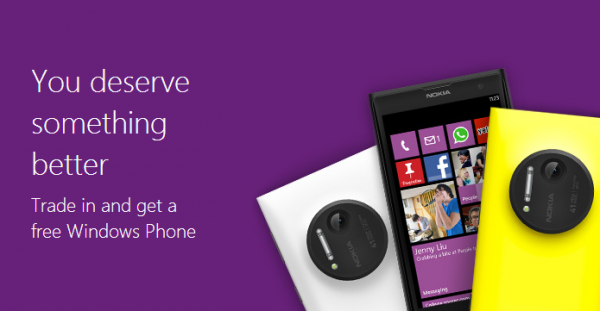 If you are currently toting around an Apple iPhone 4 or 4s, or a Samsung Galaxy S2, then you are likely aware that it's time for an upgrade. While many on Apple and Android platforms will probably stick with what they know, Microsoft is hoping it can win a few of you over.
For a limited time the company is offering a trade-in deal. Customers who bring in an iPhone 4 or 4s or Galaxy S2 can walk out with a new Nokia Lumia 1020 or 1520 at no cost.
There are some considerations before making this move. First, both phones run on the AT&T network, so there's a possibility you'll need to switch carriers in the process of this exchange. You will also need to agree to a two year contract, which is standard fare with US carriers.
The deal is available right now and will run through March 2nd. Phone colors available vary depending on the store you wander into. The phone you hand over also needs to be in good working condition, with no cracked screen. You can get the details from the Microsoft online store.