Paragon Backup & Recovery 2014 Free adds new virtual backup tools, revamps user interface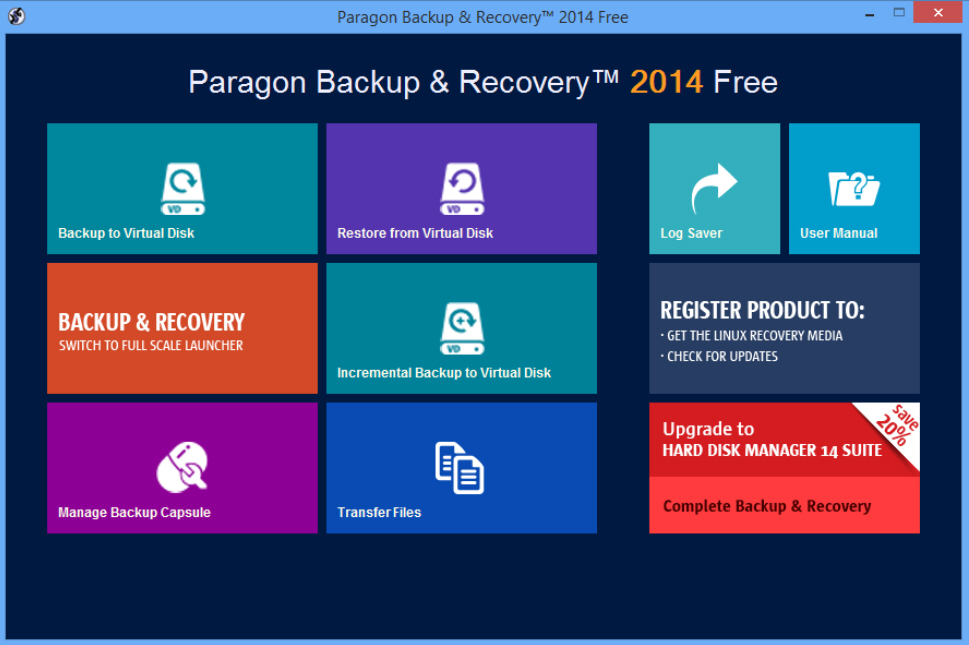 Paragon Software Group has released Paragon Backup & Recovery 2014 Free for Windows PCs, a major refresh of its drive-imaging and restore tool. The tool, now available as a separate 64-bit build for the first time, adds full support for Windows 8.1, Storage Spaces and UEFI.
It also introduces a New Backup Format tab, allowing users to back up, browse and restore to and from a virtual disk drive format. There's also a refreshed UI and updated recovery media builder added, allowing users to create a Linux-based recovery disc.
The headline new features in Backup & Recovery 2014 Free are support for the latest technologies and platforms. Windows 8.1 support is officially added for the first time, as is "complete" support for UEFI and Windows Storage Spaces, the latter feature allowing Windows  8 users to span large backups across the combined space of multiple smaller drives using the new Windows Storage Spaces tool.
The 2014 build also introduces a new backup format -- accessible via its own tab -- that allows users to back up both separate partitions and entire drives to the new pVHD (Paragon Virtual Hard Drive) format. This has been optimized for storing backups of both virtual and physical machines.
The pVHD format adds a number of new flexible options, including the ability to create multiple incremental backup chains based on a single full image in a way that will be familiar to users of virtual software like VirtualBox. Paragon also claims that incremental backups done in the pVHD format are much quicker -- and more stable -- than those made with the older PBF format.
Other advantages of pVHD include being able to restore individual files and folders as well as selected partitions from within a pVHD image. Users can now also restore the contents of a 512-byte hard disk to a 4K hard disk with no additional actions required.
Backup & Recovery 2014 also debuts a new updated Recovery Media Builder, which creates Linux-based recovery media in the event the user is unable to boot into Windows to access previously backed up images.
The tool also drops mandatory registration, allowing users to install and use Backup & Recovery Free without having to first register for a serial number. Certain features -- checking for program updates and downloading the recovery media builder tool -- still require registration, however.
All of these new features are wrapped up in a radically redesigned user interface, refined further to fit in with the new, streamlined tile-based look of Windows 8.
Both Paragon Backup & Recovery 2014 Free (32-bit) and Paragon Backup & Recovery 2014 Free (64-bit) are available now as a free-for-personal-use downloads for PCs running Windows 2000 or later.