Radio Search Engine rocks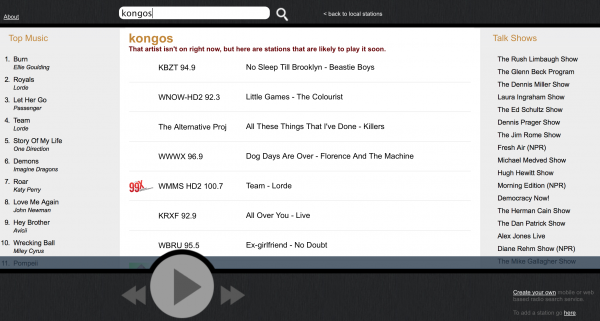 Growing up in Northern Maine, where the winters are long and the nights bitterly cold, I obsessively listened to the radio. During darkness, AM signals skip hundreds, sometimes thousands, of kilometers. WRKO in Boston, 650 km south, back when the station played music, was a fav -- and WKBW in Buffalo, N.Y. My passion for radio led me to hitchhike, at 17, with a friend to the Federal Communications Commission office in Boston to test for a Third Class license. I would need one to be a radio disc jockey. I flunked, so we hitchhiked a second time. Success!
My radio passion remains. Before the Internet, I used a Grundig Shortwave receiver to listen to news and cultural programs from around the world. Many worldband stations are silent now, choosing to stream on the Internet instead. Domestic radio remains popular, however. For example, according to new Nielsen data released last week, 242 million Americans listen to radio, which reaches more than 90 percent of every age group. Sixty-five-million Americans 18-34 years old listen to radio, spending an average 11.5 hours each week. That's right. The Pandora generation.
The Nielsen report, "State of the Media: Audio Today 2014", is context for anyone believing that the Internet killed the radio star. Most stations broadcast and stream, engaging listeners who visit their websites with playlists and other extras. The number of streaming stations is enormous, but how do you find them. Google? Cough, cough. Choke, choke.
In late January, I received email from Radio Search Engine, when it opened for public consumption. My mom was in hospital, and I delayed writing about RSE until seeing the Nielsen study. The search engine scans 40,000 radio stations every 3 seconds, providing easy access to whatever broadcasts. You can search by artist, genre, show, song, or station. Radio Search Engine even pulls up podcasts, as it does for APM's "Marketplace Money".
Specialized search has a future, I'm convinced, which RSE illuminates. Increasingly finding what I want is more difficult using Google, or even Bing. There are many reasons. Personalization, by the site tracking your searches, is one reason. How the algorithms determine relevancy is another. Then there is the inherent conflict-of-interest: Making money. Search is advertising supported. Need I really explain the problems with that? You know.
How Radio Search Engine makes moolah is a mystery to me. But the company is located here in San Diego, and I plan to visit in the near future. But the concept catches my fancy and solidifies my conviction that search must further fragment from, or even within, Google. If you search a website -- ah hum, like this one -- search is specialized, if not provided by or done separately through Google. Amazon is one of the best examples of specialized search. Shopping comparison sites are another, as is Yelp. Local search also is specialized -- yes, from Bing and Google.
As for radio, Nielsen reports that most people listen out of the home, most likely while driving. Please, if you must use your smartphone behind the wheel -- and you really shouldn't -- don't search radio stations and drive.