Samsung to reveal different design direction at Unpacked Episode 1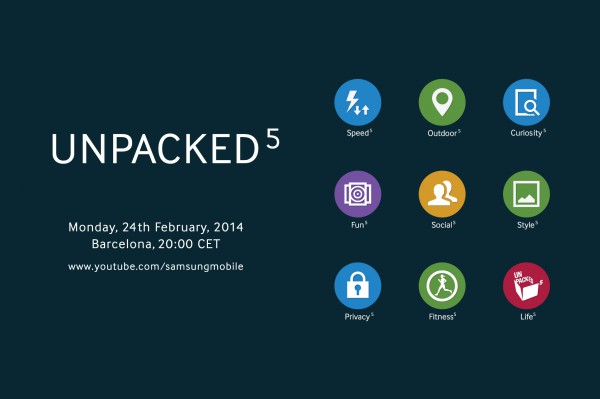 It is no secret that Samsung will unveil "The Next Big Thing" at its first Unpacked event of the year (odds are it will be the successor of the popular Galaxy S4). The company has told us so. But what we do not know is the direction that the South Korean maker wants to take with its upcoming flagship. Will there be something new or will it stick to the previous theme?
A new image released for Unpacked Episode 1 (where almost everything is at the power of five -- which gives Galaxy S5 rumors credence) shows nine key areas of focus for The Next Big Thing, some of which we have seen the company focusing on starting with the Galaxy S4 release almost a year ago. There are, however, clear signs that Samsung is looking to shake things up a bit as well.
The nine key areas of focus (which you can see indicated in the photo above) -- speed, outdoor, curiosity, fun, social, style, privacy, fitness and life -- indicate that Samsung is aiming to improve the camera software (possibly deliver faster connectivity speeds as well), increase focus on wearables and improve built-in fitness-related features, beef up the software in the privacy department and place a greater deal of emphasis on discovery and social.
There is also a new design direction hinted at by the image, as every icon shown in it is flat. Windows Phone, then iOS made this theme popular in mobile and it is very likely that Samsung will try to take a similar path with what could very well be its most different handset yet, when compared to its predecessors. If it is not clear enough already, flat is the new black.
Expect to see the big picture once Samsung pulls the wraps off its next big thing at MWC 2014 in Barcelona, later this month. In the meantime, we have to get used to the company officially feeding everyone crumbs.