Misplace things often? Nokia Treasure Tag helps you find them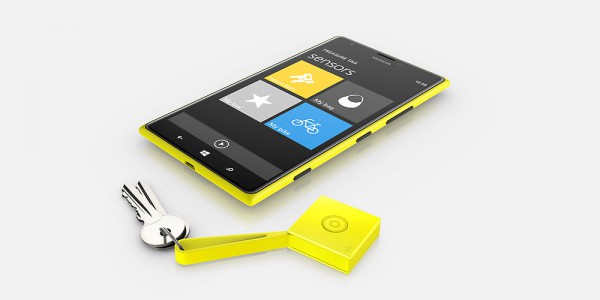 That is the message Finnish maker Nokia tries to convey with its new Treasure Tag accessory. It is designed to be used in conjunction with the accompanying mobile app that is exclusively available for the company's Windows Phone 8 lineup, running the Lumia Black firmware which started to roll out earlier this year worldwide.
Nokia Treasure Tag is a small device, that comes in at 30 x 30 x 10 mm and 13 grams, which leverages Bluetooth and NFC (Near Field Communication) to communicate the position of the item it is linked to (attached) to a compatible Lumia smartphone. A common use for the nifty accessory will likely be attachment to the car and house keys (as shown in the marketing pic displayed in this post).
Nokia recommends using Treasure Tag with the Lumia 520, Lumia 625, Lumia 720 and Lumia 1520, but it will work with other of its Windows Phone 8 devices. The company explains that users simply have to pair the accessory to the smartphone via NFC or search for it using a Bluetooth connection. To make it easier for users, they will be prompted to download the needed mobile app when pairing Treasure Tag for the first time. Finding misplaced items is done using HERE Maps (to show their location on a map).
There are some other clever things too, like the option to pin live tiles with the color of the tag or a picture of the attached item on the Windows Phone 8 start screen. To keep battery consumption down, the Treasure Tag can be deactivated as well (this would come in handy when the item's location is known, but the user is nowhere near it, like at work).
The specifications include features like a battery level indicator and tones, a removable 220 mAh battery, buzzer alerts, 40 meters operating range and 180 days of standby time. The quoted range and battery life means that it can be used comfortably in real-life scenarios, but expect both to drop significantly depending on the location of the misplaced items and usage patterns (meaning the number of times the items are misplaced) of their owners.
In keeping up with tradition, Treasure Tag will be offered in multiple color options -- black, cyan, yellow and white. The recommended retail price is $29.90/€24.90, for its April launch. The accessory will be available worldwide, according to Nokia. The company also says that Android and iOS support for Treasure Tag will also come, but through third-party apps.