Fitbit users getting rashes -- company issues recall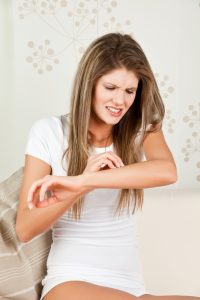 Health and technology is not a new relationship. For years, exercise equipment such as an elliptical or stationary bike has been fitted with computers to track progress and heart-rate. Hell, many medical discoveries were made in space thanks to NASA. However, having dongles communicate with a smartphone is still a relatively new market. The existence of this market underscores people's increasing interest in positive health and well-being.
Ironically, one such device aimed at positive health is causing a negative -- a rash (yuck!). Yes, the Fitbit Force, a device worn on the wrist, is causing some users to get a nasty rash. As a result, the company announces it's issuing a recall.
"Late last year, we began selling Fitbit Force, our most advanced activity tracker. Recently, some Force users have reported skin irritation. While only 1.7 percent of Force users have reported any type of skin irritation, we care about every one of our customers. On behalf of the entire Fitbit team, I want to apologize to anyone affected", says James Park CEO and founder.
What is particularly worrying is that no definite cause has been identified. Park explains the following facts:
Independent test results have not found any issues with the battery or electrical systems.
Test results show that users are likely experiencing allergic contact dermatitis.
All Force materials are commonly used in consumer products. However, some users may be reacting to the nickel present in the surgical grade stainless steel used in the device. Other users are likely experiencing an allergic reaction to the materials used in the strap or the adhesives used to assemble the product.
So, in other words, it may be this or it is likely to be that, but no one knows for sure. With that said, it is puzzling that a recall would be issued for such a small number of impacted consumers. Not to mention, it is not fatal. It is purely speculation on my part, but these affected parties could simply be not washing their hands enough and letting bacteria build up.
Are you the owner of a Fitbit Force? Do you have a rash? Tell me in the comments.
Image Credit: Imcsike/Shutterstock