Nokia takes the wraps off its Android-based X smartphone series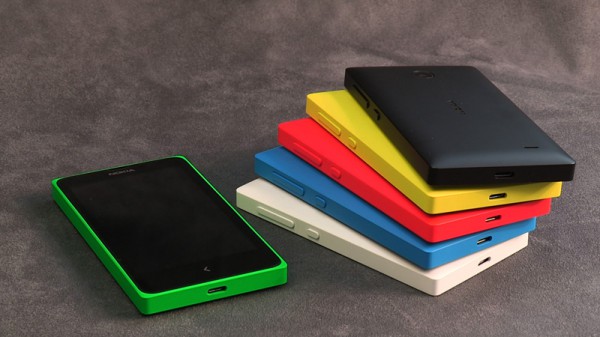 Today, at MWC 2014, Nokia was expected to break away from its Windows Phone exclusivity and introduce an Android smartphone called X. But, the Finnish company just took the wraps off three handsets under the same umbrella, called X, X+ and XL.
According to Nokia, the X smartphones slot between its low-end Ashas and high-end Windows Phones, with prices to kick off at €89 for the entry-level model. The beefier X+ and XL will cost €99 and €109, respectively. Is there something you should get excited about?
Well, from the get go, I should point out that all three come in a dual-SIM trim. Nokia is apparently ashamed to admit the Android connection, so the company makes no mention of which iteration its distribution is based on. The word "Android" is not even used in the smartphones' specifications except to tout the app compatibility, so that is saying a lot.
In the X series, Nokia is bundling its own apps and services on top of Android. Partner Microsoft is also bringing Skype to the new lineup. Meanwhile, BlackBerry announced BBM for the series. The latter service will also reach Windows Phone in the coming months.
As expected, the X lineup comes with a heavily-skinned Android interface, which is tile-based like Windows Phone but, unlike Windows Phone, offers a notifications panel. There are HERE Maps, OneDrive, Outlook.com, BBM, Plants vs. Zombies 2, Viber, Vine and Twitter available now, most of which come out-of-the-box. To get more apps users can go to Nokia Store and take advantage of sideloading. Unsurprisingly, there is no Google Play access.
Specs-wise, we are looking at two 4-inch displays -- on the X and X+ -- and a 5-inch screen -- on the XL -- all with a resolution of 480 by 800. Each model is powered by a dual-core 1 GHz Qualcomm Snapdragon S4 8225 processor, backed by either 512 (X) or 768 MB of RAM (X+ and XL).
The X and X+ ship with a 3 MP fixed focus camera, while the XL offers a 5 MP shooter with autofocus and flash. The X+ and XL ship with a 4 GB microSD card, while the X does not even though it too has a slot for one. Connectivity-wise, prospective buyers are limited to 3G speeds.
The X availability starts "immediately" in Asia Pacific, Europe, India, Latin America, the Middle East and Africa. The X+ and XL will be ready in Q2 2014. Prices may vary depending on the region.