Windows Phone will still be in Android and iPhone's shadow four years from now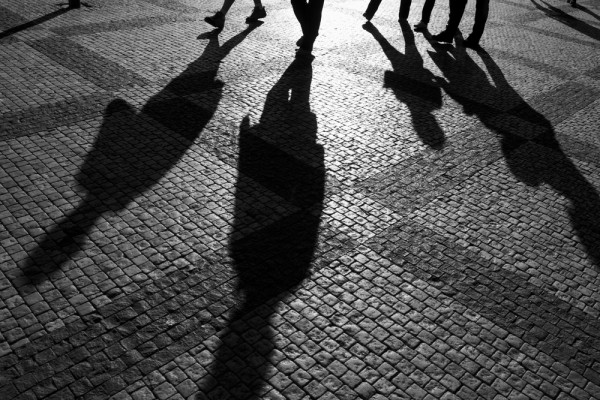 Even though Windows Phone is definitely making inroads and is considered to be the fastest-growing smartphone operating system, in 2013 its market share came in at less than 4 percent, according to research firms IDC and Strategy Analytics. Consumers are (still) much in love with Android smartphones and iPhones, giving Windows Phone too little attention.
In its latest smartphone market forecast, IDC claims that Windows Phone will still lurk in the shadows four years from now, as its market share in 2018 is estimated to climb to just seven percent. Shipments of devices running the tiled mobile OS are expected to reach 121.8 million units, which would be a huge improvement over the roughly 35 million units in 2013, but still not nearly enough to catch up to Apple's iPhones or Android smartphones, which shipments IDC estimates will reach 249.6 and 1,321.1 million units, respectively.
"Windows Phone stands to grow the fastest among the leading smartphone operating systems, with continued support from Nokia as well as the addition of nine new Windows Phone partners", says IDC. "Most of these new vendors come from emerging markets and could help bring the Windows Phone experience to customers there".
Currently, Nokia is the largest Windows Phone vendor, with a market share of 89.3 percent. The Finnish maker's commitment is understandable when we consider Nokia is primarily a Windows Phone manufacturer, unlike HTC and Samsung which devote their efforts to Android and place Windows Phone in second, or third, place. As Microsoft adds more vendors things can possibly change, but for the time being the bulk of Windows Phone sales will still come from Nokia. And this means the tiled smartphone OS' performance is almost entirely tied to Lumia sales. If Nokia has a bad quarter, so does Windows Phone. This will not change until Lumia's market share decreases significantly.
As Microsoft becomes the largest vendor, following the acquisition of Nokia's phone-making business, the responsibility of giving Windows Phone more and more consumer appeal falls almost entirely in its hands.
Maybe, But Not Likely
Windows Phone would be able to grab a higher market share in 2018, but, based on the data IDC provides, this growth will be impossible to materialize given the huge number of Android smartphones that are estimated to ship then. And, even though iPhones are not as popular in comparison, Apple will still ship at least twice as many smartphones as all Windows Phone vendors, combined.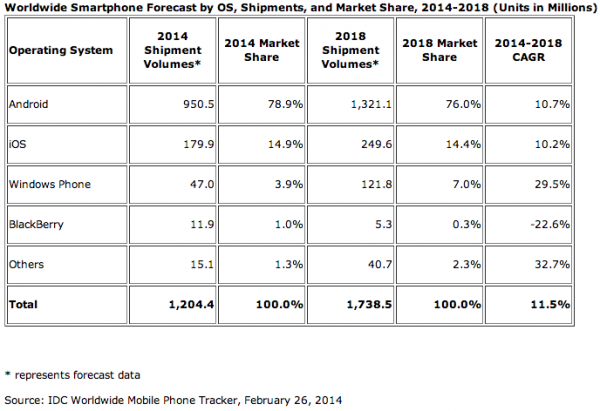 Based on the data that is included in the table above, Windows Phone shipments will need to top 173.85 million units to break the 10 percent market share barrier in 2018, which is 52.05 million units more than estimated (way more than the 2013 shipments to be added on top to reach the milestone).
Android, iOS and BlackBerry are expected to cede market share to Windows Phone and other smartphone OSs by 2018, which can, in part, be accounted to penetration and saturation as the market is no longer expected to grow significantly, only by 8.3 percent in 2017 (and, less in the year after, if the trend is accurate). In 2014, shipments are estimated to reach 1.2 billion units, 200 million more than in 2013.
Cheap Sells, Definitely
"2014 will be an enormous transition year for the smartphone market", notes IDC's Ryan Reith. "Not only will growth decline more than ever before, but the driving forces behind smartphone adoption are changing. New markets for growth bring different rules to play by and 'premium' will not be a major factor in the regions driving overall market growth".
I have often mentioned the smartphone average selling price (ASP), as it is a good indicator of where sales are going and which types of devices are most popular. The lower the ASP, the higher the preference towards cheaper smartphones is. In 2018, the ASP is expected to drop to $260, which is considerably lower than the $335 from 2013.
"In order to reach the untapped demand within emerging markets, carriers and OEMs will need to work together to bring prices down", says IDC's Ramon Llamas. "Last year we saw a total of 322.5 million smartphone units ship for under $150 and that number will continue to grow going forward. We've already seen numerous smartphone announcements targeting this priceband this year, with some as low as $25. Just as the dynamics have changed for overall smartphone growth, so have the dynamics for smartphone pricing in the markets where continued growth is expected. Not all vendors will want to get into this space, but those that do must make deliberate choices about their strategies in order to succeed".
Basically what Llamas is saying is this: go cheap and be ready to pay the price for embracing this strategy if it all goes south. The commoditization of smartphones will make them hugely affordable as time goes by, but that will come at a cost to vendors as they will have very low margins per unit. They will have to either sell a huge number of units to make up for it to strive, or find alternative ways of generating revenue, like offering paid services. A change of dynamics can have disastrous consequences for some companies, if they do not adapt their strategies to account for the continuing drop in ASP.
Photo Credit: Jaromir Chalabala/Shutterstock