Microsoft wants to buy your Windows XP computer for $100, but there is a catch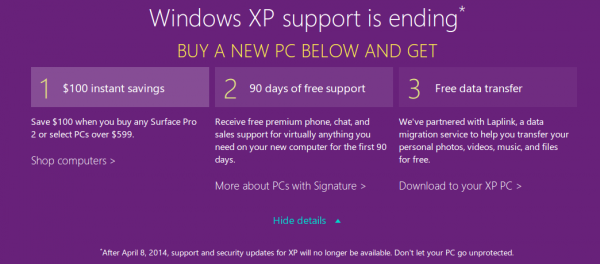 It used to be that people would upgrade their computers when they wanted to. However, there also used to be more compelling reasons to upgrade. Personal computers used to see huge hardware improvements every year -- faster processor, more RAM, etc. Consumers saw hard evidence of why an upgrade was necessary.
Nowadays however, computers have become "fast enough" -- they are lasting longer and longer. More importantly, people actually saw a benefit in upgrading to Windows 95, 98 and XP. Conversely, there haven't been huge selling points to upgrade to Windows 7 or 8.x for the average casual computer user. Microsoft is ending Windows XP support on April 8th, so it wants consumers to upgrade. In a potentially desperate move, the company announces that it will buy your old, dust-filled XP machine for $100 -- a crisp Benjamin.
According to Microsoft, from today until June 15, 2014, if you bring your Windows XP computer to one of its retail stores, it will give you $100 towards a brand new Windows 8 machine. Of course though, there is a catch. The new computer must be priced at $599 or higher and the Surface 2 and RT are excluded. This is a shame because a laptop priced at $279 would probably meet the user's needs. After all, their XP machine is likely rather under-powered by today's standards.
Sure, getting a $599 computer for $499 sounds like a great deal, and maybe it is. However, if a $299 computer meets your needs, you've essentially wasted $200. If Microsoft truly wants this campaign to be a success, it should offer the $100 towards any new computer.
If you prefer to shop online, no worries -- you also get the $100 by simply making the purchase from a Windows XP machine. However, this does not seem fair, as the person that goes to the retail store has to lug around an old computer and bring it in to the store for trade. The real question is, what the heck are the retail stores going to do with all of these old XP machines?
Overall, I think it is kind of sad that it has come to this. If Microsoft would deliver a more desirable operating system, people might actively upgrade on their own. The $100 is appreciated, but the offer comes across like paying someone to take your ugly cousin to the prom (Windows 8.x is the ugly cousin).
Are you still on Windows XP? Will you take advantage of Microsoft's offer? Tell me in the comments.
Image Credit:  Bad Man Production/Shutterstock