Will you buy HTC One M8?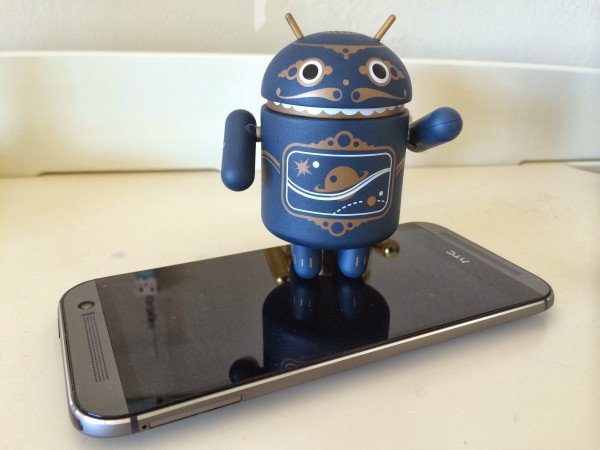 In light of Brian Fagioli's review and Friday's official launch, time comes to ask whether or not you will buy HTC's newest flagship, the M8. The name takes away from powerful connotations that HTC One carries. But maybe there is something to M-eight (you know, Mate). Henceforth, I will refer to this magnificent smartphone as The One. For many of you, it will be.
Brian isn't the only BetaNewser testing The One. I have the T-Mobile variant, which unlike his Verizon model carries no carrier branding. Thank you, Pink! Or is that Magenta? Beauty and the Beast is applicable moniker. The smartphone delights the eyes but challenges the hands, because it is so big. Largely the blame belongs to one of the biggest benefits: The front-facing speakers. For comparison, and I kid you not: The entire length of iPhone 5s is about the same as the length of the HTC smartphone's screen. Right, just the display. The One measures 146.36 x 70.6 x 9.35 mm compared to the Apple's 123.8 x 58.6 x 7.6 mm.
My initial impressions are largely favorable but different from last year's model, which goes from being the HTC One to the M7 (seriously someone should shunt this nomenclature). The M7 outflanked iPhone 5 (and 5s) for design and innovation. The One widens the distance. Last year's camera brought something different to smartphones and the successor even more. As I will explain in another post, HTC provides two cameras that let you perform surprising tricks with your photos. That's round back. Up front, the camera is 5-megapixels, finally making mobile video chat look good -- well, on the other end. You're stuck looking at whatever your buddy's crap camera produces.
The design is more streamlined and Sense 6 is more refined than its predecessor. Subtle changes to attributes like fonts make the overall experience more pleasing than Sense 5. Hehe, The One has more sense than its predecessor. Pure Android enthusiasts reconsider. Brian rightly observes: "HTC has delivered a close-to-pure Android experience with some clever Sense tweaks here and there". Sense 6 is much less intrusive than predecessors, while HTC makes some subtle improvements, such as "Recent Apps", which uses a card motif. I agree with Brian: "HTC has nailed it so well that I hope Google copies it for the stock experience".
I posted to Google+ about The One last week. Dillon Richard agrees: "Sense 6 is the smoothest version of Android. I think it's a little better than stock in my opinion". He is generally enthused with his HTC: "Battery life is way better. I'm a heavy user and I just hit 18 percent after 12 hours of solid use. Streaming YouTube, hours of surfing and taking some test pictures".
I have to agree about the camera, which he says "can be a hit and miss. In certain situations it overexposes but when played with a little, you can achieve the desired shot you're wanting. In low light it performs well and can see more than the s4. The small camera issues can be solved with a software fix so hopefully we'll see something soon".
"I'm currently using the original One but this new One M8 is a big disappointment to me because of the camera", Chazy Ronnie says, "and not a worthy upgrade. I'm curious what Apple has to offer for the new iPhone this year. I missed my iOS apps already, and as a photographer and always on the go, I never seen any Android phone that can beat iPhone's camera".
Perhaps Ronnie hasn't used Nokia, which cameras long ago trumped iPhone and continue to do so. Look at these pics I took in 2009 with the Nokia N97.
"I've use the camera at Best Buy and it's pretty decent and can't tell it's a 4MPshooter", Erik Lechuga says of The One. "It's very sharp and so is the video recording compare to my nexus 5. It's my next phone".
Loading ...
HTC One M8 specs: 5-inch display with 1920 x 1080 resolution and 441 pixels per inch; 2.3GHz Qualcomm Snapdragon 801 quad-core processor; 2GB RAM; 16GB or 32GB storage, expandable with microSD card to 128GB; two rear-facing cameras (effectively 4MP) and one front-facing (5MP); 1080p video recording; 4G, LTE; WiFi AC; GPS + GLONASS; Bluetooth 4; NFC; DLNA; ambient-light and proximity sensors; accelerometer; barometer; digital compass; gyroscope; 2600 mAh battery; Android 4.4 with HTC Sense 6. Measures 146.36 x 70.6 x 9.35 mm and weighs 160 grams.
The enclosure is metal, not plastic, giving The One premium look and feel. So, will you buy one -- eh, The One? Please take the poll above and explain in comments below.
Photo Credit: Joe Wilcox