Amazon Fire TV -- the one box to rule your entertainment center? [Review]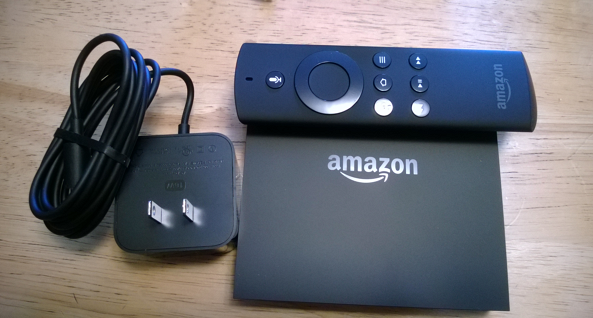 The set-top box market recently grew a bit more crowded, as Amazon unveiled its offering, taking on stiff competition from Apple, Roku and Google. However, with a strong ecosystem for content, the retailer seems up to the challenge.
Like its Kindle Fire tablet line, the little box runs a highly customized version of Android, but don't let that fool you into thinking the Play store will be there -- it isn't. You are living in the Amazon universe now, but the company doesn't force it wares on you, as there are other services you can also use.
Getting Started
It's a simple process -- not much different from any of its rivals. There are three cords to attach – power, HDMI and Ethernet, though you can use WiFi as well. My home theater cabinet is wired via a switch in the basement, which feeds a second switch in the cabinet. This provides a better connection, especially when your router is far away, as mine is.
Likely, you will immediately be prompted for an update upon boot. It's quick and painless -- perhaps 5 minutes at most. Then you will need to log into your Amazon account, which is a bit tedious, as there is no QWERTY keyboard on the remote. Thankfully, it's a one-time deal.
You will also be subjected to an intro video, but it is fairly short -- maybe three minutes. There may be a way to skip this, but I didn't look for one.
Unlike Google TV, or at least Vizio's version of it, there is nothing more to do, such as set screen size by tapping arrow keys, and testing the remote. Everything works right out of the box.
What you get
Many apps are ready to be installed, such as Hulu Plus, Netflix are both front and center, but they aren't pushed on you, simply pick the ones you will use. The most popular are under the featured section, but you browse apps in other ways as well. And, there is a growing ecosystem of them just waiting for you -- the NBA and more fall into that category.
Music is likewise offered -- Pandora is here (again, if you wish to download and install it) and other services can easily be added. You can even integrate Plex to stream your home media, though Fire TV can do some of this natively.
A menu sprawls down the left column, displaying options for various media, like TV, movies, pictures and much more. A settings link at the bottom allows the user to customize things like second screen, parental controls, apps and the like.
There is also an Amazon-produced screensaver that the box resorts to if idle for a period of time. This is vaguely reminiscent of the Bing home page, as it displays a series of beautiful images, changing every few seconds.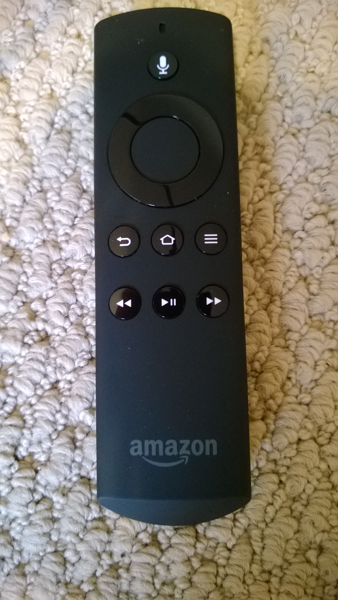 The Remote
It doesn't get much simpler than this. The remote control comes with a very limited number of buttons. At the top is a voice search button which, when clicked, pops up a box on the screen that prompts you to speak. For the moment, this only includes Amazon results, but other services like Hulu Plus are in the works for integration this summer.
Below this is a ring, which can be used like arrow keys, moving you up and down the screens, as well as side-to-side. Tap the seemingly blank area in the center of it to select an item.
There are back, home and menu buttons as well. Finally, at the bottom you'll find rewind, fast-forward and play/pause.
Use
Like the remote, things are simple, especially if you are a Prime subscriber. But other services are included as well, and more are available in the apps area for easy installation. You'll find such things as NBA Game Time, Crackle and others.
The response of the Bluetooth remote is very quick, and the voice search seems to work extremely well, though it did fail to find the Plex app for me. However, you can grab it from the Amazon Android App Store, and for a limited time, it is on sale for $0.99 -- down from its regular $4.99 price tag.
A healthy selection of games is also within reach, including one exclusive title called "Sev Zero", but many other games can also be played, such Asphalt 8 and more.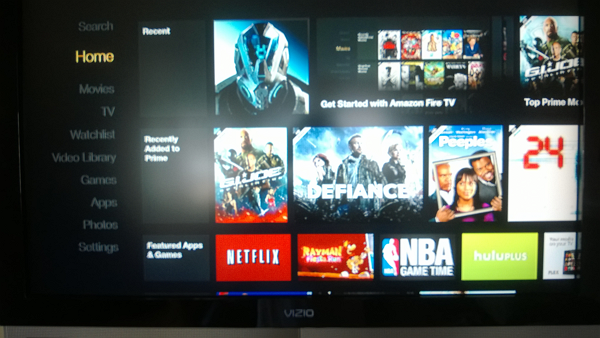 Conclusion
If you have a Roku 3, then you do not necessarily need the Amazon Fire TV. However, if you use the ecosystem, then I'd certainly recommend this. Also, if you'd like to do occasional gaming, then Fire TV is perfect and, at $99, much cheaper than an Xbox or PlayStation. Sure, it's not going to play the same level of games, but it's good enough for many. The Bluetooth game pad will cost you an extra $40, though. A more detailed look at the system as a gaming device will be coming shortly from my colleague Brian Fagioli.
There is certainly no real strike against it. Even the screensaver is especially nice. Fire TV is among the new generation of elite items for the home theater. If you are in the market for one, then I'd start by giving this one consideration.