Honestly, Microsoft, what are you doing?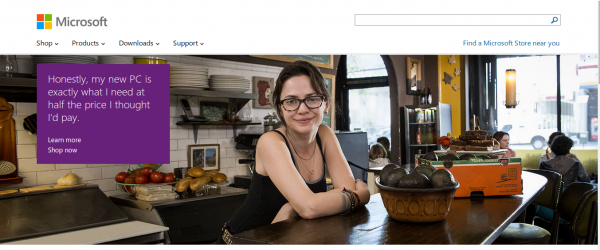 Microsoft announces fiscal third quarter earnings on Thursday -- reason for me to visit the site today in preparation. I saw what you see in the photo. Tagline: "Honestly, my new PC is exactly what I need at half the price I thought I'd pay". I find the company's months-old "Honestly" campaign to be refreshing in overall presentation and emphasized benefits. Value is big among them. (Colleague Wayne Williams disagrees, by the way.)
Honestly, what's missing: More promotion how great a value Surface is. The Windows RT model doesn't get loads of respect, but I increasingly think that it should. Surface 2 offers HD display, like the Pro model, setting the tablet apart from comparably-sized Androids or iPads selling for about the same price: $449, with 32GB of storage. Microsoft Store offers the refurbished original, granted with lower screen resolution, for $199. Bump memory to 64GB and pay $219. Keyboard cover is another $74.01. Honestly, wow.
Surface critics complain about the essentially closed Microsoft ecosystem around Windows RT. Oh yeah? So is Chromebook, for which Google's browser is gateway to the web, like Internet Explorer on Windows RT. Microsoft's cloud compels, too, with products and services comparable to the Big G. Think about this: Satya Nadella is the company's freshly-minted third CEO. He's hungry -- and Microsoft with him. Nothing spurs innovation like the desire to get your next meal ticket. Google is at the front of the line, where MS once stood. Windows 8.1, Office for iPad, and recent cloud offerings reveal a much more aggressive company, while showing more responsiveness to existing customers' needs.
Returning to my main topic, "Honestly, Surface", Microsoft Store bundles the original 64GB tablet with touch cover for $359. Where's my credit card? The user experience is comparable to Chromebook, but with apps running locally, free Office 2013 RT, touchscreen, tablet functionality, and considerably greater brightness. HP Chromebook 11 is 300-nit, but the majority of Chrome OS laptops are just 200-nit. Surface is 400-nit, and beautifully bright. Screen resolution, 1366 x 768, is same for both devices in same price and display-size class (around 11 inches).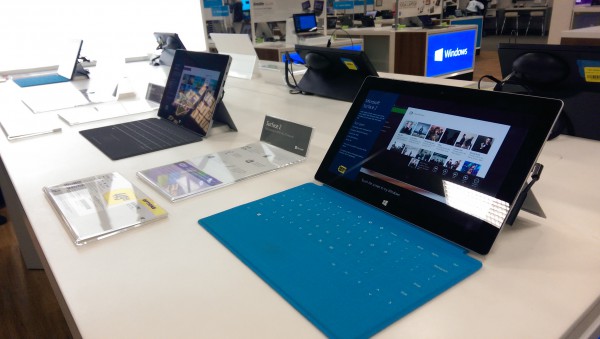 Granted, Surface won't support your legacy apps -- if it's not in the Windows Store, you're outta luck. But neither will Chromebook. Trade-off is the same, while Surface is better constructed and offers more flexible user scenarios -- tablet, touch, and keyboard. Anyone looking at Chromebook as destination from Windows XP should consider Surface first. I see more value for the buck, and despite the Modern UI makeover lots of familiarity.
Honestly, Microsoft, you need to call out Surface and Surface 2 advantages more than you do. Hell, Pro, too. Look at the photo taken at my local Best Buy -- the sharpness, color, and contrast of the Surface 2 screen from the viewing angle. Beautiful. Microsoft Store offers the older, 64GB Pro for $499. Seriously, where's my wallet? The newer model costs $400 more.
The real value is either the newer or older Surface and original Pro -- anywhere from $199 to $499. Amazon sells Samsung Galaxy Tab Pro 10.1 for $449 -- same as a new Surface 2. Screen resolution is greater (2560 x 1600) but storage half as much. Tell me: Are you going to get more done on Android or Windows? Add $100, and you can get 64GB Surface or 32GB Galaxy Tab Pro. Microsoft offers slightly larger screen -- 10.6 inches to Samsung's 10.1 inches.
Honestly, Surface, Surface 2, or the original Surface Pro offer tremendous value for what Microsoft sells them for. I may buy one myself, when budget allows.
Photo Credit: Joe Wilcox