Nokia bets $100 million on 'connected' car tech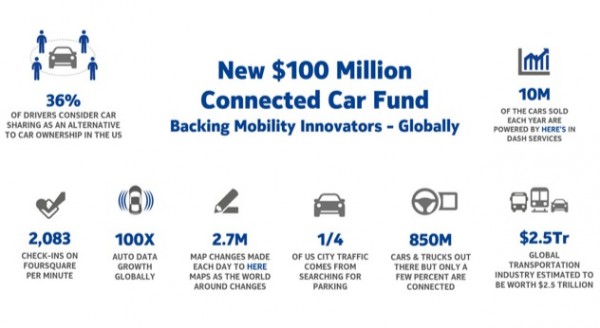 Even though the Nokia name will (still) be associated with phone making for years to come, the Finnish company is also known, albeit to a lesser extent, as a player in the telecommunications equipment and automotive markets, through its NSN and HERE businesses, respectively. And it is not shying away from revealing the path it wants to pursue, following the recent sale of its Devices & Services business to Microsoft.
It should come as no surprise that Nokia is willing to bet on car tech, as it has already introduced a couple of automotive products, like HERE Connected Driving. To grow its portfolio, Nokia just announced it has set up a $100 million fund which "will be used to invest in new opportunities around the automotive mapping and location ecosystem".
"For the last few years there has been a surge in innovation that has brought technological advances leading to safer, cleaner, increasingly connected, intelligent and more affordable vehicles. Vehicles are becoming a new platform for technology adoption very similar to phones or tablets", says Nokia Growth Partners (NGP) partner Paul Asel.
The fund, which will be managed by NGP, allows Nokia to invest in "promising" companies behind car tech and local services, with the purpose of beefing up the ecosystem created around HERE. The HERE business also offers mapping and location tools to third-parties (a list which includes Microsoft), which have laid the foundation for its automotive solutions.
Nokia is confident NGP will bring new valuable assets to the company and even make way for financial gains. "NGP has been consistently performing well bringing in both new innovation and financial return to Nokia", says Nokia president and CEO Rajeev Suri. "Our new USD 100 million venture fund launched today further underlines our belief that the connected car is a significant growth opportunity where NGP is poised to make great investments".