Android 4.4 KitKat shows tremendous growth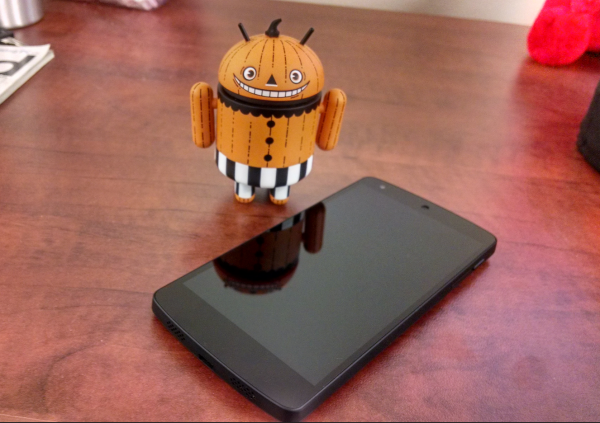 At WWDC 2014, while talking about iOS 8, Apple CEO Tim Cook took a stab at Android, saying that its latest iteration, version 4.4 KitKat, is only running on nine percent of Android devices. The figure is certainly lower than for iOS 7, which borders on 90 percent adoption. However, as we have become accustomed to, at the beginning of each month Google gives us a fresh set of numbers, which can quickly tell a different story.
The figure Cook used then was from early-May, which was, indeed, from the most-recent data. Skip forward one month, and we see Android 4.4 KitKat posting a 60 percent growth, reaching 13.6 percent distribution. The increase is noteworthy, and suggests that we can expect similar results come future distribution updates.
A quick look at the Android landscape reveals exactly why KitKat managed to grow as much in a month. Both HTC and Samsung have released their latest smartphone flagships, the One (M8) and Galaxy S5, respectively, which run Android 4.4, giving this iteration a boost in distribution numbers. Of course, there are other factors to consider as well, like sales of Nexus smartphones and tablets (which also run, or are compatible with, this version) and software upgrades to KitKat.
We can expect Android 4.4 to continue to grow, as more consumers will get their hands on smartphones and tablets powered by it, software upgrades will reach more (popular) handsets, and vendors release new Android devices across the globe that run KitKat, like the new LG G3. Android 4.4 may not reach the popularity of iOS 7 any time soon, but it will become a force to be reckoned with in the droid realm (not to mention KitKat-based devices may top iPhones and iPads altogether, when it comes to sales).
Android 4.3 and 4.2 Jelly Bean are also going strong, growing in early-June to 10.3 percent and 19.1 percent, respectively, from 8.5 percent and 18.8 percent, respectively, a month ago. The first Jelly Bean iteration is not on the rise, however, dropping to 29 percent from 33.5 percent. The two most-recent Jelly Bean releases continue to grow as vendors still use them as the foundation for new products, and plenty of software upgrades have yet to include KitKat in the mix.
Ice Cream Sandwich, as well as Gingerbread and Froyo are ceding power to newer sweets, all dropping in distribution (to 12.3 percent, 14.9 percent and 0.8 percent, respectively) month-over-month (from 13.4 percent, 16.2 percent and 1 percent, respectively). It is worth noting Honeycomb is finally out of Google's latest distribution charts, as it was unable to meet the one percent distribution level required to show up in the table. The data is based on the number of Android devices accessing Google Play in the seven-day period ending June 4.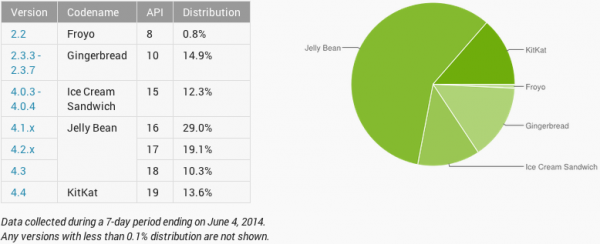 Photo Credit: Brian Fagioli