Acer releases new C720 Chromebooks -- first-ever to have Intel Core i3 inside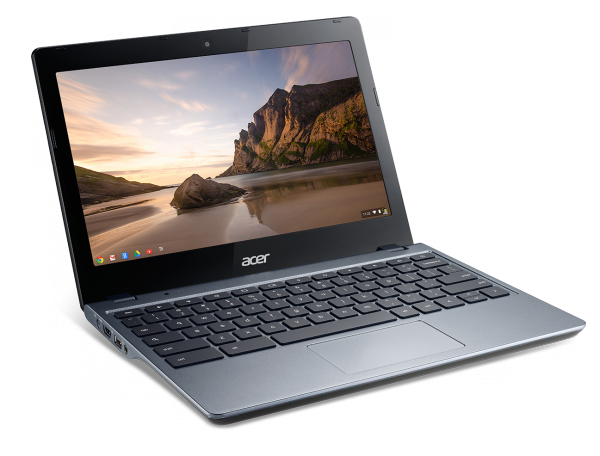 Chrome OS is an awesome, albeit limited, Linux-based operating system. It is a pleasure to use for most things, including writing, but it is hard to use exclusively. Just recently, I needed a Windows machine to achieve root access on an Android tablet -- a Chromebook proved useless for this task (Surface Pro 3 saved the day).
My biggest complaint however, is not about the software, but the hardware. For some reason, manufacturers largely produce junk Chromebooks with ugly screens and 2GB of RAM. Believe it or not, there is a market for mid-range computers running Google's OS. Not everyone is just looking to Chromebooks as a way to save a buck. Today, Acer releases the world's first Core i3 Chromebook, featuring 4GB of RAM as an option. This may be the Chromebook we've been waiting for!
"Acer has been a leader in the Chromebook space and the new C720 based on 4th generation Intel Core i3 processors marks a new class of Chromebook with enhanced performance and battery life. As one of the most powerful Chromebooks on the market, the additional performance of Core i3 enables an extremely responsive experience while surfing multiple tabs of web pages. Students, families and business users will recognize the difference in how snappy the new Acer C720 is with Intel Core i3", says Navin Shenoy, VP and GM of Intel Mobile Client Platforms Group.
The computer manufacturer explains, "the Acer C720 Chromebook will be available in two models with a 4th Generation Intel Core i3-40005U processor (1.7GHz, 3MB L3 cache). The Acer C720-3404 will have 4GB of memory and will be priced at $379.99, while the Acer C720-3871 will have 2GB of memory and will be priced at $349.99. They will be available this month at retailers in North America".
Acer touts the following specs:
Intel Core i3-4005U 1.7 GHz (3 MB Cache)

2 GB or 4GB DDR3L SDRAM

32 GB Solid-State Drive

11.6-Inch Screen, Intel HD Graphics 4400

Chrome, 8.5-hour battery life
While giving consumers options is normally a good idea, I question the sanity of offering two models with a paltry $30 difference between them. Quite frankly, I would suggest that no one buy the 2GB model and instead spend the extra money to go 4GB. Trust me, you will regret getting less RAM. Chromebooks shine with a minimum of 4GB.
Availability of these new computers is imminent, and you can pre-order now on Amazon. Will you buy? Tell me in the comments.