Happy first birthday, Chromecast!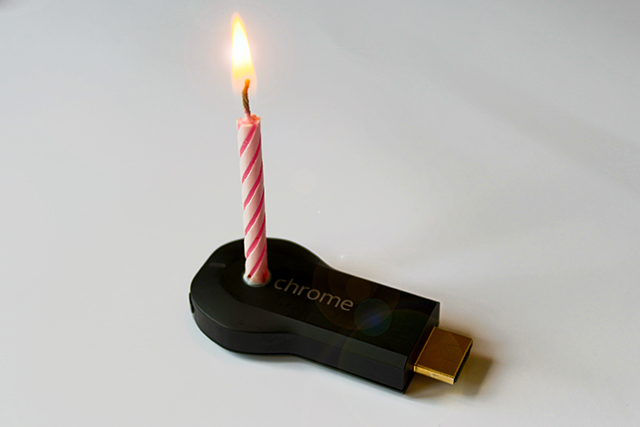 It seems hard to believe, but Google's excellent HDMI dongle celebrates its first birthday today. As I'm in the UK, I wasn't able to get hold of one from the start (even if I had, many of its features wouldn't have been available to me due to location) but I own one now, and love it.
When my colleague Brian Fagioli reviewed the Chromecast shortly after launch, he called it "greatness in its infancy", meaning the potential was there, but it was limited, thanks mostly to the lack of Chromecast-compatible apps and services. But what a difference a year makes. There are now hundreds of apps on Chromecast, including HBO Go, ESPN, Songza and more, and Google says there are 6,000+ developers actively working on more than 10,000 Google Cast apps across Android, iOS and Chrome. You can browse the full list of available apps here.
To celebrate its first year, Google has released some interesting numbers. The search giant has now sold millions of devices across 20 countries including the UK, France, Germany, Japan, Korea, Australia and Brazil (Ireland was the most recent country to be added). It's available in 30,000 stores globally including Best Buy, Amazon, Walmart, Target, Dixons, and Saturn, and to date users have made over 400 million 'casts'.
Google also shares the following five ideas for what you can do with your Chromecast:
Create a video playlist The gang is watching "Charlie bit my Finger" (for the 100th time), and a half hour later you're all still laughing, and everyone's sharing their faves. With Chromecast, you can queue several YouTube videos to play in a row, so you'll always have a video on deck.
Cast your wedding or vacation slideshow No more figuring out old fashion projectors or playing pass the phone. Cast your photos so everyone can enjoy those beautiful pics from your magical family vacation in Bora Bora or your college bestie's destination wedding in Aruba.
Stop sibling fighting No more tantrums over who gets to hold the tablet or sit in the middle. Now, the munchkins can enjoy Spongebob Squarepants, and you can enjoy the peace and quiet.
Stop squinting during your fantasy football draft Making the right pick just got a lot easier. Spirit of 77 sports bar in Portland already has their TVs hooked up for the draft. Follow their lead and be an all-star host for this year's draft.
Workout with a virtual personal trainer With sites like blogilaties on the rise, it's easier than ever to workout at home. But how can you really do downward facing dog while holding your tablet? Cast your yoga session so you're hands-free and can truly get a good morning workout in.
As no birthday would be complete without a gift, Google has a special one for its users in the US. The Google Play Music team will be giving a free 90-day All Access music subscription to anyone with a Chromecast (provided they live in US and aren't already an All Access subscriber). The offer will run from today until September 30, 2014. Visit the Help Center to learn more.
Image Credit: Wayne Williams