Google Chromecast -- greatness in its infancy [Review]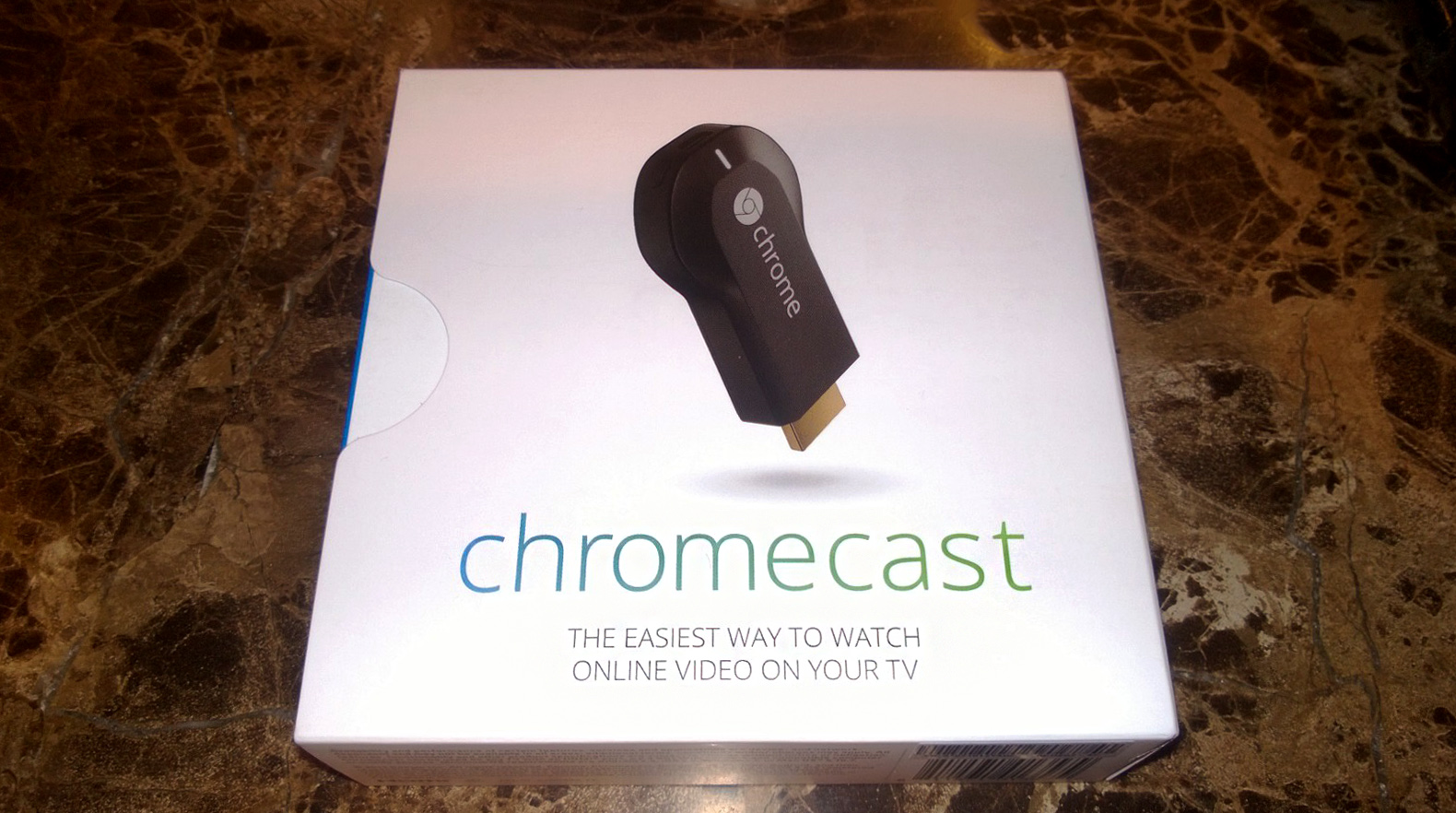 Consuming digital media can be an overwhelming affair nowadays. There are too many devices on the market that do similar things but in different ways. There is the Apple TV, Roku, Blu-Ray Players, smart TVs and more. When Google announced the Chromecast, I was a bit skeptical -- surely I didn't need yet another device. However, the low price of the product ($35) and the fear of it selling out caused me to order it anyway.
When it arrived, I was shocked by just how small the packaging was. Upon opening the little box (OK, tearing into it) I was presented with the Chromecast. The device looks like a very fat flash-drive with an HDMI plug instead of USB. Also in the box was an HDMI extender cable, micro-USB cable and AC power adapter.
While some may complain that an AC adapter takes away from the cool-factor of such a compact device, I could care less -- it will all be hidden behind the TV. Also, since my TV has a USB port, I was able to power the device with it and not use the AC adapter. Unfortunately, because the HDMI and USB ports on the TV are so close together, when I plugged in the Chromecast, it blocked the USB port. Thankfully, the included HDMI extender remedied the situation and I was off to the races. It is worth mentioning that the HDMI extender cable packaging states that it can be used to improve the WiFi reception of the media device too.
Now that the device was installed and powered on, it was time to set it up for my network. I chose to do it on my Samsung Chromebook since it is also a part of Google's ecosystem. However, the box only claims compatibility with Android, iOS, Windows and OS X. I followed the instructions and went to a URL as specified on my TV screen. Once there, a browser extension was installed for ChromeOS. Sadly, the extension is listed as beta but at least it existed. After just a few clicks and entering my WiFi password, the Chromecast was ready to go. Unfortunately, I discovered that the device's WiFi only supports 2.4GHz, so 5GHz is not an option.
The first thing I tried to do was share a browser tab from my Samsung ARM Chromebook. While this worked, it was extremely laggy when scrolling. I tried playing an embedded YouTube video and while it played, it skipped a lot and was not watchable. Also, the Chromebook itself became very slow and unresponsive. It wasn't until I stopped the sharing (Google calls this "casting") that the computer became usable again. I again experienced this poor performance on my Chromebook while trying to cast an album from Play Music ("Yessir, Whatever" by Quasimoto). I won't fault Google because as I stated earlier, the ChromeOS extension is beta.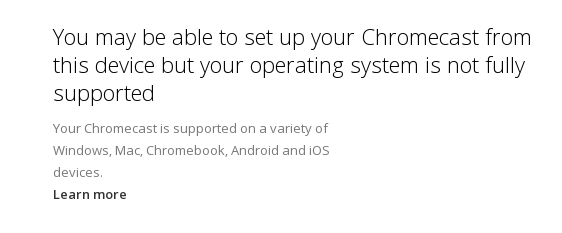 For my Linux brethren, I tried testing the device with my favorite distro, Fedora 19. When I visited the setup URL with Google Chrome, I got a warning that my operating system was not recommended. Google allowed me to try anyway, but it proved to be fruitless. Hopefully, Google will add Linux compatibility in the future.
Impressive, But Limited
Where the device really shone for me was Android and Windows. I was able to stream Netflix, YouTube and both Google Play Music and Movies flawlessly. I am a sucker for iJustine videos on YouTube and found the Chromecast to be the best way to watch them. The beautiful iJustine was playing on my second floor TV but I initiated the video on my Windows machine in my basement -- awesome! I then casted (yup that is a word now) a Law and Order: SVU episode from Netflix by way of my Galaxy Tab 3 8.0 and was very impressed by the video quality.
Unfortunately, you currently cannot do more than that -- the device is limited by the lack of Chromecast-compatible apps and services. When I wanted to do something simple like view photos from my Android tablet on my TV, I was stopped dead in my tracks. However, even with the limited functionality, I still highly recommend this device to everyone based on its potential. I am confident that Google will expand the functionality of the device over time. We may even see this technology embedded in future TV sets.
If you can spare $35, you should buy this now, even though you no longer get the three free months of Netflix (Google pulled that promotion due to "overwhelming demand").