KDE Mover-Sizer brings handy Linux desktop tricks to the PC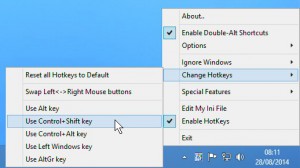 Resizing and repositioning windows on the PC desktop is such a fundamental task that you'll almost do it without thinking. Move the mouse to the title bar/ border, click, drag, release. Very basic, very simple -- but there might still be room for improvement.
KDE Mover-Sizer is an open source, portable tool which brings a common Linux desktop trick to Windows. Instead of having to move your mouse cursor to the title bar or border, you just hold down the Alt key, then left-click anywhere inside a window and drag to move it, right-click and drag to resize it.
If this sounds incredibly simple, then it is, but in many ways that's a good thing. There's no need to check settings or scroll through online help, you already know enough about the program to speed up your window management.
KDE Mover-Sizer improves the process further by snapping windows to your desktop edges. As long as you drop a window within a few pixels of the border, it'll automatically shift into place.
For another neat trick, hold down Alt and Shift, then left-click and drag. Now the window moves in just one axis: up/ down or left/ right only.
This is all very configurable. You can turn specific features on or off, use different hotkeys, switch the mouse buttons, disable the effect for particular application windows, or turn it on and off entirely with a couple of clicks.
There are a couple of bonus "Special Features", too: individual windows can be set as "always on top", and there's support for scrolling inactive windows with the mouse (move the mouse cursor over a window, spin the mouse wheel, and it'll scroll even if it isn't currently active).
Best of all, there's no bulky installation process, no adware, no intrusive system changes. KDE Mover-Sizer comes in a tiny portable package, under 1MB in size (and that's including the AutoHotKey source) and ready to run safely just about anywhere. Go take a look.