NETGEAR announces the Nighthawk X4 AC2350 Smart WiFi Router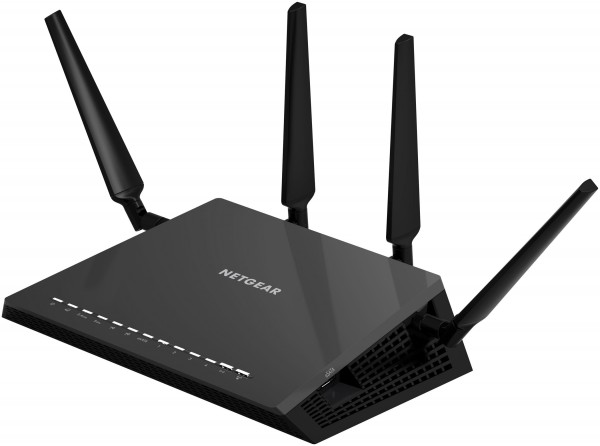 In my home, I use the Apple Airport Extreme router for all of my Wi-Fi needs. It's a great performing router, but in typical Apple fashion, it is limited and proprietary. While most modern routers have four wired connections, Apple's offering has two. While most routers offer a web-based settings configuration, Apple forces the user to use special software that is only available for Windows, OS X or iOS. As someone who uses Linux often, it is frustrating that I cannot configure the router from any distro, including my favorite, Fedora. Quite frankly, I'd rather not have Apple software on my Windows install, either.
I've been keeping my eyes open, looking for a possible replacement for the Airport Extreme and today, I may have found it. NETGEAR announces a very intriguing model, called the Nighthawk X4 Smart WiFi Router. Not as fast as its other Nighthawk router, it is loaded with features and connectivity.
"The Nighthawk X4 is capable of a blistering 2.33 Gbps combined network speed (up to 1733 Mbps on the 5.0 GHz band + 600 Mbps on the 2.4 GHz band). It has a powerful 1.4 GHz dual core processor, based on the Qualcomm Internet Processor, that provides unprecedented processing power to enable better multi-tasking performance. The X4 is also powered by the Quantenna 802.11ac Wave 2, 4x4, MU-MIMO (Multi-User MIMO) WiFi solution to maximize wireless performance", says Netgear.
The company further explains, "the X4 also offers superior capabilities for sharing, storing and securing your treasured files and multimedia content. You can easily add storage by connecting a drive to the twin SuperSpeed USB 3.0 ports or one eSATA port on the Nighthawk X4 giving you fast access to all your files".
NETGEAR touts the following benefits:
Quad-stream X4 Architecture delivers AC2350 WiFi for a combined speed of 2.33 Gbps (1733 Mbps + 600 Mbps), the fastest available dual-band 802.11ac WiFi connection to any one device.
The 1.4GHz dual core processor delivers 40 percent faster speed for improved WiFi, wired, and WAN-to-LAN performance.
802.11ac Wave 2 WiFi technology is designed to deliver faster WiFi to multiple devices.
Application-aware and device-aware Dynamic QoS technology optimizes your connection speed for reduced lag and buffering.
Beamforming+ improves WiFi coverage and reliability by focusing WiFi directly at connected devices.
Powerful amplifiers and four high-performance external antennas increase range for whole-home mobility.
Security features include VPN support for secure remote access, customized free URL, SPI and NAT double firewall, separate guest network access, and parental controls.
Five Gigabit Ethernet ports (1 WAN and 4 LAN) offer fast wired connections.
One eSATA port and two SuperSpeed USB 3.0 ports offer high-speed, storage-ready access that is significantly faster than USB 2.0.
ReadySHARE Vault, a free software application, automatically backs up Windows-based PCs to a USB hard drive connected to Nighthawk X4.
NETGEAR MyMedia enables you to find and play your stored media from anywhere on your network to your DLNA®-ready TVs and music system.
iTunes server support enables you to play music on AirPlay-compatible devices using iTunes or Apple Remote.
NETGEAR genie is a personal dashboard that makes it easy to install, monitor, control and repair your home network from PCs, Macs, and iOS and Android smartphones and tablets.
Wow, you do not see many routers with an eSATA port. USB 3.0 has arguably rendered it obsolete, it is appreciated nonetheless. Besides, there are two USB 3.0 ports too. The expandability is impressive and would be ideal for a family or small business looking to establish a shared network drive.
Of course, all of these cool features come at a price; you must pay to play, with a $279 price tag. Can you go with a less expensive router? You can, but be careful, as low-quality routers can be a headache. Saving a few bucks up front, but having to reset the router a few times a week, or dealing with slow speeds, is hardly a value.
What do you think of this router? Tell me in the comments.