Get free real-time backup and versioning with AutoVer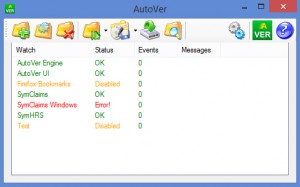 AutoVer is a small, simple, and surprisingly capable free backup tool. Not only can the program monitor folders, detecting new and modified files, and backing them up in real time -- it can maintain a library of their previous versions, too.
The program opens with a very straightforward interface. No menus, no complex dialogs or status displays, just a four-column table and a small toolbar.
Clicking the first toolbar button adds a "Watcher", the mechanism AutoVer uses to detect and act on file changes. This could be complex, but again it really isn't: at a minimum, you could just enter a name, a folder to monitor, and a destination folder. The program immediately picks up on new and modified files, copying them as they appear.
That could well have a performance hit, but AutoVer offers plenty of ways to help, with options to back up particular file types only (*.docx), ignore others (*.tmp), exclude particular folders or files, maybe files above a defined size.
Versioning systems can hog a vast amount of disk space, very quickly, but again the program gives you some control.
By default it saves all file changes, for instance, but you can tweak this to save only one version in a defined interval.
There's also a simple archiving scheme, where versions older than a given number of days can be deleted or zipped up.
Double-clicking any watcher displays an Explorer-like window where you can browse to whatever file and version you need. There's no Search tool, unfortunately, but it's easy enough to use, and once you've located a file, it can be opened directly or restored in a couple of clicks.
Just in case this isn't enough, AutoVer even has an option to run a custom program on every file change. It's a very smart move which opens all kinds of extra possibilities.
You could have the program watch for updates to a log, for example, the arrival of a download, maybe a new crash dump. And then you might run a program or command to send the file somewhere, raise an email alert, reboot your PC, whatever fits the circumstances.
AutoVer is an excellent free versioning system, then, but its change detection system has many other potential applications. Go take a look.