Microsoft introduces Nokia Lumia 638 Windows Phone in India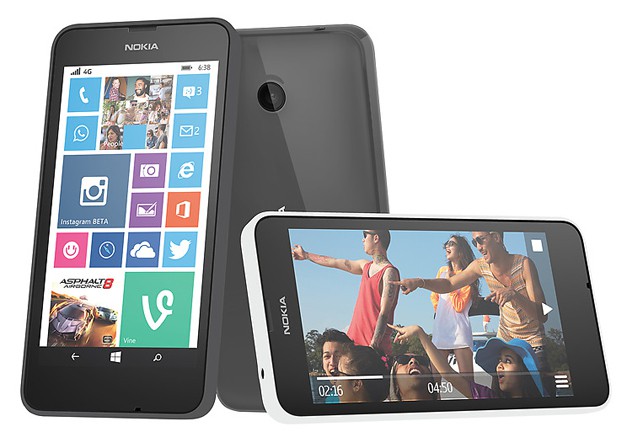 With Windows Phone still struggling to gain considerable traction, Microsoft is trying to boost its operating system's market share by focusing on the low-end of the market, which has real potential of attracting consumers, especially those in emerging markets. And, so far this year, Microsoft has introduced quite a few affordable Windows Phones, with the latest of the bunch being the still-Nokia-branded Lumia 638.
Lumia 638 is a new Windows Phone 8.1 handset that is designed for India. It is touted to be one of the most affordable smartphones with 4G connectivity available in this Asian market, which is sure to attract the attention of price-conscious local buyers. What else does it have to offer?
As its name suggests, Lumia 638 appears to be a variation of Lumia 635, which Nokia introduced in early-May. That is likely why Microsoft launched it bearing Nokia's branding, as it is basically a model developed under Nokia.
Lumia 638's most important specs are: 4.5-inch IPS display with a resolution of 480 by 854 (it has soft navigation buttons); 1.2 GHz quad-core Qualcomm Snapdragon 400 processor; 1 GB of RAM; 1,830 mAh battery; 5 MP main camera without flash; 8 GB of internal storage; microSD card slot (128 GB cards are supported); 4G LTE; Wi-Fi 802.11 b/g/n; physical dimensions of 129.5 x 66.7 x 9.2 mm and weight of 134 grams.
The most-obvious missing hardware component is the front-facing camera, which makes it a poor choice for video chats (and selfies). It also lacks NFC, which, given the increasing popularity of mobile payments, cripples it somewhat. Both are weaknesses shared with Lumia 635.
"Given the increasing demand for Lumia smartphones in India, and with more and more consumers choosing to shop online, we are very excited to announce availability of the Lumia 638 exclusively on our store", says Microsoft India's Ram Narayan. "The Lumia 638 is the first product to be available exclusively on the Microsoft Brand Store".
Seemingly the only differences between it and Lumia 635, other than the aforementioned availability details, are the color options -- the former only comes in matte black and white, while the latter can also be had in other colors -- and a free data offer for buyers using Airtel's Post-paid in Bengaluru -- they get 5 GB of data on 4G for the first two months after activation. This offer is only good until March 31, 2015.
Microsoft's (and Nokia's) strategy of focusing on low-end smartphones seems to be paying off, at least to some extent, given that the most popular Windows Phones around are easily affordable models, like Lumia 520. In India, Lumia 638 can be had for INR 8,299 during pre-orders (which is about $132), which should help with volumes (normally, it costs INR 9,499, which equates to about $150). However, there are still issues to sort out, as Windows Phone's market share has declined quarter-over-quarter, reaching just 3.0 percent in Q3 2014.