Let's work together for the Internet of Things says Samsung CEO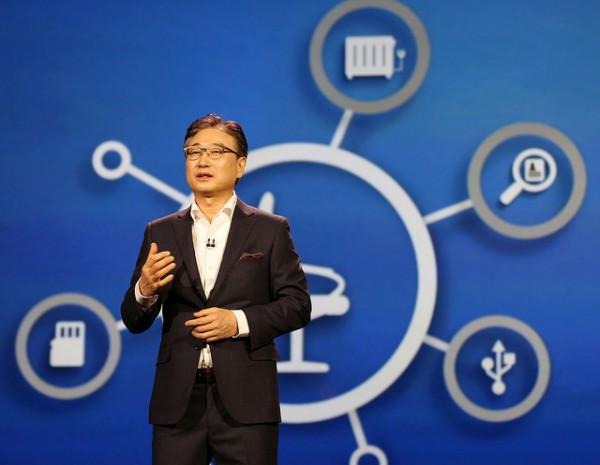 It's been a common joke in the technology industry for many years that the wonderful thing about standards is that there are so many to choose from.
But whilst it may be a joke, in the past conflicting standards have led to very real issues when it comes to getting systems to work together. In the modern era when we increasingly expect things to 'just work' compatibility issues are becoming less acceptable.
Samsung's president and CEO BK Yoon used his keynote speech at 2015's CES to call for greater openness and collaboration across industries to unlock the possibilities of the Internet of Things.
He also said that the Internet of Things must fit into people's lifestyles, "The Internet of Things is not about 'things'. Instead, it is about people. Each person is at the center of their own technology universe, and the IoT universe will constantly adapt and change shape as people move through their world".
As part of Samsung's commitment to making the IoT work, Yoon announced a timetable that will see all the company's TVs become IoT enabled by 2017 and all Samsung devices IoT ready within five years. He also stressed the importance of developers in making all of this work and announced a $100 million investment in Samsung's developer community this year.
Sensors are key to making the IoT work and Samsung is working on chips, such as the embedded package on package (ePOP) and the Bio-Processor, which are energy-efficient and compact enough to go into a wide range of devices, especially wearables.
"Expanding the devices in the IoT ecosystem and the components that power them is the first step in fulfilling the promise of the Internet of Things," says Yoon. "Samsung already has a broad range of IoT devices. Last year, Samsung delivered more than 665 million products, and this number is set to increase. We have already begun to unlock the value hidden in connected devices and all the everyday objects around us".
The importance of openness was emphasized too. Alex Hawkinson CEO of SmartThings joined Mr Yoon on stage and stressed that, "Any device, from any platform, must be able to connect and communicate with one another. We've worked hard to accomplish this, and are committed to putting users first, giving them the most choice and freedom possible. The SmartThings ecosystem is now compatible with more devices than any other platform".
Samsung believes that the IoT will have an impact far beyond the electronics industry, Yoon says, "I know in my heart that neither one single company nor one industry alone can deliver the benefits of the Internet of Things. To create this IoT universe, we have to see the potential of the Internet of Things across all kinds of industries. Only if we work together can we improve people's lives".
You can see highlights from the speech on the Samsung website.
Image Credit: Samsung