Stop jumping to conclusions! Lizard Squad didn't take down Facebook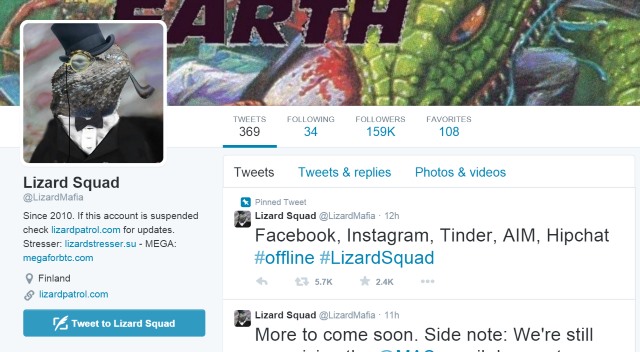 Despite many reports to the contrary, there is nothing to suggest that downtime experienced by Facebook, Instagram and Tinder was anything to do with Lizard Squad. Earlier today, the three services were inaccessible for a short while and Lizard Squad took to Twitter to announce the outages.
The tweet, which read "Facebook, Instagram, Tinder, AIM, Hipchat #offline #LizardSquad" was taken as an admission of guilt and reported as such by many, many websites. Even when Facebook announced that the downtime came as a result of a system change by Facebook, site after site continued to report that Lizard Squad was to blame.
This is a group with form. Over Christmas Lizard Squad knocked the PlayStation Network and Xbox Live offline, attacked the Tor network, and also claimed to have helped out with the Sony Pictures hack. But it's also a group of glory hunters. Dismissed by many as little more than a group of skiddies, it is not clear whether the tweet about the network outages was an attempt to claim responsibility, or just drawing attention to the fact:
Facebook, Instagram, Tinder, AIM, Hipchat #offline #LizardSquad

— Lizard Squad (@LizardMafia) January 27, 2015
The number of sites interpreting this as claiming responsibility is staggering -- and there are many big names that have taken it as such. Facebook is very clear about what actually happened:
Earlier this evening many people had trouble accessing Facebook and Instagram. This was not the result of a third-party attack but instead occurred after we introduced a change that affected our configuration systems. We moved quickly to fix the problem, and both services are back to 100 percent for everyone.
Lizard Squad's Twitter feed quickly filled up with shouts of praise and adulation, but it's misplaced. There is precisely zero evidence to suggest that Lizard Squad took down Facebook. Perhaps the tweet was deliberately ambiguous -- the group can easily say they have not claimed responsibility -- but it's almost funny the number of "Lizard Squad did it!" headlines are out there. Ignore them.