The Acme Made Charge case for iPhone 6 [Review]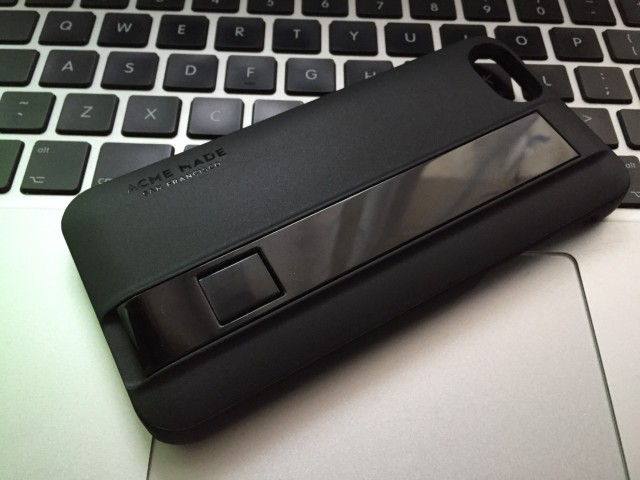 I have never used a case with any of my smartphones. When the back is all plastic and there is no metal in sight, the added width and thickness that a case adds is not something that I can justify just to cover some superficial scratches that are not off-color. But then I got an iPhone 6.
With nothing but metal surrounding the 4.7-inch display, I soon had a feeling I would be getting a case after all. On iPhone 6, scratches would look terrible, especially on my Space Gray model. I haven't found it to be as slippery as my colleague Joe Wilcox has, but this has also been of concern, more so than with any of my previous smartphones. Enter Acme Made Charge for iPhone 6.
I received the case for review less than a month after I got my iPhone 6, in late-October. (There is also a version available for iPhone 6 Plus.) In the meantime, I purchased the black Apple Leather Case, which I have used until Acme Made Charge came to my door. The two are not designed to match the same needs, but there are some worthwhile observations to be made along the way.
What makes Acme Made Charge interesting is the fact that it packs a short Lightning cable with it and has a kickstand. The cable is hidden behind the kickstand, and I think the design is quite nice, all things considered.
Given that there is a Lightning cable and kickstand, Acme Made Charge is thicker than, say, Apple's Leather Case. It's also much heavier. It comes in at 138 x 67 x 7 mm (5.4 x 2.6 x 0.3 inches) and 100 grams (3.52 ounces). The iPhone 6 Plus version is even bigger, but, apparently, just as heavy.
At the same time, it is also much more versatile. The former is made of matte plastic, which feels quite nice to the touch. Only the kickstand has a glossy finish. I quite like what I'm seeing.
The kickstand is easy to deploy, requiring little effort to pull the bottom end from its place. It's spring-loaded, so there's just one position you can use it in. It can be quite useful when you're at a desk, as the display is angled just right so you can see notifications, make video calls and so on. You can use the kickstand both vertically and horizontally, although it's clearly designed more for the former scenario.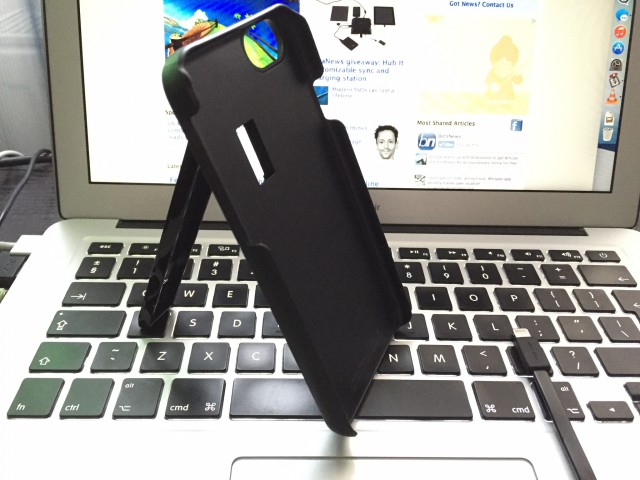 At the same time, because the kickstand is off-center, tapping on your iPhone will see it rock slightly on a flat surface. It's to be expected, really, but it is something that you should keep in mind if you do a lot of typing like this.
As I mentioned earlier, the Lightning cable is under the kickstand. It is held firmly in place, so it will not fall once the kickstand come out. The design works well. It is easy to remove when you need it, and easy to put it back once you're done syncing data or charging. It fits a bit too snugly for my taste at both ends, but it works as expected.
Given that the Lightning cable is shorter than the length of iPhone 6 (I have not tested the iPhone 6 Plus version of the case, but I'm assuming it's a tad longer), you'll be keeping your iPhone very close to your laptop and charger. It's not much of a problem in the former case, but if you use a wall charger you won't like it. However, it'll work just fine with an external battery.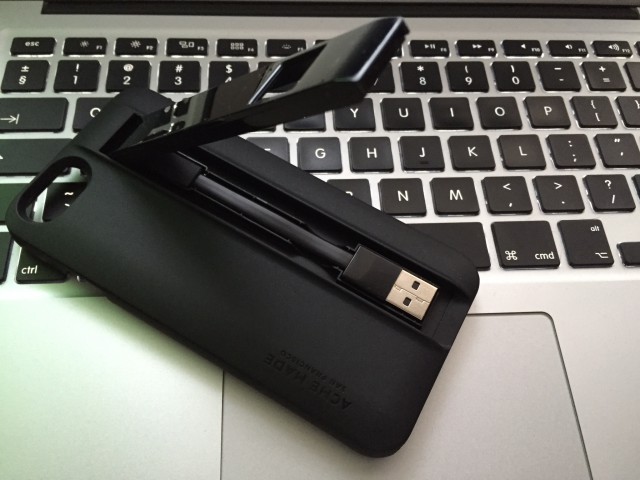 Now, how well does it protect the iPhone 6? I am sure that the Lightning cable and kickstand are awesome to have, but the main goal of the case is, after all, to keep your iPhone intact in case of drops and scratch-free on the back. And I have to say that it is well designed in this regard. Fortunately for you, unfortunately for me, I accidentally dropped my iPhone 6 twice with Acme Made Charge on.
Snapping my iPhone 6 on was easy, but removing it took a bit more effort. That's because the plastic basically has no give. Once your iPhone 6 is in, it stays there. The lateral sides are taller than the height of the device, so the display is protected when laid face-down on a table, which is great.
Needless to say, all the ports and buttons are easily available, and the camera and flash work as if the case isn't even on. In this regard, it's better than Apple's own Leather Case, as the lovely tactile feel of the buttons isn't lost by snapping the case on.
Now, on to the drops! The first time I dropped my iPhone 6 with Acme Made Charge on I had the misfortune of being in a place where the pavement isn't flat. The taller sides couldn't help. This resulted in a small chip in the middle of the screen. The case was perfectly fine though, proof that it's quite durable. I expect it to age well, assuming no such drops are involved.
Being the lucky person that I am (well, that's not quite the right word, but I'm going with it anyway), I also had the opportunity to see how Acme Made Charge fares in a much more severe drop (again, accidental), from a few stories high. I have to tell you, the case looked much better than my iPhone 6 when I picked it up.
There is a slight dent in the bottom right corner, scuff marks on the sides and the upper corners, but that's pretty much it (catching the marks with my camera is pretty tough, as it's black and I have no macro lens to show them off from up close).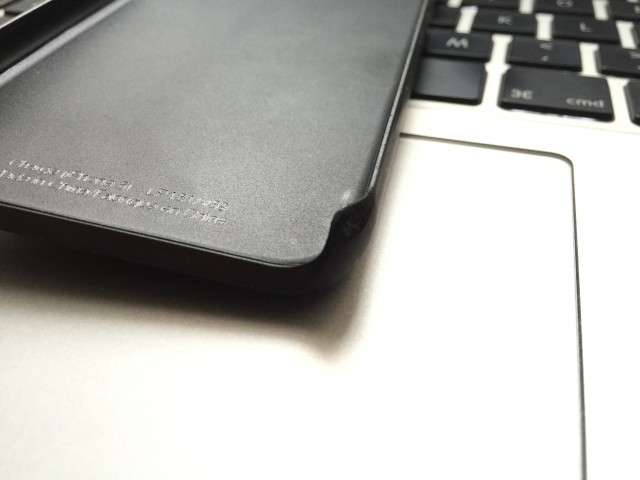 My iPhone 6, on the other hand, had a shattered display, and was very much bent. Hey, at least the back was still free of any scratches! I believe that, no matter how durable Acme Made Charge is, it couldn't have helped protect the display in such a high fall.
Acme Made Charge did hold my iPhone 6 firmly in place. That said, the smartphone was bent right where I expected it to -- around the volume buttons, an area known to be structurally weaker from all the iPhone 6 bend tests. This explains why I "switched" to an iPhone 6 Plus, by the way. (I had insurance, which proved to be wise. Since the iPhone 6 model I had wasn't in stock, I was given the option to get an iPhone 6 Plus that was.)
So, should you buy an Acme Made Charge case for your iPhone 6 or iPhone 6 Plus? Well, as always, it depends on what you're looking for. I think the kickstand and the hidden Lightning cable are awesome to have. Having the cable always on you will come in handy, trust me. When few people around you have iPhones, you can use it to charge your device using any USB charger -- Lightning cables are not easy to come by, after all. If, on the other hand, you drop your iPhone more often and Lightning cables are easy to come by, then you might want to look for a different case. It costs $49 for the iPhone 6 model, which is also something to consider. The price, however, is not bad, if you consider the features.
(At the time I took these pictures, I only had my iPhone 6 to snap photos, which explains why it's not seen with the case. I planned on taking some nicer pictures later, but, sadly, the final accident ruined my plan.)
Photo Credit: Mihaita Bamburic