5 key reasons why you shouldn't buy an Apple Watch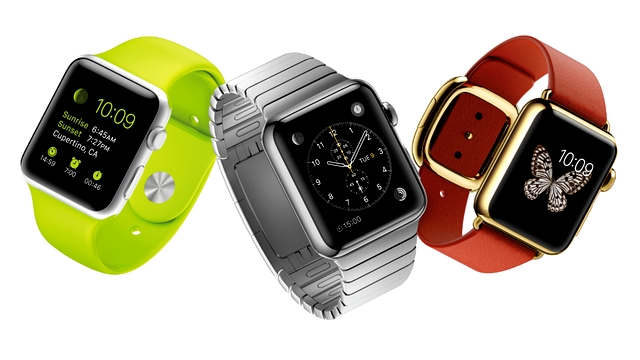 Apple will begin selling its first wearable -- the Apple Watch -- next month. The most basic variant of the Watch is priced at $349, whereas the top-of-the-line edition could cost up to $19,999, according to rumors. But regardless of the price tag at which the Cupertino, California-based company decides to sell it, there are a couple of reasons why you should not bother purchasing one.
Apple unveiled the Watch at its iPhone 6 event in September last year. The Watch is Apple's newest product line after the iPad which was launched in 2010, and also Tim Cook's first product contribution to the company he took the mantle of from the late Steve Jobs. A recent interview of Jony Ive, Senior Vice President of Design at Apple reveals that the company started thinking about the Watch as early as 2011. The company has -- without a doubt -- put an incredible amount of effort, cash, and thought into the Watch. But has it got everything right? Is the Apple Watch what we were craving for? Not really. Here's why:
It's just a mirror for your iPhone (and useless without it)
Unlike Moto 360 (and all other Android Wear smartwatches) and Pebble timepieces (first generation through Time) that are capable of running apps on the device itself, Apple Watch displays content streamed from your iPhone. It doesn't utilize (and perhaps doesn't possess) the processing power to run apps on its own, and rather banks on the iPhone for all its processing needs.
In the simplest essence, the Watch isn't doing something which your iPhone can't do. The only value it is adding is providing a separate and convenient screen that can be fastened around your wrist.
The other thing to note here is that you have to have your phone on you if you want to use the Watch. Want to track your steps? Take your iPhone with you. The Watch doesn't offer Wi-Fi and GPS connectivity options, and hence becomes useless without an iPhone.
Insufficient battery life
Android Wear smartwatches are great, but one of the factors that has irked many users from purchasing one is the short battery life it comes with. The Moto 360 smartwatch can only run for half a day on a single charge, while other smartwatches running on Google's wearable operating system run for a day at max.
The Apple Watch was expected to overcome this shortcoming, but it seems that it has failed to deliver. The Watch will offer just one-day battery life under "normal usage", Cook recently said in an interview with the Telegraph. If that wasn't bad news rnough, Mark Gurman citing his ever so reliable sources reports that the Watch will only last for 2.5 hours under heavy usage. That's pretty inconvenient and may seem counter-productive to many.
Better cheap alternatives
As I mentioned earlier, the most basic version of the Watch costs $349, and the top tier edition could cost up to $19,999, according to latest rumors. (We'll probably have the confirmation on this on March 9 at Apple's "Spring Forward" event.)
You could purchase Android Wear smartwatches at much cheaper price point. The Moto 360 is available for purchase for just $249, while the LG G Watch R can be snagged for $299. Plus, these smartwatches don't become useless without their paired smartphones.
Last week Pebble announced Pebble Time, the third iteration to its smartwatches. The $199 smartwatch supports more than 50 popular apps and comes with an intuitive user interface called Timeline. The best part? The new edition comes with a color, touchscreen capable display, and promises 7-day battery life even with the screen turned on at all times. Earlier this week, the smartwatch maker announced Pebble Time Steel. It is priced at $249 and uses "premium material".
Pebble is insanely popular among users. You can get an idea of its popularity by observing the fact that in less than a week since the announcement, Pebble Time has netted more than $15 million in funding. It is now the most funded project on Kickstarter. Last month, the watchmaker announced that it has sold more than 1 million Pebble smartwatches so far.
Its technology will go obsolete within 1-2 years
The Gold Edition of the Watch is rumored to cost anything between $5,000 to $20,000. In my opinion, it's a fair price tag. The Gold Watch is a piece of jewelry, and people invest an awful lot amount to glean jewelries. It's unquantifiable. The problem, however, is that people are comparing it with Rolex and other luxury watches. Which I don't think is fair.
You see those watches are meant to last and function just as efficiently for years. Rolex and other classy luxury watches trickle down generations as valuable possessions. That is something which doesn't seem plausible with the Apple Watch. The hardware modules inside the Watch will become obsolete within a year or two. As much as Apple would want you to believe this, its Watch and Rolex (and other luxury watches) are not in the same ballpark.
Even Apple executives weren't so pleased about the Watch
A recent profile of Jony Ive and other Apple executives by New Yorker sheds light on a resistance between the company's executives over whether Apple should make a smartwatch. The interview reveals that many in the company were against the idea of making a smartwatch. Jony Ive, who is a watch collector, was pretty adamant about it, however. Here's an excerpt from the interview:
Mansfield recalled "a lot of resistance". It wasn't clear how the company would display such things in stores; there were also concerns about creating a divide between wealthy and less wealthy customers. (As Mansfield said, "Apple wants to build products for everybody".) But Ive won the argument. "I had wondered if the watch project, and Ive's software role, could be seen as a way for Apple to thank and secure Ive: handcuffs in yellow gold and rose gold", the interviewer Ian Parker notes.