Microsoft launches Office 2016 Mac Preview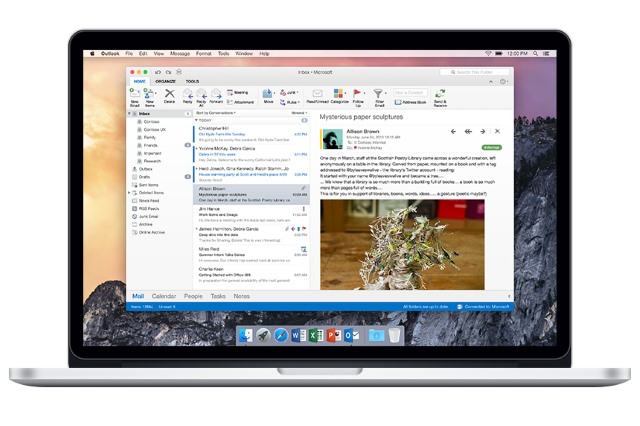 Microsoft is all about software previews these days. We've seen various preview builds of Windows 10 and Windows 10 for Phones, and now it's time for the next version of Office for Mac. Today Microsoft released Office 2016 Mac Preview, giving Mac users a chance to try out the next version of the office suite ahead of its full launch.
As with the Windows version of Office, and in keeping with the new focus of Microsoft, there's a strong emphasis on the cloud. OneDrive, OneDrive for Business and SharePoint can be used to sync documents between devices, and Microsoft is keen to point out that this is more than just a straight port of PC Office -- the suite has been Mac-ified.
A redesigned ribbon can be found across Word, Excel, PowerPoint, OneNote and Outlook, and the whole UI has been designed to take full advantage of Retina displays. Mac-specific features? Apart from full screen mode, there's also "little Mac affordances like scroll bounce," says Microsoft. But there are lots of new features and improvements to look for in the individual apps.
OneNote has been quite a success story for Microsoft, and the note organization tool receives a welcome update in Office 2016 for Mac. We've already seen Outlook for Mac as a standalone app, but it's also part of the suite. The app everyone knows Office for, Word, gains features such as threaded commenting, while Excel benefits from new data analysis options. PowerPoint gains, among other things, new transitions and an animation builder.
If you fancy taking the office suite for a spin, you can download it here -- as ever, your feedback is encouraged.