Apple announces all-new MacBook in gold, silver and space gray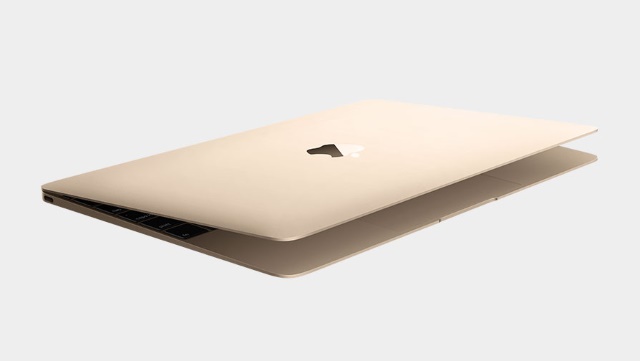 The highlight of today's Apple event was undoubtedly the Apple Watch, but there was also time to announce the all-new MacBook. The first and most obvious change is that this time around, Apple's laptop will be available in three different colors -- gold, silver and space gray.
Portability is very much the name of the game with this new release. The MacBook weighs in at a mere two pounds, and is just 13.1 mm thick -- including the wafer-thin display which measures less than 1 mm. This is the lightest MacBook ever and, like the Apple Watch, Apple is promising that you will get all day usage from a full battery charge.
This is a laptop with many highlights, but something Apple is particularly proud of is the keyboard. This has been completely redesigned from scratch to produce a unit that is 40 percent thinner and features full-sized keys. A new key mechanism has been employed that increases accuracy and stability, and as each key is individually LED lit, low-light usage is set to be a dream.
Apple has focused on energy efficiency with the new fanless MacBook. The 2304 × 1440 Retina display uses 30 percent less energy than other Mac displays, and the processor sucks up just 5 watts of power. There's another new input option in the form of the large Force Touch-enabled trackpad. Like the Apple Watch, the trackpad supports new gestures, offering tactile feedback, and can be clicked anywhere, not just at the corners.
The new color options are not the only first. This is the first MacBook with an all-metal enclosure. Apple is also using a new 'terraced' battery design which contributes to the time you can spend away from a power socket. In terms of connectivity, there's 802.11ac Wi-Fi, Bluetooth 4.0, and a USB-C port which combines USB 3.1 Gen 1 (5Gbps) data transfer and DisplayPort 1.2 into one connection.
There are two versions available. The $1,299 model features:
1.1 GHz dual-core Intel Core M processor with Turbo Boost speeds up to 2.4 GHz
8GB of memory
256GB of flash storage
Intel HD Graphics 5300
If you've got $1,599 to spare, you can get yourself a MacBook with:
1.2 GHz dual-core Intel Core M processor with Turbo Boost speeds up to 2.6GHz
8GB of memory
512GB of flash storage
Intel HD Graphics 5300
There's also the option of customizing your MacBook over on the Apple website. Shipping starts April 10.