Toshiba Chromebook 2: Best-of-class display [Review]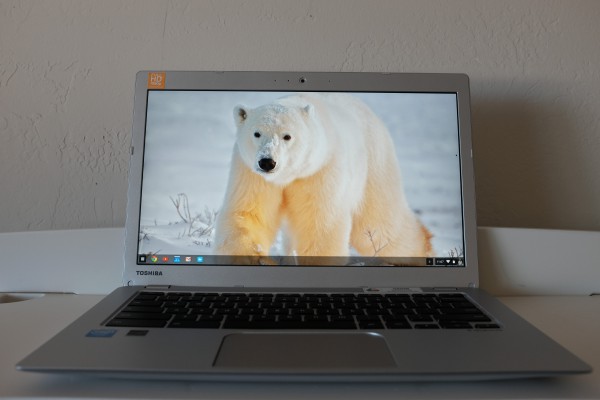 My family plays musical computers today, as mom receives my wife's Toshiba Chromebook 2—to replace the end-of-life original Microsoft Surface RT. Last week, my beloved took possession of my Google Pixel after I received the newer model, released on March 11.
While writing the above paragraph, my mother phoned to let me know the laptop arrived. "Oh do I like this Toshiba! This can't be a 13-inch screen. It seems so much bigger". The reaction is more than just because of the move from the RTs 11.6-inch panel. Among the Chrome OS category, the Toshiba's screen is exceptionally bright, and crisp, setting it apart from every model other than Google's own.
Screaming Screen
Chromebook critics complain about the need for nearly always-connected Internet, but the category's shortcoming is something else: Crappy TN screens that are too dim and which viewing angles suck. Among the Chromebooks I have tested or used, either Pixel or the Toshiba are the only models on my current recommended list. Satisfying IPS displays are one major reason.
Qualification: There are two Toshiba models. I reviewed and recommend the costlier $329.99 Chromebook 2, with 1920 x 1080 resolution. The $249.99 configuration is 1368 x 768 and comes with too little memory for the processor class.
Before moving to Surface RT last year, mom used the Samsung Series 5 550, which I purchased for her in June 2012. While matte—versus the Toshiba's reflective—the 550's display is unusually bright: 300-nits compared to about 339-nits, respectively. Most other Chromebooks, even some with IPS screens, are in the 200-to-250-nit range.
You can find cheaper models than the high-end Chromebook 2, or those with more capable microprocessors, but in my evaluation the screen is any laptop's most important feature, which must be balanced against other benefits. As measured in nits, Toshiba Chromebook 2 is brighter than MacBook Pro with Retina Display, which screen likewise diagonally measures 13.3 inches but sells for nearly $1,000 more.
HD resolution isn't necessarily a benefit, however. For my eyes, text is way too small at 1920 x 1080 resolution. I jacked font-size to "Very Large", which just looked too strange. So I pumped down to 1536 x 864, holding firm at "Medium". Wide viewing angles, brightness, and rich colors and contrast matter more, and Chromebook 2 delivers them with gusto.
Paltry Performer
My measure of most-important benefit may not be yours. Some buyers prefer raw speed to visuals, and manufacturers like Acer offer more. Today, the company announced the C910 Chromebook with fifth-generation Core i5 processor, for example. The vendor also sells some Core i3 models. But the Acer screens can't compare to the Toshiba's.
Chromebook 2 is not a fast performer. For general writing, even watching movies or editing photos, the laptop feels plenty speedy enough. But there is noticeable hesitation switching tabs when a half-dozen or more are open and occasional scrolling lag is persistent enough to be annoying.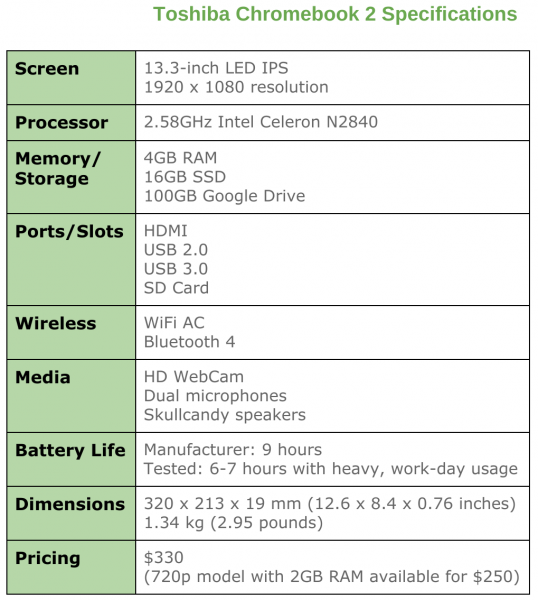 Let me qualify what that means for anyone consuming content, before discussing Toshiba's microprocessor choice. The experience consuming video is excellent—approaching outstanding and easily is as good as or better than 13-inch MacBook Pro Retina. Take your streaming pick: Amazon, Hulu Plus, Netflix, or YouTube. The HD display and Intel chips deliver smooth, vibrant video that is stutter-free. Color, contrast, and detail will satisfy. The built-in Skullcandy speakers are excellent complement.
Where audio stumbles is streaming. Consistently, Google Music crackles, stutters, or breaks up. The usage experience is different from video, where content is typically viewed in a single tab. Like you may do, I stream music in one set-aside tab while working in another. Just a few open tabs—not even a half-dozen—generate this very dissatisfying experience, in my testing.
That is good segue to discuss the 2.58GHz Intel Celeron N2840 processor's performance. Toshiba chose delivering other benefits over raw speed, such as that bright, crisp, satisfying screen, Skullcandy audio, long battery life, and fanless design. The Bay Trail chip is closer in architecture to ARMs, being lower-power consuming and less-heat producing. Chromebook 2 runs remarkably cool, with no fan necessary, and near silently. But these benefits come at the cost of raw processing power, something stuttering scrolling or streaming demonstrates.
Balanced Benefits
For $330, Chromebook 2 offers many other benefits, and I wouldn't call performance a deal breaker so much as an annoyance. I can work easily enough, even with more than a dozen tabs open. That said, the little hiccups disrupt my concentration, which corrupts one of the category's larger benefits: distraction-free computing.
The Chrome OS tabbed browser design keeps the eyes in one plane of the screen and fingers on another across the keyboard. By contrast, OS X and Windows 8.1 are considerably more distracting, particularly as eyes move up and down or across the UI to access applications, Apple's Finder and Dock or Microsoft's titles. Chromebook 2 introduces distraction where it shouldn't be: when lag here or stutter there disrupts workflow, and the user's concentration with it.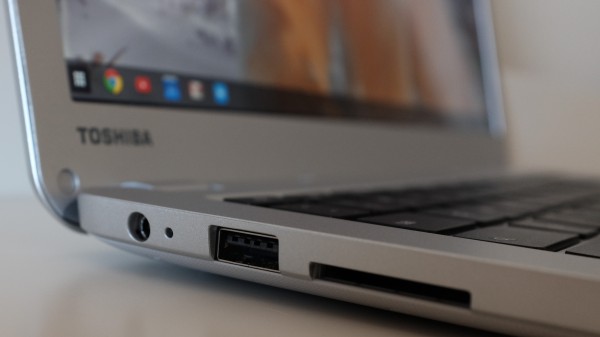 Since we're on the topic, a reminder about overall Chromebook category benefits:
Easy setup
Guest-user account
Fast crash recovery
Instant-on capability
Security architecture
High-value for low-cost
Simplicity and usability
Hands-free IT management
Frequent updates delivered easily
Seamless sync with devices running Chrome
Now to others specific to Toshiba's laptop:
Design. Appearance matters, or people wouldn't spend so much for things that look good. The contours make the laptop feel thinner than it actually is while improving the overall sense of quality and refinement. But appearances are deceiving. This is no aluminum MacBook Pro but plastic shell. That said, the screen's quality and vibrancy gives greater illusion that this laptop is premium priced.
Chromebook 2 pleases the eyes, but perhaps not the fingers. The surface feels gritty, and that's a deliberate manufacturer's choice, which I find displeasing. Additionally, the impression extends to the lettering and numbering on the keys, which I can feel.
Keyboard and Touchpad. Typing is silky smooth and the trackpad really responsive. Chromebooks are writing workhorses, and the Toshiba is no exception. If not for laggy responsiveness related to the microprocessor, the trackpad would be best of class.
Battery life. Toshiba claims 9-hour battery life. I more consistently see 6 to 7 hours, which should be enough for a normal road warrior's work day. Many Acer Chromebooks last longer, and Toshiba claims 11.5 hours for the 720p 13-inch model—and that's one reason to consider the less-costly configuration. The 1080p IPS display hogs power, and it's one reason Acer and many other Chromebook manufacturers offer lesser screens; priority is placed on battery life as a primary benefit.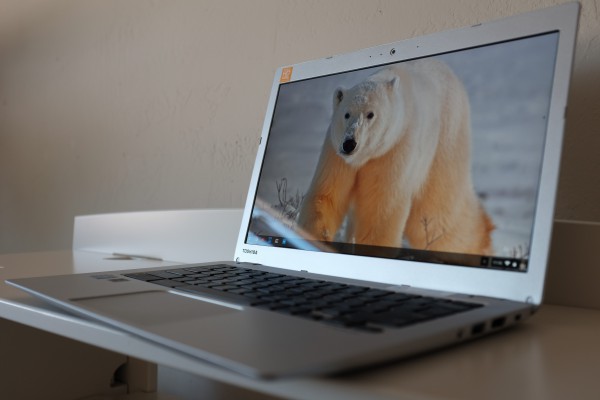 Connectivity. Bluetooth 4.0 and WiFi AC are standard, as they should be for a computer designed to be nearly-constantly connected to the Internet. Ports for USB 2, USB 3, and HDMI, as well as SD Card slot, are provided.
Storage. The SSD is a bit puny, at 16GB but enough when matched with Google Drive—and 100GB free online storage is available for up to 2 years. The Chrome OS file system treats Drive just like internal storage to the end user, which is a major benefit.
The configuration I reviewed, purchased from Amazon, comes with 4GB RAM. The $250 Toshiba Chromebook 2 packs only half the memory, which I regard as inadequate. No laptop in the category should have any less than 4GB.
Photo Credits: Joe Wilcox