Samsung Galaxy S6, Galaxy S6 edge pre-orders kick off March 27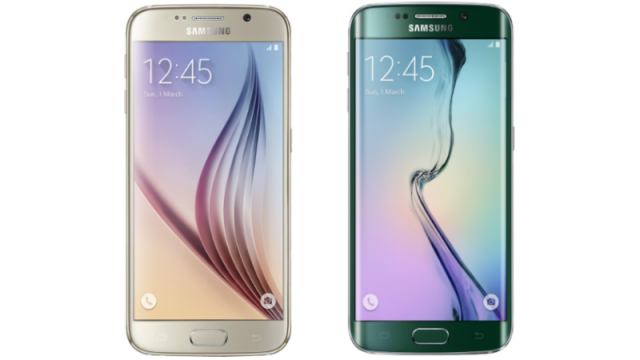 Samsung today announced that its Galaxy S6 and Galaxy S6 edge flagships will go up for pre-order in US on March 27. The two smartphones will be offered through all major carriers in the country, and will be officially available on April 10.
Both smartphones will be available in US with 32 GB, 64 GB and 128 GB of internal storage, in Black Sapphire, Gold Platinum and White Pearl. So far, AT&T and T-Mobile are the only major carriers to have have revealed pricing information for Galaxy S6 and Galaxy S6 edge.
AT&T says that Galaxy S6 and Galaxy S6 edge will be available to pre-order in all aforementioned storage and color options, from as low as $22.84 per month with a Next plan (that's with Next 24 and Galaxy S6; you'll have to shell out $27.17 per month for the edge version). Pre-orders can be placed online and through select brick and mortar stores.
T-Mobile says that Galaxy S6 and Galaxy S6 edge will be available to pre-order through its online and brick and mortar stores as early as 7 am PDT tomorrow. The carriers says that the two flagships will be displayed in most of its physical stores. Now, let's talk about pricing.
For a Galaxy S6 with 32 GB of internal storage, T-Mobile is asking $679.92. That's the outright cost, anyway, as there's also a financing option available as you might expect: $0 down coupled with 24 monthly payments of $28.33 In the case of Galaxy S6 edge the outright cost goes up to $779.76, while the monthly rate with the two-year financing increases to $32.49 (no downpayment is required in its case either). T-Mobile will also throw in a one-year Netflix subscription for orders placed before April 12.
Not all carriers in US will offer both smartphones, as Samsung says that Boost Mobile, Cricket Wireless and MetroPCS will only have Galaxy S6 available. To get Galaxy S6 edge, you have to go with AT&T, Sprint, T-Mobile, US Cellular or Verizon. Samsung's latest flagships will also be available through Amazon, Best Buy and other retailers.
Galaxy S6's main rival, HTC's One M9, goes on sale sooner -- tomorrow, at midnight -- but only through online stores. It will also be available in brick and mortar locations starting April 10. To learn more about its availability and cost, check out this article.