Mac recovery tool Disk Drill comes to Windows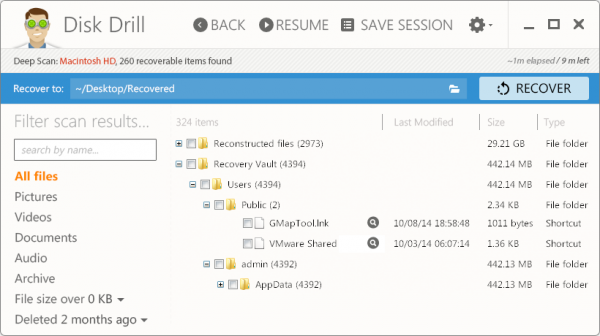 It's been undeleting Mac files since 2010, but CleverFiles' Disk Drill is now also available -- for free -- on Windows XP and later.
The Mac heritage brings some immediate benefits. The program can recover data from HFS+ drives, as well as FAT, exFAT, NTFS or Linux EXT2/3/4 drives. And it's able to back up drives to a DMG image, handy if you're worried about files being overwritten before they can be restored.
Disk Drill has a strong focus on ease of use, too. Launch the program, and it displays your system's drives. Click "Recover" next to the drive containing your files and Disk Drill leaps into action.
Scans can take a while, but you don't have to wait until they're finished before you do anything. Disk Drill displays deleted files as they're discovered, and you can browse these, preview and even recover them while the main scan is running.
If it's still taking too long, or Disk Drill is using too many resources, you can pause the scan session, or just save it, close the program, and resume where you left off later. That may not be a good idea, particularly if you're trying to recover files from the system drive -- the longer you wait, the more likely they'll be overwritten -- but it's good to have that flexibility.
Once the scan has finished, you can filter the results by file name, type (pictures/ video/ documents/ audio/ archives), size or date. Images can be previewed, your lost files selected and recovered with a click.
This would be enough all on its own, but Disk Drill offers a surprise extra in its "Recovery Vault". Tell the program to protect your selected folders -- Pictures, Documents, maybe your entire User folder -- and it saves copies of anything deleted from those locations (even by methods the Recycle Bin might miss).
If you accidentally delete something from a protected location then it becomes much easier to recover, with no lengthy scanning process and no chance of the data being overwritten: you just manually select it from the Vault.
Overall Disk Drill has plenty to offer: its core undelete engine is well designed and presented, and there are some genuinely valuable extras here. There's no official portable version yet (although you can copy the main folder to a USB stick and most of it will work), but that aside it's a solid program which deserves your attention.