Opera debuts all-new Opera Mini for Android browser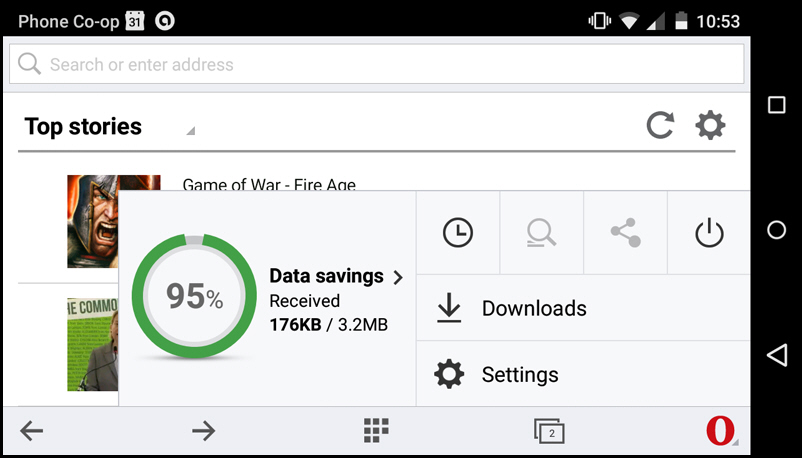 Opera Software ASA has unveiled Opera Mini for Android 8.0 a major new -- and long overdue -- version of its mobile-friendly browser for Android devices.
Despite appearing to be a simple upgrade from the previous release -- 7.6 -- Opera Mini 8.0 has been released to the Google Play store as a completely new, and separate, app, which means existing users will need to download and install it afresh, where it will subsequently appear and run in isolation alongside the original version.
Opera Mini for Android 8.0 opens with a brand new look in keeping with other iterations of the browser. This cleaner, leaner UI opens with a redesigned home page offering both Speed Dial functions and access to top-rated news stories -- users can pick and choose which types of story to feature by tapping the Settings button next to the Top Stories headline.
Tapping the Opera button in the bottom right-hand corner of the screen reveals a streamlined menu providing a summary of data savings made using the app. This is one of Opera Mini's main strengths, allowing users to both browse faster and get more from a limited data plan through the compression of images. Tap this summary for a detailed view as well as to access an option to alter image quality further -- either to view images in more detail or squeeze more from the user's limited bandwidth.
The button also provides convenient access to the app's Downloads tool -- version 8 claims to offer faster downloads, support for multiple background downloading, a prompt to restrict large file downloads to Wi-Fi only networks and the ability to automatically resume previous downloads.
The app also comes with the promise of simpler, gesture-based browsing with support for both swiping and gestures for navigating pages. Other features include private browsing, sync and sharing of bookmarks via an Opera account and the ability to save favorite sites to both Speed Dial and Bookmarks folder. Full-screen browsing is still accessible, but disabled by default -- enable it via the Settings screen.
Opera Mini for Android 8.0 is available as a free download now for all Android devices running Android 2.3 or later. Also available is Opera for Android 28.0 as well as Opera Mini for iOS 10.0.1.