Samsung announces Iron Man-themed Galaxy S6 edge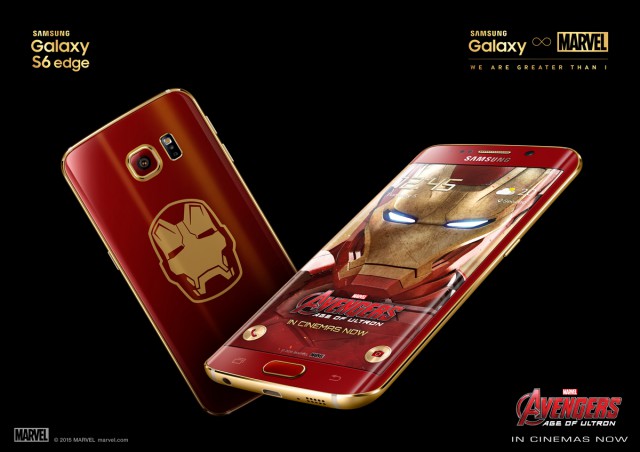 Samsung has teamed up with Marvel to release an Iron Man-themed version of its Galaxy S6 edge Android flagship smartphone. The handset is introduced in celebration of the Avengers: Age of Ultron blockbuster, and hits store shelves starting tomorrow as a limited edition.
As you might expect, where the Iron Man-themed Galaxy S6 edge differs from its standard counterpart is in the looks department. But there are also differences when it comes to packaging, with the former being shipped in an Iron Man-themed box with extra -- cool -- accessories.
Galaxy S6 edge Iron Man edition is offered in a red and gold color scheme, with the former color used for the front and back body colors and the latter on the side. It looks very cool in the photos and unboxing video (embedded at the end of the article) that Samsung has released.
The box is also red, with gold writing and a gold Iron Man drawing on the top, and packs an awesome-looking Iron Man-themed Galaxy S6/Galaxy S6 edge wireless charger as well as a Clear View Cover, which shows off well the Iron Man logo on the back of the device. Both will prove quite useful in day-to-day use, assuming the folks buying this Galaxy S6 edge version will not see it purely as a collectible.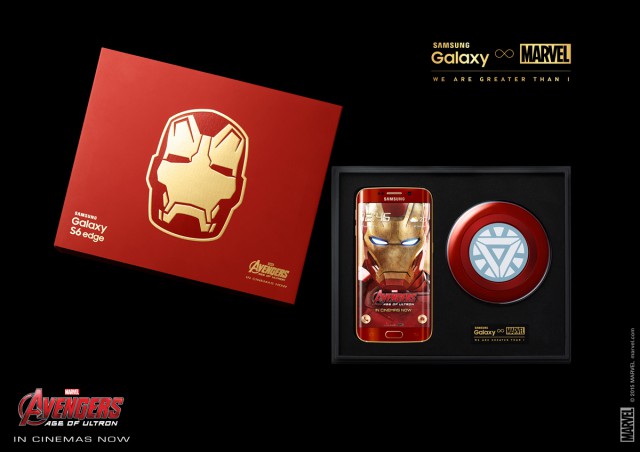 Samsung being Samsung, it also bestowed this Galaxy S6 edge version with Iron Man-themed software, again in the same red and gold color scheme as seen everywhere else. While it certainly looks cool, I wonder whether it is just a theme or it involves a deeper level of customization. The reason why I mention this is because, if it is the latter, users should not expect to get updates as soon as the regular Galaxy S6 edge, not that it may matter as much.
Under the hood, the only difference between the standard Galaxy S6 edge and its Iron Man-themed sibling is the amount of internal storage: the latter comes with 64 GB standard, while the former can also be had with 32 GB and 128 GB of internal storage.
As far as the rest of the specifications go, you should take a look at our initial coverage of the smartphone. Nothing else is changed, based on the information provided by Samsung. And that is not a bad thing, as Galaxy S6 edge is a great flagship.
The Iron Man-themed Galaxy S6 edge will be available in South Korea, China and Hong Kong. Samsung's home market is the first to get it, while the other two markets will see the smartphone next month, in June. There is no word on pricing.