System76 unveils hardcore Serval WS laptop running Ubuntu Linux


If you are a Linux user looking to buy a computer, System76 is one of the best manufacturers to target. Rather than buy a Windows machine and formatting the drive to install your favorite distro, the company's machines come pre-loaded with Ubuntu. Even cooler, its laptops do not have the Windows logo on the super key, instead having the Ubuntu logo. Even if you are a fan of a different distro such as Fedora, supporting a Linux-focused seller is good for the overall community.
Today, the company announces its newest laptop, called "Serval WS". To call this a mere laptop, however, does not do it justice. It is a hardcore, monstrous beast -- a full desktop replacement -- ready to shred through anything you throw at it. Yeah, the specs are that good.
"The Serval WS is unlike any laptop you've ever experienced. With the performance of a full desktop processor and the fastest mobile GeForce and Quadro GPUs available, you can accomplish complex tasks in less time", says System76.
The company shares the following specs.
| | |
| --- | --- |
| Operating System | Ubuntu Desktop 15.04 or 14.04.2 LTS |
| Processor | 4th Gen Intel Core i7 |
| Display | 15.6 inch or 17.3 inch 1920×1080 IPS, Matte Finish |
| Graphics | NVIDIA Geforce GTX 970M, 980M, or Quadro K1100M, K3100M |
| Memory | Up to 32 GB Dual Channel DDR3 @ 1600 MHz |
| Storage | 2× M.2, 2× 2.5 inch SATA III |
| Expansion | 4× USB 3.0, 1× eSata/USB 3.0 combo, SD Card Reader |
| Input | Multitouch Touchpad, Multi-Color Backlit Keyboard |
| Networking | Gigabit Ethernet, Intel WiFi up to Wireless-AC |
| Video Ports | HDMI 1.4a, 2× DisplayPort 1.2 |
| Audio | Stereo Speakers, Mic, Headphone Jack, Mic Jack, Line In, S/PDIF. 17 inch model includes Woofer. |
| Camera | 1080p HD Webcam |
| Security | Kensington Lock |
| Battery | Removable 8 Cell Smart Li-Ion – 82 Wh |
| AC Adapter | 230W, AC-in 100–240V, 50–60Hz |
| Dimensions | Dependent on display size. |
| | 15 inch model: 15.20 inch × 10.32 inch × 1.41 inch (38.61 × 26.21 × 3.58 cm) |
| | 17 inch model: 16.46 inch × 11.10 inch × 1.52 inch (41.81 × 28.19 × 3.86 cm) |
| Weight | Dependent on display size. |
| | 15 inch model: 7.4 lbs. (3.36 kg.) |
| | 17 inch model: 8.6 lbs. (3.90 kg.) |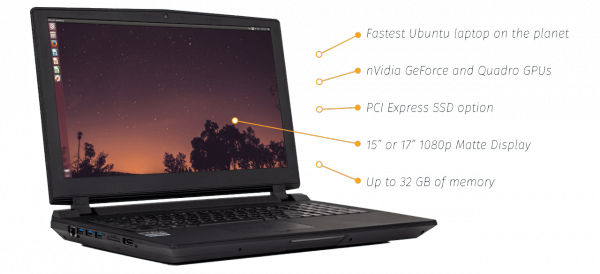 Good lord. Those specs are so hardcore, I just want to rip off my shirt and howl like a wolf! Ahwoo! To show off just how powerful it is, take a look at the side-by-side render comparison between the MacBook Pro (left) and Serval WS (right). Holy mackerel.
System76 also showcases the gaming performance of the hardcore laptop. It looks fluid, but the video quality of the demo is not great.
All of this power comes at a price, of course. The starting price for the Serval WS is $1799 -- yes, that is the base price. Playing around with the configurations, I was able to reach a price of over $4,000 (hey, a man can dream). Quite frankly, maxing it out is overkill; even the base model is extremely well equipped -- all models have a Core i7.
While the price is high, you are getting a lot of power. Keep in mind, this is designed to be a full desktop replacement and not a desktop compliment. It is also very big and heavy, making it more of a portable workstation rather than a mobile laptop. In other words, you can transport it when you have to, but it would not be ideal for business travelers.
If you want to configure your own, you can pre-order here. It will begin shipping in July.