Windows 10 Build 10158 for PC featuring dark theme-laced Microsoft Edge, cooler Cortana available to download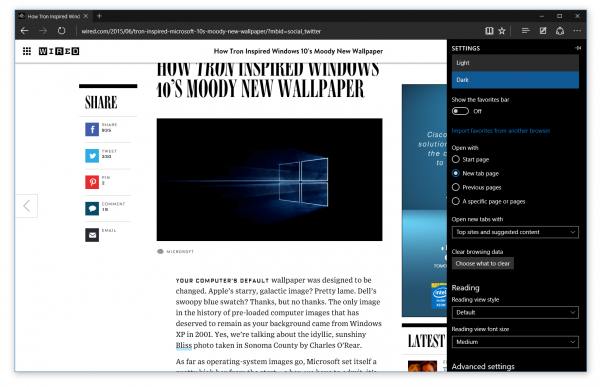 Another week, another Windows 10 build. Microsoft today announces that it is releasing a new Windows 10 build -- which might as well be the last build before RTM -- to Insiders in the Fast ring.
With this new build dubbed 10158, Microsoft aims to bring stability to the desktop operating system and make things smoother and pleasant to look at. In addition, the company is also finally bringing the Microsoft Edge branding while also introducing some new features. Cortana is becoming cooler than ever, too. Below is a brief summary of everything you get from the new build.
First up is Microsoft Edge. If you wanted to have a "home" button on your browser, with this new update, Microsoft is giving you an option to keep it. To enable it, go to Settings > Advanced Settings and turn on "Show the home button".
In addition, users will now be able to import favorites and bookmarks from other browsers into Microsoft Edge. There are a couple of more interesting additions. For instance, you can now customize the New Tab page. The browser now facilitates password and form-fill support.
You can also now continue to listen to music when you minimize the app, as the company is now enabling audio playback even when the app is minimized. But the top of all, there is a dark theme if that's how you like to roll on the web.
The new update, as I mentioned above isn't all about Microsoft Edge. There are general improvements in design as well. The company says that it has optimized animations for Continuum feature, improving support for Windows 8.x apps and classic Win 32 programs in Tablet mode.

You can now also simply swipe up on the left side on the Start Menu to open All apps. It will work in Tablet mode as well, the company assures. You will have to open up the left side of Start behind the hamburger menu.
Another handy inclusion is visible on the Taskbar. Whenever an app seeks your attention, the Taskbar will flash in orange. There are some color scheme changes when you download or move files too, which we'll like to hear all about from you.
The update is also bringing some new additions to Cortana. The Notebook feature of the voice assistant is now in its final stage with a combined Profile and Settings experience. And yes, Cortana too now comes in black.
In addition, she will be able to help you track your flights, as that feature now has been enabled and works when you get an email with relevant information in it. Time for the best new feature in this build: you can now send emails using Cortana. Fun part aside, Cortana and Office 365 now see eye to eye, as Microsoft has integrated the two.
Besides that, Photos app has been updated, grab it from Windows Store Beta. The update brings with it support for animated GIFs. Speaking of new features, Snipping Tool is also getting something new today. Users can now set up a 5-second delay to capture pop-up menus.
Among other things, the company says that the new build brings several fixes to improve battery life on the Surface Pro 3. Microsoft will be releasing a preview of Windows 10 SDK tomorrow.