HP Spectre x360 is the best Windows 10 laptop for back-to-school and beyond [Review]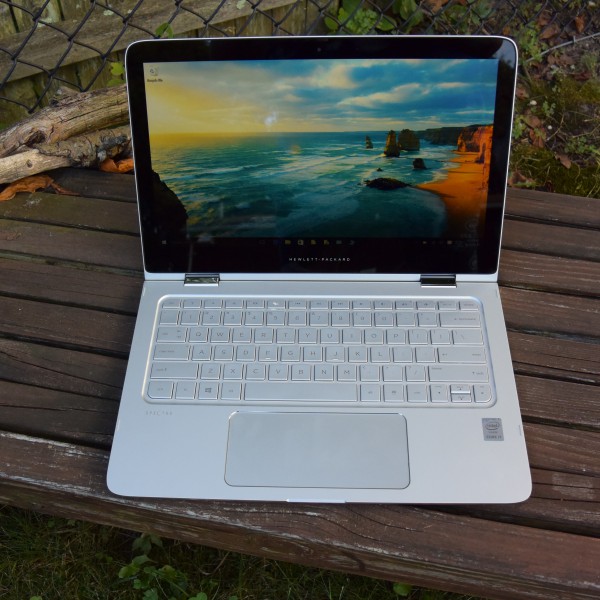 Buying a Windows laptop can be an extremely stressful ordeal. Unlike Apple, whose OS X is limited to just a few models, Windows notebooks are manufactured by many companies, in countless designs. If you shop online or go to a local store, like Best Buy, your head could easily explode from all of the options.
It is for this reason, that you should do your homework -- read reviews, educate yourself on specs and find out which brands are most reliable. If you don't have time for all of that, I can save you the trouble. The HP Spectre x360 is the laptop you want for back-to-school and beyond. OK, now go buy it. Oh, you want to know why I am saying it is the laptop you want? Well then read on to find out more.
Specs (as reviewed)
Operating system: Windows 10 Home 64
Processor: Intel Core i7-5500U with Intel HD Graphics 5500 (2.4 GHz, 4 MB cache, 2 cores)
Graphics: Intel HD Graphics 5500
Display: 13.3 inch diagonal FHD Radiance Infinity LED-backlit touch screen (1920 x 1080)
Memory: 8 GB DDR3L SDRAM (1 x 8 GB)
Hard drive: 256 GB mSATA SSD
Wireless: Intel 802.11ac (2x2) and Bluetooth 4.0 Combo
Power supply: 45 W AC power adapter
Battery: 3-cell, 56 Wh Li-ion polymer
Ports: 3 USB 3.0; 1 HDMI; 1 Mini DisplayPort; 1 headphone/microphone combo
Expansion slots: 1 multi-format SD media card reader
Webcam: HP TrueVision Full HD WVA Webcam (front-facing) with integrated dual digital microphone
Audio: Bang & Olufsen with 2 speakers
Color: Natural silver
Pointing devices: HP Imagepad with multi-touch gesture support
Keyboard: Full-size island-style backlit
Dimensions: 12.79 x 8.6 x 0.63 in
Weight: 3.17 lb
Video Overview
Impressions
Many Windows laptops are plasticky and creaky, lending to a less than premium experience. The HP Spectre x360 is the opposite -- upon taking it out of the box, you immediately see that it oozes quality and class. The matte aluminum top and bottom are cold to the touch -- appreciated on a hot summer day. The glossy mirrored sides are home to a ton of ports and buttons.

On the right side, there is a dedicated Windows home button, which is rather unusual -- most laptops do not offer this on the body. Next to that is a volume rocker, which comes in handy while using the HP Spectre x360 in tablet mode. There is also a mini DisplayPort, a full-sized HDMI port, two USB 3.0 ports and a 3.5 mm headset jack.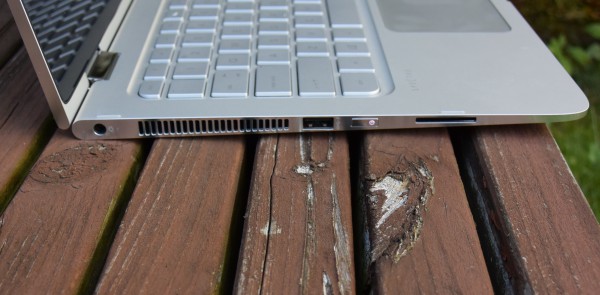 The left side is home to the all-important power button, useful for -- you guessed it -- booting up the laptop. There is also an SD slot, which is very handy for photographers. There is yet another USB 3.0 port on this side -- appreciated, as sometimes you may have a need to plug something in that is located on either side of the computer. Next to that there is a vent and the power port.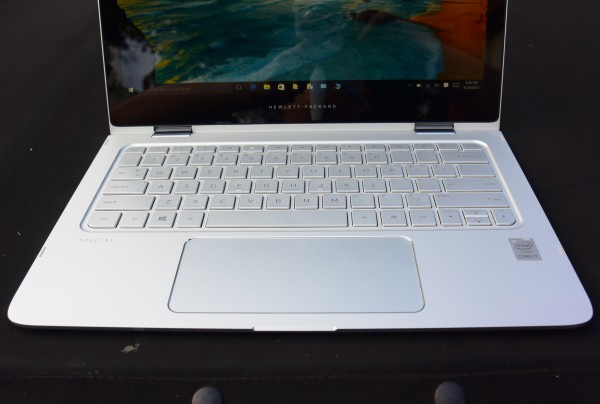 Opening up the laptop, you are presented with a beautiful back-lit keyboard and one of the largest trackpads I've ever seen. The keys match the matte silver color found on the majority of the Spectre x360, and luckily, HP has provided a properly laid out keyboard. All of the keys are where they should be -- there is no learning curve. The back-lighting can be turned on and off with the touch of the button.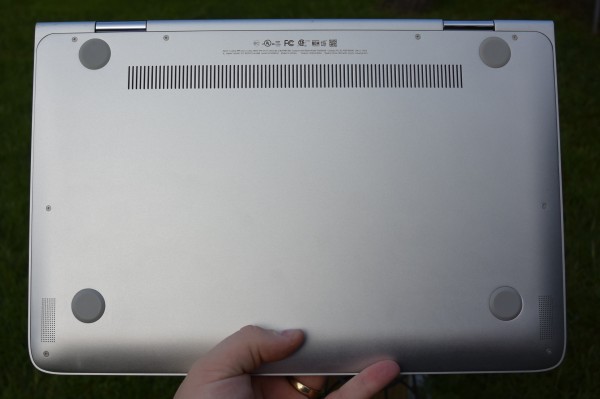 The trackpad height is about normal, but it is the width that makes it stand apart. You have plenty of room for your fingers to wander, so you rarely need to worry about reaching the edge. There are no buttons, as the entire trackpad is one large clickable button. I was worried about how the wide nature would affect clicking performance, but I am happy to say it works like a dream; it is consistent. Multi-touch works well too, such as three fingers down to hide all and go to desktop, or three fingers to the right or left to switch between apps.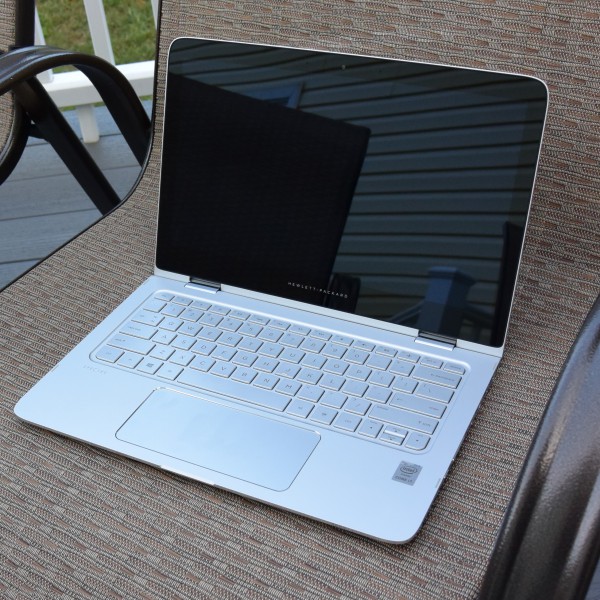 The HP Spectre x360 comes in two display options -- 1080p and 2560 x 1440. Only the most expensive ($1349) model comes with the latter. My model ($1149) features 1080p, which to me, is perfect for the 13.3 inch screen. Images and videos look amazing, while text is crisp and clear. Of course, you can connect to a 4K monitor if you need using the mini DisplayPort. The HD 5500 graphics can push 4K no problem.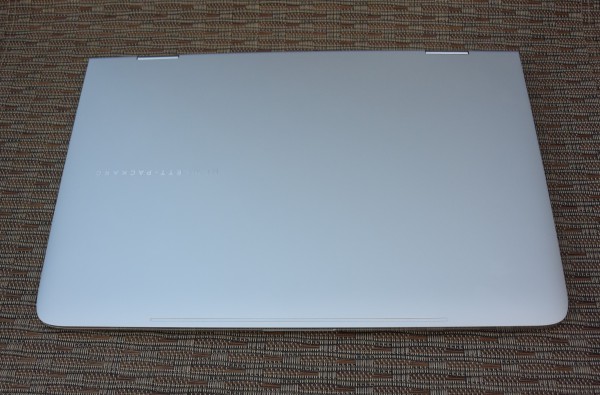 You can configure the Spectre x360 with either an Intel Core i5-5200U or i7-5500U. While my unit has the i7, most consumers should probably opt for the i5. With that said, the i7-5500U really screams -- apps and programs open lightning fast and Windows 10 runs like a champ.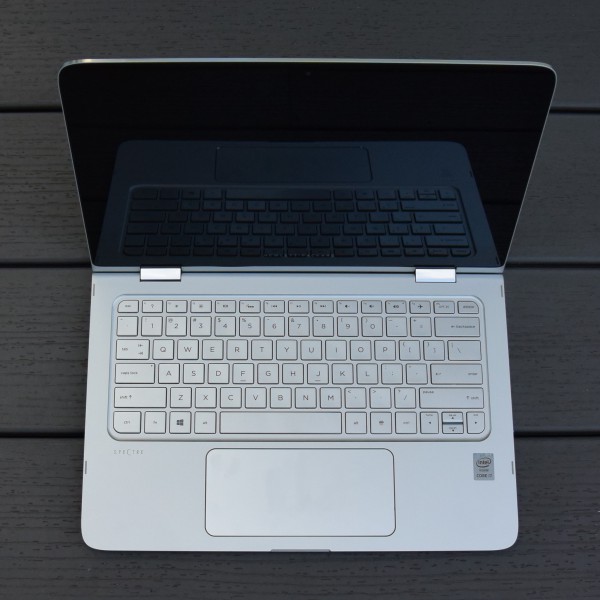 All but the least-expensive models of Spectre x360 come with 8GB of RAM -- do not make the mistake of buying the cheaper 4GB model ($899). There is only one accessible DIMM slot, so you might as well opt for 8GB -- the $100 additional cost not only doubles the RAM, but doubles the 128GB SSD to 256 ($999). It is a no-brainer. HP should probably get rid of the $899 option altogether.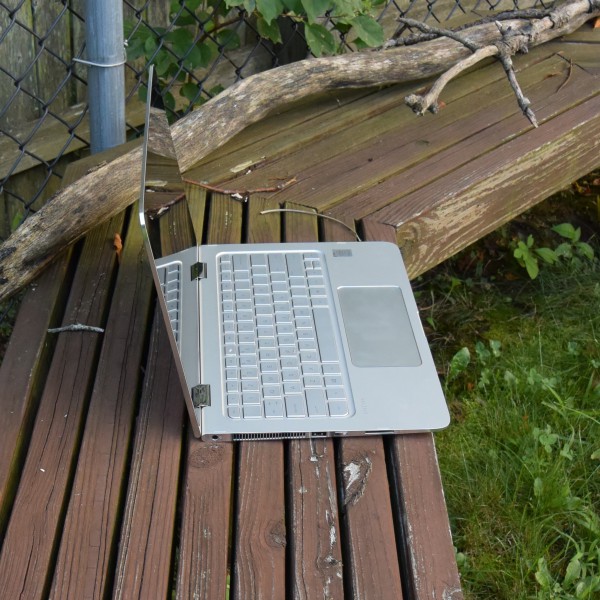 The HP Spectre x360 is beautiful, has great specs, a genius design and a gorgeous screen. While all that should be reason to buy this laptop, none of them are the stars of the show. Actually, what really makes HP's work of art so amazing is the killer battery life. The company promises 12.5 hours, and this is not far off -- I can easily achieve between 10 and 11 hours depending on use. For road-warrior business users or students, this puts it into a special category.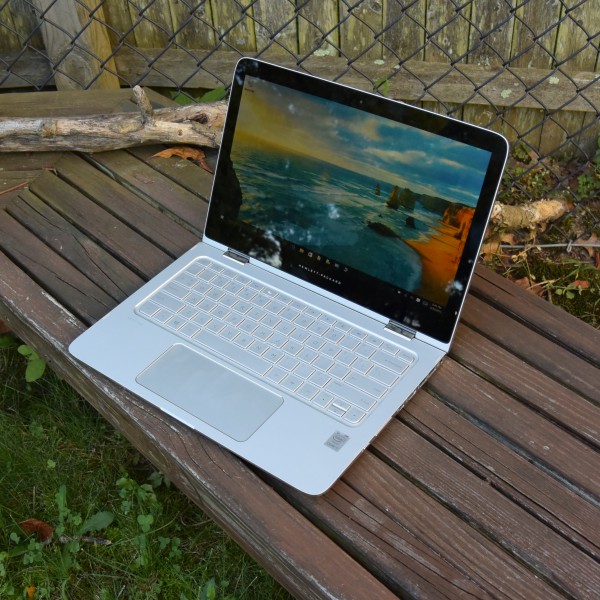 My Wi-Fi signal has been very strong with the Spectre x360, which is very much appreciated. However, this is not by accident. HP thought to embed the antennas in the top of the display. This makes quite the difference compared to other models. Many manufacturers just haphazardly shove antennas into all sorts of places. It is clear that the engineers at HP and Microsoft (who helped with the design) really cared about the final product.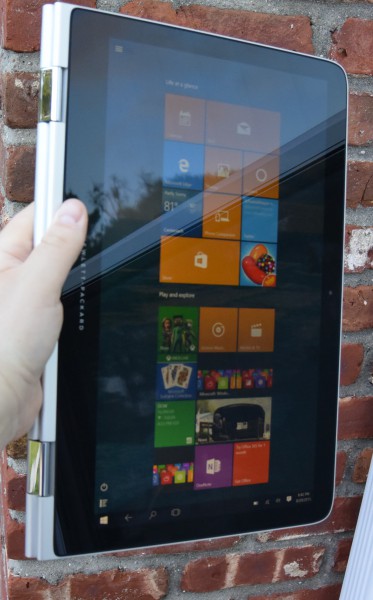 Of course, the HP Spectre x360 is not only a laptop, but a convertible too. This means it can also be a tablet, or positioned in other ways. The computer works great as a tablet -- the physical Windows home button on the side really adds to the experience. While it is a bit too heavy to be used comfortably with one hand, it is a dream when using both hands or resting it on your lap. It is perfect for lounging on the couch and watching TV.
If you are a cord cutter or just an occasional online video consumer, you can position the laptop as seen above to hide the keyboard and become immersed in a TV show or movie on Netflix, Hulu, or other services. You can also position it in a tent mode as seen below. How you choose to do it is really just a personal preference.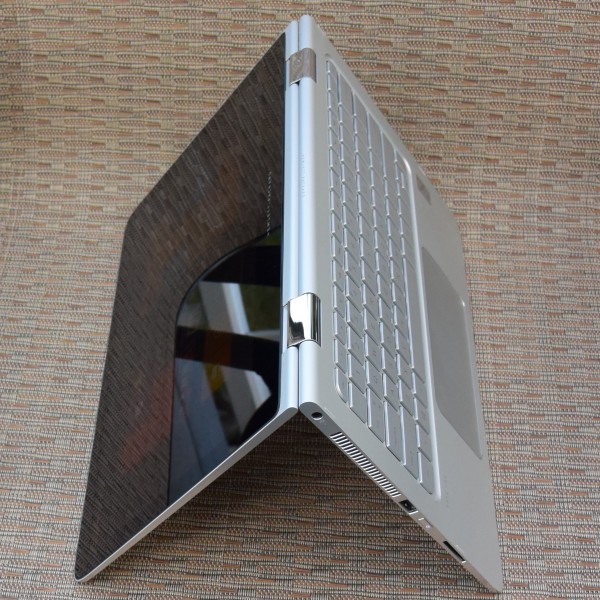 Audio can get loud and fairly clear, but the speakers produce fairly lifeless music. Unfortunately, the speaker are positioned on the bottom of the laptop, which is not ideal -- I would prefer to see them to the right and left of the keyboard facing towards the user. It is totally passable for casually listening to music or watching PewDiePie on YouTube, but a nice Bluetooth speaker, such as the UE Roll would be a good investment if you are listening to a lot of music with friends.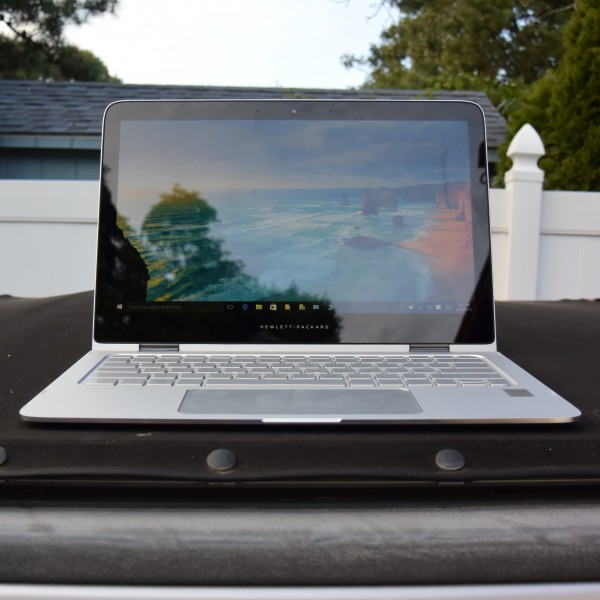 Conclusion
The HP Spectre x360 hits all the marks for a great laptop -- great build quality and materials, touch screen, amazing keyboard and touchpad, and best of all, class-leading battery life. Whether you need a notebook for school, work or home use, the Spectre x360 will make you very happy. Hewlett-Packard has done what many other manufacturers couldn't -- it built a Windows laptop that rivals and exceeds Apple's designs.
Yes, there are laptops with more RAM, or hardcore gaming graphics, and depending on your needs, those other machines could be better for you. However, for the majority of users with normal needs, you really can't do better than the HP Spectre x360. It is Windows 10 nirvana. This is the computer you should be taking to school in September. Highly recommended.
Related Article: The essential back to school 2015 shopping guide
Photo Credit: Brian Fagioli